Adison Whitley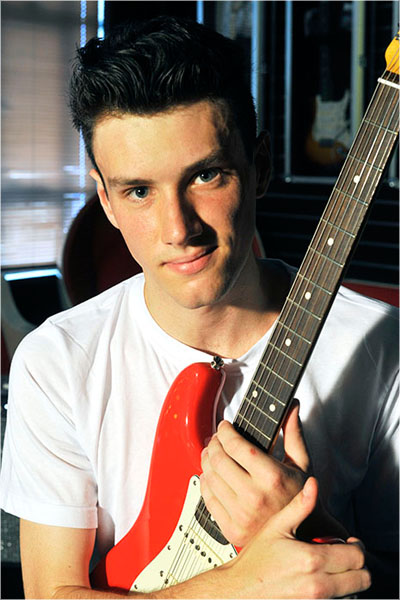 Adison Whitley, 18 years old Lives in Auckland, New Zealand
I've been playing the guitar since i was 12. I remember my friends telling me i should learn on an acoustic, but all i wanted to do was play big riffs and sonic noises like Black Sabbath, Dinosaur Jr. and The White Stripes. So my parents bought me an electric guitar and a pretty sweet little practice amp, it wasn't until i started recording music when i realized how great these Fender amps and guitars were!
I started playing in a school band when i was 14, we entered Smokefree Rockquest (A teenage song/band competition)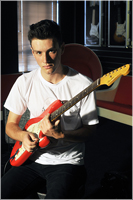 I'm pretty sure we came second in our regional final that year.
When i was 17 i entered Rockquest again, this time as a two piece, Heroes for Sale. We got 2nd place at our regional finals and the peoples choice award. In getting this peoples choice award we were put into a pool of 15 other bands across the country to democratically compete for the national peoples choice award, which our band won!
We got to play at the national finals and record a song at Neil Finn's recording studio. In doing that, the production company i work with made a music video for the single, which got great international attention.
When i graduated high school i got given Arts Honors, which also included scholarship money, which i spent on a 12 string guitar! It was quite worth it.
I spent some time earlier this year interning at Neil Finn's recording studio, where i learnt a bit about audio engineering, as i am heavily invested into the sounds electric guitars and their amps can make. I think this is why i love Fender amps so much, they provide such a beautiful clean palette for your tone, especially if your'e playing something like a Fender Twin!
I play in many different projects around the Auckland scene, mostly as a lead guitarist, providing overtones and soundscapes to alternative bands. Its quite exhilarating knowing that the music I'm listening to is being made by my friends, in this small country at the bottom of the world.
A small rock and roll band with one hellva' bite. The sound of the guitar is made into a storm of fuzz and octava.
We like to play live shows and incorporate a lot of improvisation. Big riffs, fuzz, sonic soundscapes.
Inspired by the likes of Jack White, Issac Brock, Johnny Greenwood, Kevin Shields.. with further blues inspiration from guitarists like Junior Kimbourgh, R.L Burnslide and Buddy Guy.
My experimental album I've been working on. Using instruments like 12string electric guitars, Fender Stratocasters, accordion, harmonica and my own manipulated voice. This album is inspired from such experimental guitarists as Brian Eno, David Byrne, Johnny Greenwood and Kevin Shields. I love manipulating the sound of a clean slate and turning the tone into a variety of colors.
Official Heroes for Sale Site
Official Heroes for Sale Facebook