Adrian Brown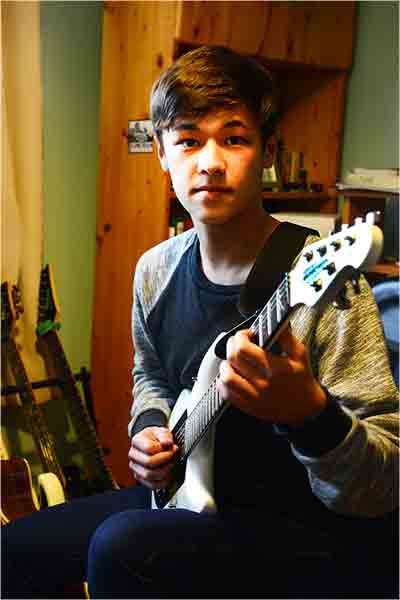 Hi my name is Adrian Brown. I am 17 years old and live in Auckland, New Zealand. My mother was a piano teacher and began teaching me at a very young age but I quickly became bored of the piano. Classic rock music was always around me as my Dad turned me on to bands such as Led Zeppelin, Guns and Roses, ACDC and many others. Eventually I suddenly felt the urge to start playing the guitar and bought my first acousKc guitar at the age of 12 and soon picked up the electric guitar.
As I began to seriously start practicing the guitar several hours a day I started listening to more virtuoso style music inspired by Steve Vai, Joe Satriani, Andy Timmons, Jason Becker, Guthrie Govan, Paul Gilbert, Jack Thammarat, Andy James, John Petrucci and many other virtuoso players. Guitar based music really interests me and I love learning it as it is a real challenge to nail down all the notes and phrases.
Online social media such as Youtube and Instagram has really helped me to expand and meet many other musicians around the world. I placed top 10 in a solo compeKKon hosted by Rabea Massad through Youtube which was really special to me as Rabea was one of my idols when I first started playing the electric guitar.
Through Instagram one of my biggest idols, Jack Thammarat, saw my playing and followed me. Luckily the next week Jack was doing a clinic here in New Zealand. During his clinic Jack invited me up to play a song with him which was such an amazing experience.
Now I am focusing a lot more on songwriKng and creaKng my own instrumental guitar music that is inspired by bands such as Intervals, Chon, Polyphia, Animals as Leaders, Dream Theater and many other progressive style bands. I hope to soon release singles and an EP in the near future.