Adrian Tanner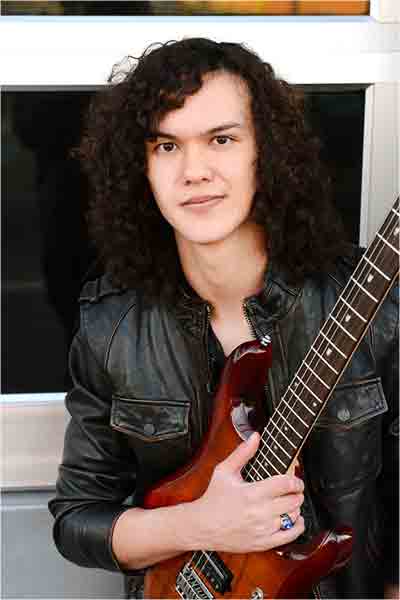 Exploding onto the music scene at the mere age of 12, Adrian Tanner was able to captivate audiences with his playing and build a respected reputation for himself as a songwriter and a producer as well as an overall musician. 6 years later he is now an 18‐year‐old artist living in Las Vegas; a town notorious for its brutality in the entertainment industry. Despite the odds stacked against him, he has managed to make a name for himself and constantly looks for a way to leave his mark on history.
Adrian started his career at a local music store taking blues guitar lessons although his initial interest was in the rock guitar lessons. This "mistake" would inevitably wind up giving him one of his biggest strengths in regards to his playing. Although he hated playing, he would watch hundreds of youtube videos of all the greats playing to thousands of screaming fans and it inspired him to the point where he quit taking lessons in order to teach himself the ways of rock and roll. It was around this time he would start posting his own youtube videos and playing out at school concerts. He auditioned for the prestigious Las Vegas Academy guitar program and was accepted immediately. Adrian aMended the program for 2 years before deciding to leave and pursue college years in advance. His junior year of high school/freshman year of college he was put in contact with the legendary rock photographer, Robert Knight, and joined the Brotherhood of the Guitar shortly thereaTer.
Currently, Adrian is the lead guitarist for the up and coming artist Amanda Hardy and he also fronts the progressive rock band "Twenty 81" where he takes on lead vocals as well as lead guitar. In his down time between bands, Adrian works as a producer where he tries to help local bands in any way that he can. He has recorded/mixed/mastered all of his personal projects thus far and hopes to utilize that skillset in his career with Amanda Hardy. He is also hoping to start a solo project in the near future where he incorporates music from all different genres ranging from pop to metal and even to hip hop.
Adrian Tanner is definitely someone you will want to keep your eyes on.