Allivia Lorusso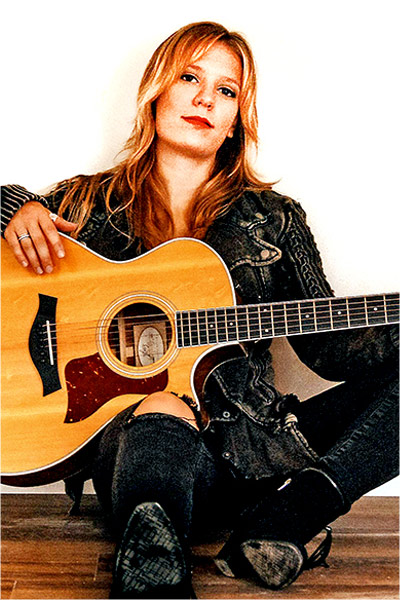 Hailing from Southern Maine, Liv Lorusso is a gifted 23 year-old guitarist and songwriter with a deep desire to bring high-energy, blues-based rock n' roll back to the masses.
An acoustic wunderkind throughout her youth, it was Joe Perry's licks on the Aerosmith classic, "Mama Kin" that truly amped-up her passion for the electric axe at age 16. It wasn't long before fate conspired to thrust her upon the stage with the James Montgomery Blues Band – featuring bassist David Hull, a former member of the Joe Perry Project!
In the few short years since that chance encounter brought her full-circle, Miss Lorusso has honed her musical chops with the doyen of blues rock royalty, Buddy Guy, as well as Barry Goudreau (Boston), Paul Nelson (Johnny Winter All Star Band), Marty Richards (J. Geils Band), Jeff Howell (Foghat, Outlaws), John Butcher Axis, and more.
Following in the footsteps of those seasoned musicians, Liv strives to share her artistry and tonal integrity with the world. To that end, she's formed an all-original rock band, Liv N' Brilliant, currently in pre-production on their first album. Pulling heavily from Liv's favorite artists, such as: Aerosmith, The Rolling Stones, Bad Company, and Gary Moore, Liv N' Brilliant continuously strike all the right chords with audiences.
"After seeing Liv N' Brilliant play live, I really think they are a band to keep an eye on. Their rhythm section rocks but can get funky too. On top of that you get great vocals and plenty of guitar fireworks from Liv Lorusso and Jordon Brilliant."
George McCann (Steven Tyler, James Montgomery, Brad Whitford, Barry Goudreau)
"Honestly, she's going to be the next big rock star… and Liv n' Brilliant will soon rank up there with other rock greats such as Led Zeppelin and The Who. Pay attention."
Elaine Flynn (Music Editor at Spark Magazine)
With their live repertoire of well-structured, radio-ready songs, Liv N' Brilliant are certainly doing their part to breathe new life into blues and rock!