Beamer Wigley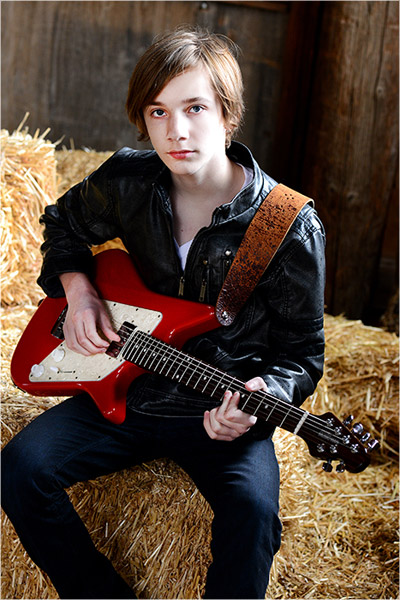 Born in 2002, Beamer started playing guitar when he was 5 years old, and as he loves to tell his audiences, that was when he first saw Keith Urban in the video "Start A Band" with Brad Paisley. He turned to his Mom and said "I want to learn to play guitar. I want to be just like Keith Urban". So he got his first guitar and started his first lessons.
At the age of 7, he was accepted as a contestant in the "Our Kids Have Talent" competition for ages 8-18. That was also when he wrote his first two songs for that event, and although he didn't place, he so captured the hearts of the judges, that he was invited to open at the gala final. This was beginning of his musical journey and as his talents grew, so did his reputation as a remarkable young performer who had no fear of being on stage, and the larger the audiences, the better he likes it!
Over the ensuing years, he was a contestant in numerous music competitions, and he was very often the youngest. In a number of cases, the rules of the competitions were even changed to a lower age, just they could have him compete. And whenever he did, he wowed the audiences. When he was 9, he won first place at the Vancouver P.N.E. 'Star Showdown' in the youth category, against contestants from all across British Columbia.
As part of his vocal training, he entered into the Kiwanis Festival for 5 straight years in Classical Voice and Musical Theatre, and has consistently won first place positions including first class honors and junior scholarships. For 2014, he was chosen as the representative to go on to the Provincials in Musical Theatre, against the best from across the province. He went on to win first place in that category, along with first place in Musical Variety. He was also then awarded the inaugural Pentiction Youth Arts Award for ages 25 and under, a huge honor. In November 2015, he was thrilled to be awarded membership in The Brotherhood Of The Guitar, a group of highly talented musicians from many parts of the world. In addition, he also received a sponsorship from Music Man/Ernie Ball guitars.
His love of music and performing transcends into acting as well, and when he was 9, he was given a small solo part in Soundstage Musical production of "Evita". The following year, he was given a major role in 'Whistle Down The Wind'. He then went on to play Gavroche in 'Les Miserables' in 2014, and Toby in 'Sweeny Todd' in 2015″. He also got his first movie roll in 2014, playing the 4th lead as Ethan in the movie, "A Christmas Tail".
His ambition from the time he was 5, has been to be a professional musician and performer, and as he continues to write new songs and advancing his guitar and vocal skills, he is unwavering in his determination to succeed.
Official Site