Blake Kasting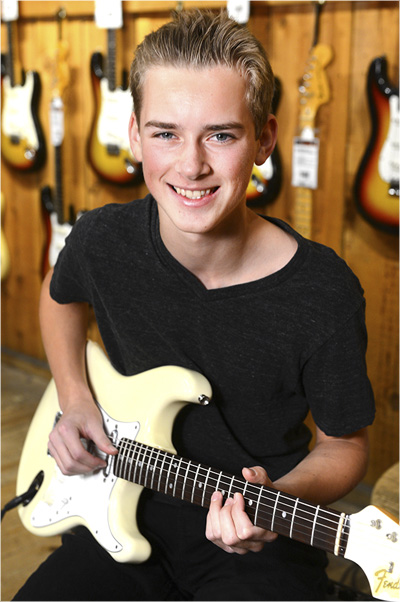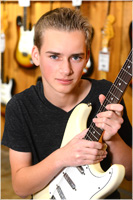 Born in Atlanta, GA, Blake had an affinity for music beginning at the age of one year, by which time he could operate a boom box and navigate to his favorite Beatles songs on CD. He started carrying around toy guitars of all shapes and sizes at age 2, and first tried his hand at playing a real guitar at age 7. A natural lefty, he instinctively strummed with his left hand. After discussing with his father the fact that all of his father's guitars were right-handed, he made the decision at this early age to learn to play right-handed.
His passion for the instrument took hold at age 10 when he graduated from a mini Strat to a Tele Thinline. A serious baseball player during this time, Blake also set about learning the songs, gear, and life histories of the Beatles, Stevie Ray Vaughan, Jimi Hendrix, Eric Clapton, and the Who.
Baseball, school, and guitar battled for his attention until he broke his left thumb during a baseball practice in the summer of 2011. With a lot of free time on his hands and a splint on his left thumb that still allowed him to play the guitar, his technique, speed, and lick vocabulary took off and he has never looked back.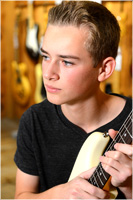 Blake joined Rock Nation in December 2011 at the age of 13 and was placed in a band with other kids at the school's highest skill level, "shredder." It was an eye- and mind-opening experience to play with other very talented kids who shared his passion for classic rock. Blake takes lessons there with Trevor Menear, a great young player and songwriter in LA with whom Blake shares a great interest in the blues and jazz. Trevor paid Blake a great compliment by letting him perform with him at one of his performances at the Room 5 nightclub in LA.
Blake was recruited as a founding member of Melted Vinyl by Sam and Erik Kritzer in the summer of 2012 when they saw him perform at his second RN show. Blake's blistering solos on Kenny Wayne Shepherd's "Blue on Black" and Lenny Kravitz's "Always on the Run" "blew them [and the audience] away."
As the lead guitarist for MV, a four-piece band playing classic and hard rock, Blake and his bandmates have played to packed audiences at the Troubadour in Hollywood, the NAMM '13 convention at the Anaheim Hilton, and Shredfest 5 at the House of Blues, also in Hollywood, where their rendition of "Fire" by Jimi Hendrix won them first place for the best performance of a cover song. Blake also wrote the music for all the original tunes in MV's current repertoire.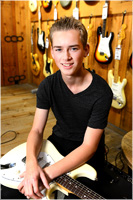 In May 2013, Blake was selected from 150 others as lead guitarist by Zendaya for her summer tour. They performed in over a dozen cities in the US and Canada, including a televised gig in Toronto where they played in front of a crowd of 17,000 and later appeared on the Ellen Show. Blake had a great time, earned some money, and got the chance to play with top-knotch performers and musicians.
Blake was also just selected to be a member of the Brotherhood of the Guitar, a who's who of up and coming guitarists. He was interviewed and photographed by the renowned rock photographer and founder of the Brotherhood, Robert M. Knight.
Blake is a sophomore in Ventura, CA where he takes honors level classes and maintains a 4.0 GPA. He is also in the school's jazz band under the direction of Mr. Paul Hunt where he was named "Outstanding Freshman" in his first year there.
Blake plays Fender Stratocasters, the occasional Telecaster, and Fender amps. On his pedal board he uses a RMC Wah, Analogman Compressor, Analogman Sunface Fuzz, Sweet Sound Mojo Vibe, Chicago Iron Octavian, MXR Distortion, Ibanez Tube Screamer, Strymon Lex, T-Rex Chorus/Flanger, and a TC Flashback Delay.
Blake is known to peers and fans as an exciting young player who delivers soulful, artistic solos and composes music in a variety of styles that is nuanced beyond his years.