Callum Williams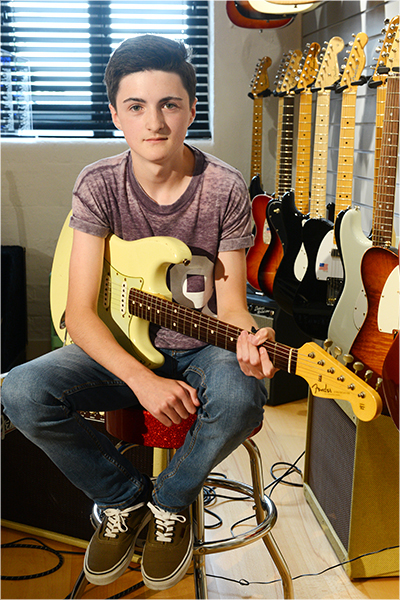 I am 14 Years Old and began playing guitar at the age of 9. I live in South Wales UK. I was introduced to the guitar by my dad and quickly progressed to having guitar lessons. I have achieved Grade 6 with merit and I am currently working towards Grade 8. I am very proud of My Youtube and Facebook channels and over the last four years have built up a fan base and made friends all around the world. The support my followers have given me is truly immense and I am truly grateful.
In 2011 I was one of 5 finalists that was selected from thousands of hopefuls to compete for the coverted accolade of Young Guitarist of the Year 2011. Sponsored by Guitarist Magazine and Blackstar Amplification.
In 2011 I met Joe Satriani backstage and in 2012 had the honour of meeting and playing to Paul Reed Smith of PRS Guitars, incredible experience.
In 2012 I became endorsed with Orange Amplifiers and Dark Horse Strings.
In 2012 I was asked to record songs and be part of the 3D Feature Film Allstars. I play lead guitar in a band.
In 2013 It was a great privilege to put a video together and in it play alongside the incredible Jack Thammarat. In 2013 I became endorsed with Timbertones plectrums.
In 2013 I had the honour of meeting Robert Knight in London and becoming part of the Brotherhood of the Guitar and Fender Guitars.