Casey Messent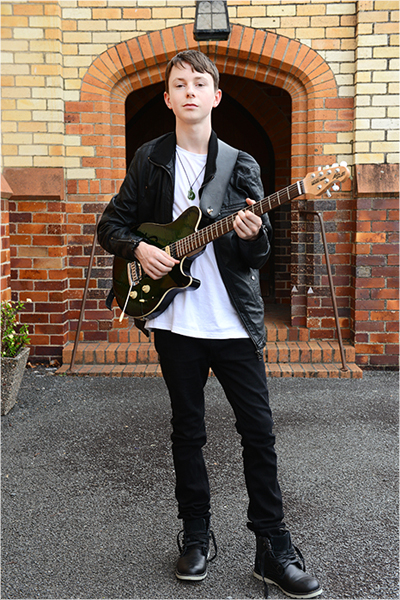 Casey Messent is a 16 year old guitarist, singer and songwriter from Waikato in New Zealand. His guitar style is influenced by the Blues, Jazz, and 70s Rock which have led to a variety of writing styles, involving both Acoustic and Electric guitar orientated songs. Casey's interest in the guitar began at a young age as his father played bass in a variety of local bands, leading him to be introduced to music at a very young age.
At the age of 7, Casey was introduced to Led Zeppelin, and his fascination with Jimmy Page's blues driven riffs brought him to pick up the guitar seriously. He expanded his influences to include Jimi Hendrix, Stevie Ray Vaughn, Ben Harper, Audioslave and Cream. Recently he has begun to listen to the likes of Joe Bonamassa and his project Candy Rock Funk Party, George Ezra, Hozier, Govt Mule, Coldplay, Yes, and Derek Trucks which have broadened his thoughts on musical directions.
Casey has been writing material for various projects and competitions since he was 12, including Smokefree Rockquest, which Casey gained the musicianship award, best song and first in the solo/duo section in the Waikato region. His duo, Situation Vacant, gained highly commended on a National level. When he was 13, he entered the Rockshop Bandquest, where his band gained 2nd place at the national finals, and were the only band in the final to play only originals.
Casey has played many shows, including opening for NZ artist Jamie Mcdell, playing in local production of Andrew Lloyd Webbers' Jesus Christ Superstar, the Tauranga National Jazz festival, touring with classical guitar and jazz bands, and various blues showcases and festivals.
Casey recorded his first single 'Salt Water Rain' at Roundhead studios in 2015, and since then, he has been looking forward to recording in the studio more often in the future.