Chase Walker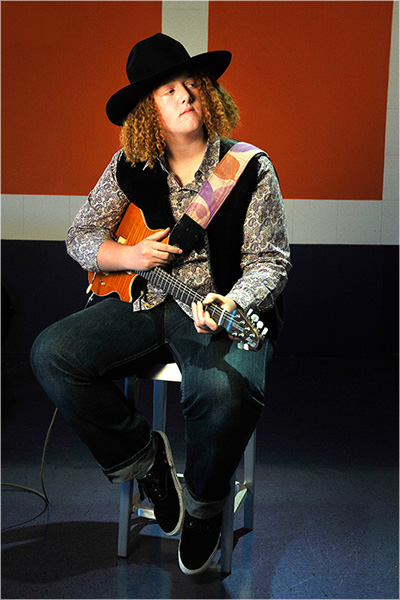 This is a story about what a kid and a guitar can accomplish in a few short years. Born in August, 1998, Chase Walker, of Riverside CA grew up minutes away from the Fender Guitar factory in Corona, CA; yet he didn't start playing guitar unJl 2010. Today, he is a triple threat. Young Chase Walker is already an award-winning guitarist, songwriter, and vocalist creatng and performing rock, blues and jazz with equal command. While guitar is his primary instrument he also plays drums and piano.
Walker was inspired to play guitar after attending the Doheny Blues Festival in 2009. Later that year, he got his first guitar for Christmas. In Jan. 2010, with musical influences as diverse as Otis Redding, Stevie Ray Vaughan, Jim Croce, Warren Haynes, The Black Crowes and The Black Keys, Chase started lessons with Dave Osborne, and Chase picked up fast….really fast.
By the Summer of 2011, Chase had won a custom Fender Stratocaster and received a scholarship to aSend Blues Kids of America Chicago where Jay Shefsky of WTTW Chicago Tonight said of his performance "this 12 year old from California already sounds right at home on stage at Buddy Guy's Legends"
In 2013, Chase was honored as one of only seven young guitarists selected from hundreds of applicants nation-wide to attend the GRAMMY foundation's prestigious camp for young musicians held at the acclaimed USC Thorton School of music.
At the age of 15, Chase was a Semi-Finalist in the 2014 Lee Ritenour Six String Theory international guitar competition, making him eligible for full scholarship to the prestigious Berklee School of Music. Fans who've seen him perform live often compare him to greats like Gary Moore and Johnny Hiland saying that he is "Not just fast like some hotshot kids, but subtle, sophisticated & soulful. Excellent singer too!" Jim Kruger – Ticketmaster.
Chase began performing as the Chase Walker Band (CWB) in March 2012, but the band was not complete until he connected with teens Matt Fyke (Drums/Voc) and Randon Davitt (Bass/Voc) to form the current powerhouse trio in October 2012. Since then, the Chase Walker Band has been launching their original hell raisin', vinyl-worthy, American rock experience on the clubs and festivals across the western United States and beyond. To date, CWB has over 150 performances to their credit including dates on the Vans Warped Tour, the 2013 and 2014 International Blues Challenge Showcase, House of Blues, The Mint in LA, BB King's in Memphis, Artists in the Plus Worldwide Music FesJval, Colorado River Festival, Gator by the Bay Festival, and many more, opening for greats like Kenny Loggins, B.B. King, Eric Sardinas, Tab Benoit, Devon Allman and Cyril Neville of Royal Southern Brotherhood, and American Idol star Casey Abrams. Chase Walker Band continues to build a loyal following with fans saying "Chase Walker Band was awesome! I would see them again in a heartbeat!" ChaQe Krugg – Ticketmaster
Chase began songwriting in 2012 and was a finalist in the Reflections songwriting contest that same year. In 2013, his song "Too Many Days Ago" was as a Finalist in the prestigious John Lennon InternaJonal Songwriting Contest, awarding him $800 in prizes. Chase continues to learn and refine his songwriting as a proud member of ASCAP, West Coast Songwriters Association and Nashville Songwriters Association.
In Sept. 2014, Chase Walker Band released their debut album "Unleashed" containing 9 original songs and 4 unique covers. "Unleashed" got immediate attention with airplay in 40 countries worldwide and rave reviews from fans saying,"If Hendrix, Zep, Cream & The Black Crowes made an album … This is it! Fantastic guitar driven rock." CaliratedX – iTunes
In 2015 "Unleashed" was named Best Debut Album 2015 by Wasser Prawda Magazine — Germany with critics suggesting "Unleashed as an immediate listen! Listen…or just buy it, you won't be sorry. 5 out of 5 stars." Alice Neiley – Music Review . Their release "Good Day for the Blues" climbed the HIT-TRACKS top 100 chart in Europe rising for 6 weeks in a row.
Chase was humbled and honored recently, when acclaimed photographer Robert Knight invited Chase to join "The Brotherhood of the Guitar" (BOTG). The BOTG is a project launched by Knight and sponsored by Ernie Ball. The BOTG's purpose is to shine a spotlight on a select group of unsigned up-and-coming young guitar players from around the world. Knight recently filmed an interview with Chase and photographed him in Las Vegas. Chase considers it a huge honor to meet Mr. Knight and to be included among so many great young players in the BOTG.
Today, Chase frequently tells interviewers "I am always blown away at how far we have come in a few short years. I am just doing what I love and hope people like it." If the feedback from fans and industry professionals is any indicaJon, people LOVE what they are seeing and hearing from Chase Walker Band. Kevin Lyman, founder of the Vans Warped Tour, hailed the Chase Walker band as "the best young blues rock band in this country", and Singer, Songwriter, Kenny Loggins said "They blew me away!" It seems the buzz is building about Chase Walker.
Chase is endorsed by Heil Sound, QSC Audio Products, Dog Days Guitar Straps, and Carp AmplificaJon.
Official Site
Reverbnation