Christian Vegh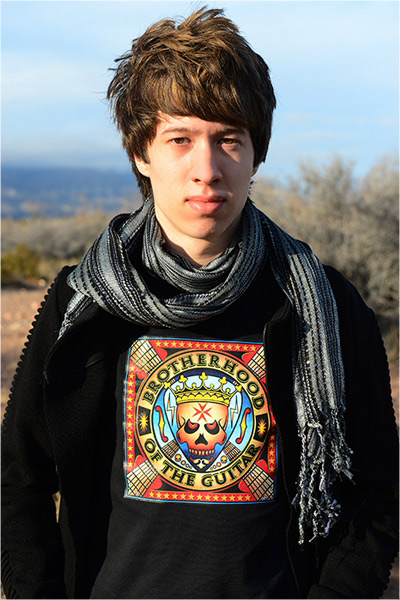 Christian Vegh is a young guitar prodigy born in Detroit, Michigan on March 26, 1997. As a solo artist he is lead vocals/guitar/songwriter for the band "Christian Vegh". Christian attends Berklee School of Music in Boston and graduated as a Principal's honour student in the International Baccalaureate Music Program at Assumption College Catholic High School in Windsor, Ontario.
Christian's first band "West Palm" was the youngest band to ever win "Long and McQuades Battle of the Bands" and Battle of the Bands for Cancer. His second band "Red Legacy" with McKenzie Burrows on drums was in the finals of CBC Searchlight – "Canada's New Rising" Star and the Canada South Blues Challenge Finals.
Christian performed at many top 100 festivals and venues such as Windsor Bluesfest with drew up to 35,000 people; Fork & Cork Rock Festival; Tecumseh Art of Food/Wine; Corn Fest; Rock of Dimes; Strawberry Fest; Headlined Passport to the World and performed in front of 10,000 people at the International Children's Games.
In addition Christian played in the Assumption Jazz band and won gold at the Regional's and was named "Jazz Musician of the Year". They also won gold at an International Music Competition in New York and Nashville where Christian received the Outstanding Soloist Award. At 15 years old Christian performed at B.B. King's in Nashville and opened for Sonny Rhodes induction into the Canadian Blues Hall of Fame. He has shared the stage with performers such as Steve Vai, Scott Holt and Susan McNeil. He is just releasing his second CD recorded at SLR Studios with Marty Bak. His musical influences are Joe Bonamassa, Eric Johnson, Guthrie Govan, Stevie Ray Vaughan, Rush, Polyphia, Chon, and Pink Floyd.
Christian was featured on the cover of "The Local Stream" as well as several other magazines such as "Boom", Biz X and was nominated for the "Youth Changing Lives Award". He wrote a theme song for a youth engagement program winning a spokesperson role and a scholarship to Steve Vai's Song Evolution Summer Program in New York. Christian has been a "Me to We" speaker and performer and received a grant from "Think Global/Act Local" for a seniors/youth engagement music program. He teaches the Blues School Program with the Canada South Blues Society; leads guitar clinics at Long & McQuade and various children's camps and raises money for charity using his musical talents.
He is honoured to join the Brotherhood of Guitars and looks forward to representing Ernie Ball, Music Man Guitars and Guitar Center. His goal is to be a professional musician and to one day play on stage at Royal Albert Hall with Joe Bonamassa. Career highlights – Having Joe Bonamassa tweet about the band at it's first big performance; getting support from musicians like Alex Lifeson, Dick Wagner, Robin Ford, Scott Holt and many local musicians and being featured in their magazine and performing at the American & Canadian Federation of Musicians Canadian Unity Conference. He recently received a scholarship from the prestigious Berklee School of Music in Boston and credits his music teachers for changing his life.