Cole Layman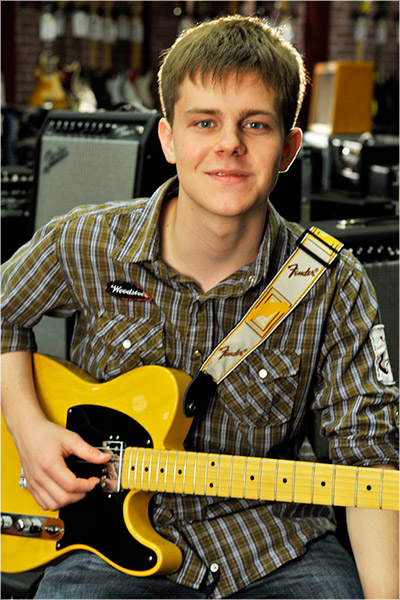 Cole is a 16 year old singer/songwriter and guitar player. He has been playing guitar since he was five years old. He also plays piano and drums. Cole is in the advanced jazz band at Warhill High School in Williamsburg, VA, and is endorsed by Steve Clayton Custom Guitar Picks. He has received scholarships by Generation Blues (a program supported by The Blues Foundation) for the past two years to attend Berklee Guitar Sessions. He also received a scholarship from Berklee to help with the cost. This summer, Cole will be going to the Pinetop Perkins Master Class Guitar Sessions on a scholarship from the foundation itself where he will get the opportunity to learn from blues great, Bob Margolin. He has been to Memphis twice to perform at The International Blues Challenge in the youth showcase.
Cole performs with his sister, Logan in an acoustic duo called In Layman Terms. They play a mix of old time roots-blues and original foot-stomping music. They use foot percussion and are endorsed by Farmer Foot Drums. They have played hundreds of venues together over the past four years and have released two Extended Play CD's.
Cole also plays guitar, sings, and writes songs for The UnXpected, a group of young musicians who recently won VEER Magazine's "Best Teen Band" award for 2013. The band released an Extended Play CD in Jan, 2013 and are getting ready to head back to the studio to work towards their first full length CD.
Official Site (inlaymanterms)
Official Site (theunxpectedband)