Connor Low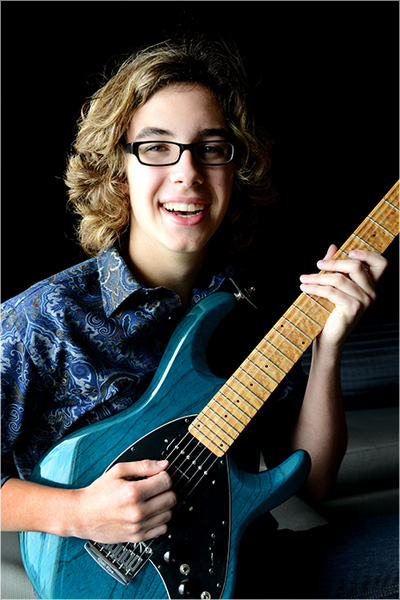 Connor Low's world revolves around music; Performing, creating, and sharing his love of music with as many people as possible is his life goal.
Connor Low was born in Saint Louis, Missouri in the spring of 2000. Growing up in a very musical family, Connor was influenced by his talented uncles and cousins. At 9 years old, Connor picked up the guitar and began learning with Marty Schwartz's guitar tutorials on YouTube. Soon, Connor was performing at his schools talent show and within 9 months, at just 10 years old , he played with the popular St. Louis band Trixie Delight at The Festival of The Little Hills in front of more than 10,000 people. This experience was just the beginning for Connor. He began studying classical, jazz, rock, and blues with many respected guitar teachers and players in the area along with performing everywhere that he could, from festivals, charity, and community events, restaurants and coffee shops, to talent shows and open jams. He quickly captured the attention and respect of the St. Louis music community. This led to many incredible opportunities for Connor to perform at several St. Louis events and festivals, along with being invited to be a guest guitarist with many St. Louis bands including Trixie Delight, Dr. Zhivegas, Javier Mendoza, Kim Massie, Kung Fu Caveman, Vega HeartBreak, El Monstero and The Funky Butt Brass Band. In August of 2014, Connor had the honor of performing with Jon Anderson of Yes along with a select group of musicians from the School of Rock St. Louis House band at the Chesterfield Amphitheater. Later that year, Connor was the youngest featured guest guitarist for St. Louis's Premier Pink Floyd Tribute Band, El Monstero, made up of members of the bands The Urge , King of the Hill and Stir. One of Connor's most recent and notable guest performances was with the legendary bass player Marcus Miller and his band at The Jazz Bistro in the summer of 2015.
Beyond the stages of Lollapalooza in Chicago, or the Fabulous Fox Theater in St. Louis , when he's not on a main stage , Connor performs regularly around the St. Louis area ; solo, with several acoustic duos , bands , music programs and local groups. He has recorded with many artists on their albums, and has started writing his own music , which he plans to release in the near future. His solo aspect of playing and performing includes acoustic fingerstyle guitar , which allows him a broad range of musical creativity when arranging the music he performs . At just 14 years old , Connor opened for award winning Canadian guitarist , Ewan Dobson, with a solo fingerstyle acoustic set , and in October 2016 , Connor was the featured guitarist in the Young Artist Profile of Fingerstyle Guitar Journal Magazine . Playing and studying Jazz is another passion of Connors and 2016 marks his fifth year as one of the top guitarist in the prestigious JazzU program through Jazz St. Louis. Connor was part of a Jazz Trio that was selected to perform as one of 10 final acts in the 2015 Fox Teen Talent Competition where they won the Keep Art Happening Scholarship Award. Continuing with his versatility and insatiable appetite to perform , Connor is also a 3 time School of Rock AllStar, selected as part of the top 1.5 % across the nation from over 15,000 young musicians in the SoR program. The AllStars tour all across the country each summer to popular music venues and some of the biggest Music Festivals in the nation. In the fall of 2015, Connor was honored to be invited as one of 6 AllStars to perform at The School of Rock National Convention in Las Vegas at The Palms Hotel . Connor then met with world renowned photographer , Robert M. Knight , to be interviewed and join " The Brotherhood of the Guitar ". The BOTG features some of the best , up and coming , young guitarist across the world, and Connor is extremely humbled to be among the list of such a talented group of musicians that are as passionate about making music as he is .
Connor's enthusiasm to learn and work hard has also caught the attention of some of his greatest musical inspirations. He has had some incredible experiences to meet, play for and even perform with a few of them including Marcus Miller, Jon Anderson, Eric Johnson, Dweezil Zappa, Tommy Emmanuel, Stu Hamm, Andy McKee, Pat Martino, Steve Vai, and Guthrie Govan. Connor hopes to meet and perform with many more.
From Jimi Hendrix to Miles Davis , Connor Low finds inspiration and influence in a myriad of musical artists. His musical style is free and limitless, like the musician himself. Rock, Jazz, Blues, Reggae, R & B, Funk, Psychedelic Rock, Jazz Fusion, Hip Hop, Classical, and Soul are just a sampling of the wide varieties of music that empower this young artist.
In Connor's own words:
" I want to make music that will inspire and touch future generations. I want to create music that will stand the test of time. I aspire to travel the world — performing, learning, and positively impacting people with my love of music.
I feel extremely blessed to have had so many teachers and musicians work with me , give me incredible opportunities to perform and mentor me along the way . They have all helped shape the musician I am today and the musician I desire to be . "
For more information on performances and booking . Check out his social media on Facebook – Youtube – Instagram – Twitter and Soundcloud