Damiano Scarfi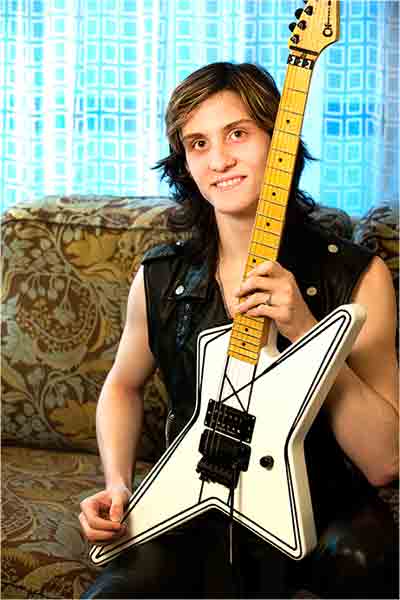 Damiano started playing guitar at 11 Years old when he heard Randy Rhoads Play the solo to Revelation Mother Earth off the tribute album, Before that
it was strictly classical piano training starting at the age of 3. On stage he goes by Damiano Christian and has recently released his first Album Damiano: So Aware ,after a rather musically productive summer where he played as the guest lead guitarist for the Randy Rhoads Remembered Tribute Concert with Brian Tichy and Rudy Sarzo paying homage to his biggest Guitar influence "Father" Randy Rhoads while shredding to Crazy Train for fans at The Palace Theatre in Stafford Springs. Damiano filmed his video release party at Lit Lounge NYC after a surprise announcement to fans on Reverbnation last August. In September Damiano put together a So Aware Concert specifically for The Wounded Warrior Project where he played both covers and originals with his band to raise funds for American soldiers wounded in combat. A recent single release to the Euro market and later to Digital Stores across the USA has provided a sneak peak into his Second album called Built in Good Value which will be released on his birthday 5/15/2015. This 16 years old musician is not kidding when he says "I barely sleep , all I do is practice I don't want to stop."… An accomplished classically trained pianist prodigy turned modern performing artist who is self taught on the guitar for the past 5 years Damiano loves to add virtuoso guitar shredding and classic style riffs to his original songs. This new rock prince promises not to disappoint his fans whether he is taking the stage or putting out a new album… rock ,punk-pop and pop rock music lovers are destined to find a sound they can get stoked about and truly enjoy.
INFLUENCES INCLUDE: Randy Rhoads,(Randy Rhoads~Quiet Riot), Meatloaf, Beethoven, Bach, Prince, Elton John, Freddy Mercury, Queen, Jim Morrison, The Doors, Jim Steinman, Eddie Van Halen, Eric Johnson, Ritchie Blackmore, Deep Purple, Rainbow, Jerry Lee Lewis, Elvis Presley, Russ Conway, Ritchie Valens, Liberace and Rachmaninov.
Official Website
Randy Rhoads remembered show ( professional shot video by front row dave
My music video for So Aware
Pre sale for second album
Album So Aware on Itunes