Dylan Koski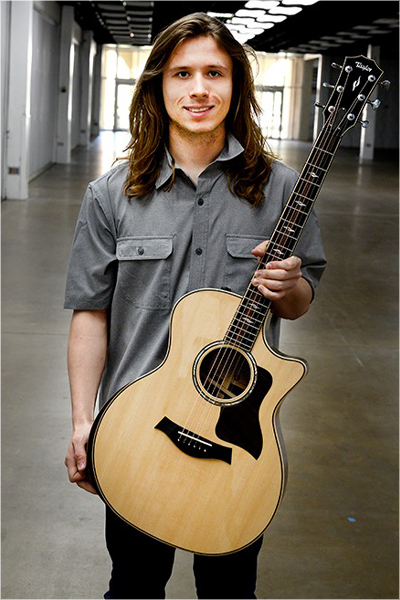 Dylan Koski is a Guitarist / Vocalist based in the Columbus, Ohio area. Dylan's music is a blend of his primary influences: Eric Johnson, Robben Ford, Rory Gallagher, George Harrison and Stevie Wonder. Industry professionals have described his playing as:

Unbelievably mature
Ability to kill with three notes
Out of this world rhythm
Incredible tone
Dylan started playing guitar at the age of ten. Music quickly consumed his life as he explored genres from classical to jazz to rock and blues. In 2019, he became a member of the Brotherhood of Guitar. Dylan has performed at venues throughout the Columbus, Ohio area as well as at venues in California, Florida, Minnesota, Mississippi, New York, South Carolina, Virginia, Tennessee and Texas. He fronts his band, Dylan Koski and the Syndicators, which performs regularly in Columbus, OH. In addition, he is a regular at various blues jams and house bands. His highlight performances include:

Dallas International Guitar Festival (Dallas, TX)
Ground Zero Blues Club (Clarksdale, MS)
Creekside Blues & Jazz Festival (Columbus, OH)
Columbus Jazz & Rib Festival (Columbus, OH)
Natalie's Coal Fired Pizza (Columbus, OH)
Oliver's (Columbus, OH)
Eldorado's (Columbus, OH)
The Haunt (Ithaca, NY)
The Dock (Ithaca, NY)
Soulshine Pizza (Nashville, TN)
BB Kings (Memphis, TN)
Dylan also recorded his first solo EP in the spring of 2017.
All of these accomplishments have been achieved prior to turning 20.
Dylan has been fortunate to study with some of the finest musicians and participate in some of the best programs in the business. They include:

Musicians Institute–Guitar Performance Major 2018 +
Jerry Loos–Private guitar instructor since 2011
Shaun Booker–Vocal coach 2016 & 2017
Sean Carney–Camp Blues 2016, 2017 & 2018
Jeff McErlain–2018
Musicians Institute Summer Session 2015 & 2016
Performed with Robben Ford in New York in August 2017
Participated in multiple guitar workshops & masterclasses with:
Robben Ford
Eric Johnson
Andy Timmons
Carl Verheyen
Matt Schofield
Tim Pierce
Dylan is currently a Guitar Performance major at Musicians Institute in Hollywood, CA. Additionally, he completed the Audio Engineering program at the Recording Workshop in the fall of 2017
Please check out the photos/videos page to see live video clips as well as the music page for material from the EP. Be sure to follow Dylan on Facebook.