Eilidh McKellar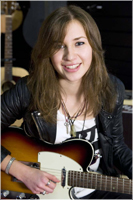 Eilidh enjoyed music from a very young age, but it was the guitar which seemed to spark her interest in making music. This came as a surprise as no-one in her family played an instrument. She had to wait until age 9 to have her first guitar lesson, as before then, her hands were just too small! Straightaway, Eilidh loved the blues; hearing it for the first time, listening to her dad's Rolling Stones albums, blues was to be a significant influence. A TV documentary then introduced Eilidh to the likes of Robert Johnson, B.B. King, Howlin' Wolf, Muddy Waters, Jimi Hendrix and Eric Clapton. Guitar lessons, both electric and classical, continued through her high school years and these together with Eilidh's experience as part of the Edinburgh Schools Rock Ensemble for 5 years, and many hours of self-instruction, allowed her to develop her playing and musicianship.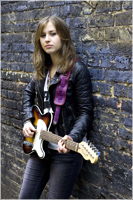 The last year has been very exciting for Eilidh. She started uploading videos to YouTube to raise her profile and help with music college applications, but the response has been amazing and she has clocked up over 200,000 views and loads of fantastic feedback. She also began playing and jamming on the local Edinburgh blues scene. Still only 18 years old, Eilidh has jammed with Oli Brown and James Burton and she has been photographed by internationally renowned rock photographer, Robert M Knight. But the highlight of her career so far is performing at the Hammersmith Apollo with legendary blues/rock guitarist and one of her major influences – Joe Bonamassa. Joe had seen Eilidh on YouTube and asked her to play with him. A huge honour. They were also joined on stage by Bernie Marsden of Whitesnake.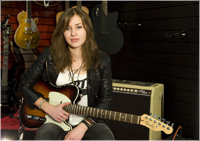 Eilidh blends the blues with funk, jazz and rock, to create her own style, which is constantly evolving. At the moment she is working on writing her own music and recording her first EP with her band, to be released later in the year. Eilidh hopes this will provide a platform to launch her career and gain recognition as both a guitarist and an artist.