Emily Barone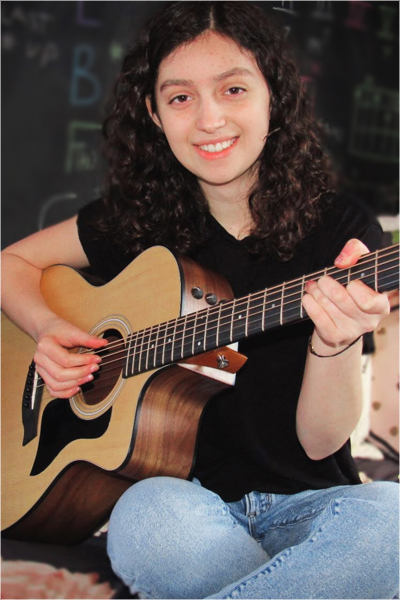 Emily Barone is a 17 year old guitarist, multi instrumentalist, and songwriter based out of Scituate, Rhode Island.
Even from a young age, Emily had an immense passion for music. As a child, Emily would constantly listen to The Beatles One on her iPod shuffle on the way to school, and spent hours upon hours trying to beat Crazy Train on Guitar Hero. Initially inspired by her father, who was always playing guitar around the house, she received her first guitar at the age of four, and hasn't looked back since.
Throughout middle school Emily developed a love for the guitar, and would spend hours flipping through her complete Beatles chord book, learning every song. But, it wasn't until high school that the appreciation turned into a full-fledged obsession. Inspired after seeing the film Bohemian Rhapsody, Emily set out to learn lead and delved deep into the world of guitar. Everything changed when she heard Steve Vai's Passion and Warfare for the first time. This album further fueled her drive to achieve at guitar. In the past few years Emily's dedication for guitar has flourished and she continues to grow in versatility amount various styles of music. From being inspired by the intricate chords of John Mayer, to the innovative style of EVH, and the bluesy riffs of SRV, Emily has become relentless in her quest to improve upon her playing. She has a passion for playing rock and the blues, and is constantly striving to expand her knowledge and abilities.
In February 2019, she began sharing her playing to Instagram in order to document her progress. Through her posts, she has been recognized by major artists, including having her posts shared by artists such as Nita Strauss, Billie Joe Armstrong, and Tomo Fujita, as well as popular guitar pages such as University of Rock, whose shares have gained a total of over 170k views. Recently Emily has begun a YouTube channel where she plays, films, edits, and mixes covers. In the process she's taken up learning other instruments such as drums, bass, and piano, as well as gained an interest in the art of recording, arranging, and producing music. Last year, Emily co-founded a band with cousin Gianna Aunchman on drums, and they spend most weekends rehearsing in preparation of playing out this upcoming summer. This summer Emily will also be attending a week of guitar sessions at Berklee college of Music to further her knowledge.
Emily's biggest inspirations include a variety of guitarists, from John Mayer, Jimi Hendrix, and Stevie Ray Vaughan, to Jimmy Page, Steve Vai, Eddie Van Halen, Dave Grohl, Nita Strauss, and George Harrison.
Emily plans to continue her musical journey by studying music in college, and hopes to attend Berklee College of Music, in order to one day achieve her goal of being a professional musician.