Emily Barone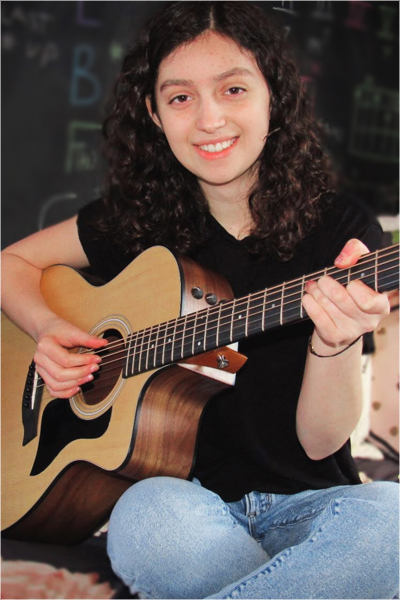 Emily Barone is a 17 year old guitarist, multi instrumentalist, and songwriter based out of New England.
In early January 2019, Emily began sharing her progress with learning classic solos on guitar through Instagram, with the goal of not only tracking her own advancement on the instrument but to also inspire others. Initially inspired by the Beatles, she had begun playing guitar in middle school; but decided to venture into the world of lead playing after being inspired by Brian May, and the film Bohemian Rhapsody. Since then, she has posted solo and song covers consistently, and has gained a following of over 30,000 between Instagram and YouTube.
Over time, Emily's page and covers have gained more and more recognition; receiving support from musicians such as Nita Strauss, features on large pages such as University of Rock, as well as over 3 million total views on YouTube. Some of Emily's most popular covers include Sultans of Swing, Symphony of Destruction, and While my Guitar Gently Weeps. Emily has a passion for playing the blues, rock, and metal; but enjoys listening to and becoming more versatile in playing a wide variety of genres; from jazz and math rock, to funk and neoclassical.
Some of Emily's biggest inspirations for guitar playing include her father, Stevie Ray Vaughan, John Mayer, Nita Strauss, Steve Vai, Eddie Van Halen, and Jimi Hendrix. Bands that have inspired her include The Beatles, Foo Fighters, Led Zeppelin, and Pink Floyd. Albums and concerts in particular that heavily influenced and inspired her include Where the Light is by John Mayer, Passion and Warfare by Steve Vai, and Stevie Ray Vaughan Live at the El Mocambo.
In summer 2020 Emily attended a summer blues guitar course at Berklee college of music, and plans to study guitar performance in college. She aspires to pursue music professionally, and hopes that in sharing her journey and progress with guitar she is able to show others that having talent for an instrument can come from hard work, passion, and dedication; rather than the idea that talent is something someone has to be innately born with.