Grant MacKenzie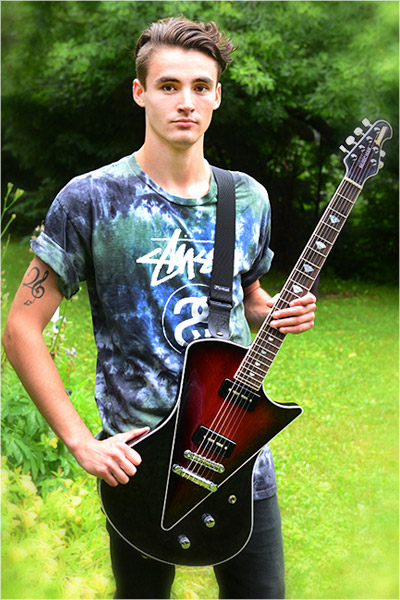 Grant MacKenzie is a guitarist, producer, songwriter and marketer from the small town of Coldwater, Ontario, about an hour outside of Toronto, Canada. Dedication, determination, innovation, passion & hard work are what make up the core of Grant's day to day life. Since picking up the guitar at age 12, now 20, he has released a full length independently produced record called "Childhood Brain" (2014), and will be releasing a new EP "Unravelled In Chaos" with his band Final Sight this year (2015). Grant is also finishing up his final year of business marketing at College to help him further his music career.
Not only has Grant produced both of his band's records, but recorded all lead guitars, all rhythm guitars, all bass guitar (exception of the song Groove 126), all acoustic guitar (exception of the song Red Shoes), all synth and electric piano, backup vocals on the new "Unravelled In Chaos" EP (exception of the song Groove 126), assisted in the mixing of both records and co-wrote some of the songs. Grant's band Final Sight is strongly based out of Toronto, playing at venues such as The Horseshoe Tavern, The Virgin Mobile Mod Club, The Rivoli, has opened for headlining band IllScarlett in 2014, and playing music festivals such as Indie Week Canada. Grant has developed a professional website for his band FinalSightMusic.com, and has developed some great relationships with his fans from around the world (China, Mexico, Colombia, U.S, U.K). Currently working hard with his band, Grant's goals are to keep releasing music, and to eventually do a major tour. Grant is very eager to take his career to the next level, and won't stop until he hits the big stage.
Grant has strongly been influenced by iconic guitarists such as Slash, Stev Vai, John Petrucci (Dream Theatre), The Edge (U2), and Luke Hoskin (Protest The Hero) to name a few. Grant claims that these musicians have taught him many techniques over the years, but that their main lesson has been showing him how to tell a story with his music, because music is storytelling; structuring his music in a way that takes the listener on a journey to create value in their lives. Grant is also very diverse and open with his musical playing styles. He can play anything from hard rock, blues, alternative, folk, open tuning acoustic songs, to soaring heavy metal. Creativity is key to Grant, and strives to set himself apart from others.