Gus Campbell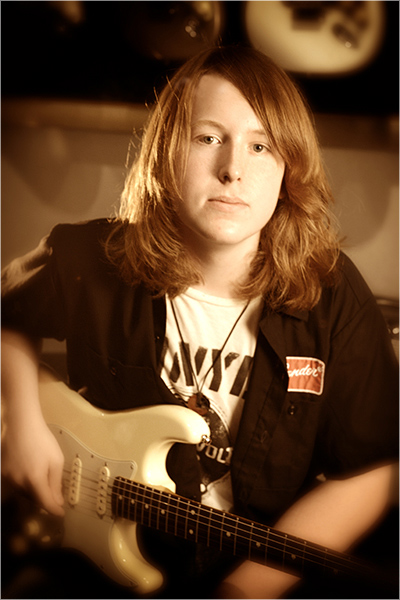 Just as a dedicated athlete will always have a bat and ball, Gus Campbell is rarely seen without a guitar over his shoulder or a pick in his hand. Inspired by artists such as Guthrie Govan, Jeff Beck, Frank Zappa, Stevie Ray Vaughan and Jimi Hendrix, Gus fuses together various elements of the great rock, blues and funk players into his own, personal sound and style he has dubbed, "Rock & Soul."
Gus' talent for singing, song-writing and playing guitar has earned him time on stages across the Valley of the Sun from Hard Rock to Salt River Fields. He recently was invited to play Big Fish Pub's 18th Anniversary Bash, and earlier in the year opened for L.A. Guns at 93.3 KDKB's Chester's Harley Davidson Rocktoberfest, to name just a few. Prior to that, he was a finalist in the 2011 Alice Cooper's The Proof is in the Pudding Talent Search and was featured on the 2012 Alice Cooper's Taste of Christmas Pudding charity EP (available on iTunes) with his Christmas rendition of a Hendrix classic, "Purple Sleighs". Gus was also featured as a "13-year-old sensation" in an article on Phoenix.org and can be heard every day on 93.3 KDKB as he created the jingle for mid-day D.J. Ruby Cheeks' radio show. He has also recorded guitar tracks for well-known bassist Nik West.
Gus loves to perform, but his true passion is to jam with, and learn from, other passionate musicians. He has been known to sit-in with local artists such as Tom Mein, Ray Herndon & the Herndon Brothers, Boomer, AZ Blues Project and Mogollon. Playing with these seasoned artists, many boasting careers older than Gus himself, has gained the young musician respect and a reputation for being a multi-faceted, solid and talented guitarist and singer.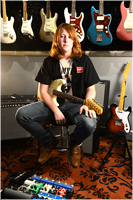 Gus is endorsed by Dark Horse Strings, was recently inducted into the Brotherhood of the Guitar, and an active member of the Phoenix Blues Society. He is currently working on various projects with well-known producers while putting together his own material with Curtis Grippe at STEM Recordings.
Just one look at the long-haired, 6'2″, fourteen-year-old from rural Arizona, and you might not expect he has already achieved so much. To those who know him however, it is obvious that Gus Campbell's success is due to drive, passion and natural talent.
Inspired by artists such as Guthrie Govan, Jeff Beck, Frank Zappa, Stevie Ray Vaughan and Jimi Hendrix, Gus fuses together various elements of the great rock, blues and funk players into his own, personal sound and style he has dubbed, "Rock & Soul."