Haley McLean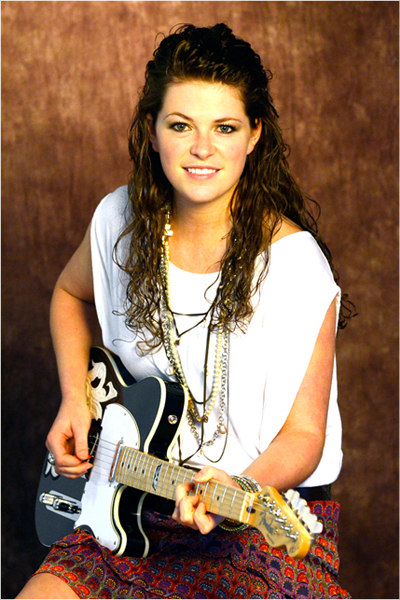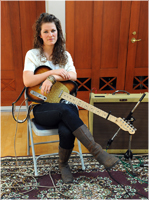 Haley McLean kicks country ass. No other way to put it.
The quintessential chick-with-guitar, Hayley McLean throws a stark and dramatic silhouette on stage, cross-referencing Bonnie Raitt rootsiness with Keith Urban virtuosity and everywhere she plays, right after they pick their jaws off the floor, people turn to each other and ask, "where'd she come from" She came from a seriously unconventional family long on throttling everything they can out of life. When she was six years old Hayley's parents refitted a 45 foot Hawaiian charter sloop and, together with her two older sisters, the five took off sailing for two years down the Pacific coast to Mexico.
"It makes you or breaks you as a family", says Hayley, "and it certainly set the tone for me. Family is the most important thing for me and we've always been really close."
On top of home schooling everybody had chores from standing night watch to swabbing decks but there was still a lot of down time and what with dad's old Fender acoustic on board, there was a lot of music. The girls soon figured out harmonies to Beatles tunes and nursery rhymes and even on their return to Vancouver, summer sailing jaunts always meant music.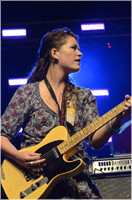 In marinas around the Pacific Northwest the McLean girls would sing to five boats rafted up together. Then it would be 25 boats and a bunch of dinghies as the trio stood on the bridge of a friend's big power boat and belted out their tunes, backed by dad on rhythm guitar and an uncle on drums. Hayley was always lead guitar, slamming it on her prized Gibson Les Paul.
For a couple of years there it got really big and they rented a fishing lodge on beautiful Quadra Island, reserved two nearby marinas and a campsite and the McLean Girls entertained more than 500 friends and family. They called it The Hop. There was even a winter version at a pub near their Horseshoe Bay home.
Meanwhile, when Hayley wasn't woodshedding she had become the youngest carded (ie: paid by the Canadian Olympic Committee) member of the National Sailing Team winning gold at the Canada Games among many other prizes and plaudits.
Eventually Hayley's sisters followed other roads, took up their own pursuits. Music was more her passion and dream than it was theirs. And a major opportunity was about to come her way.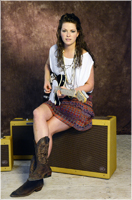 In the spring of 2010 a local radio station, Country 107.1 out of Abbotsford, B.C., was holding a province-wide contest to find the best young talent out there. Her sisters encouraged Hayley to enter and indeed, when she did it was her first time performing solo. Up against more than 100 contestants, she survived round after round until she ultimately won. And what a win it was. The prize package is nothing short of a music career starter kit. Worth $50,000, it includes studio time, video and photo shoots, a trip to Nashville for a songwriting session, guest appearances at both the Canadian Country Music awards and the BCCMAs and much, much more.
See her winning home video on youtube. An album is in the works, she's already been out touring as Chad Brownlee's guitar player and this is only the beginning. There's a big, broad arc of a career to come and this is only the beginning as one by one, people come to see, Hayley McLean kicks country ass. No other way to put it.