Jaclyn Kenyon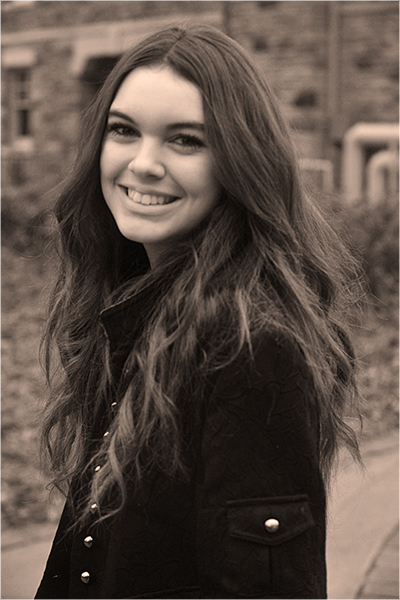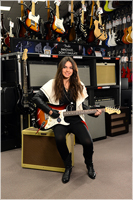 Jaclyn Kenyon is a 15 year old singer/songwriter from Ontario Canada who has been performing professionally since the age of 12. She first received National media attention when chosen as the youngest performer ever at 12 years old in Canada's all female artist showcase "Honey Jam, competing against artists twice her age. This prestigious showcase is sponsored by EMI and Warner Chappell Music and is best known to have launched the careers of Nelly Furtado and Jully Black.
Jaclyn was offered her first publishing deal at age 12 and began co-writing with artists from both EMI and Warner Chappell. She has wrote with numerous top Billboard writers including Liz Rodrigues (Eminem, Pink), Mike Krompass (Natasha Bedingfield, Archuletta) , Jim McCormick, Neil Sanderson, Matthew Tishler, Amy Powers, Alex Johnson, Eli Rise (Macy Gray, Adam Lambert) ,James Robertson and Brian Melo. Brian Melo is a past Canadian Idol winner (2009) and works regularly with Jaclyn to write and perform together. Jaclyn has hundreds of hours working in the studio and has collaborated with Multiplatinum producers like Brandon "Blue" Hamilton (Bieber, Ne-Yo) Mama Jan Smith (Bieber, Usher) as well as bands to include Three Days Grace and Juno Award winning producers like Gavin Brown. Jaclyn has trained with Live Music producer Tom Jackson in Nashville and vocally with Brett Manning and Mama Jan Smith in Atlanta.
Jaclyn is a self taught multi instrumentalist and plays piano, guitar and drums. She has written or co-wrote over 50 songs to date.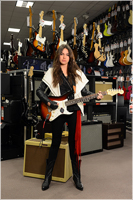 Jaclyn recently caught the attention of legendary rock photographer Robert M. Knight who has been the first to photograph and promote the biggest artists and bands in the world the last 40 years including Hendrix, Led Zeppelin, Aerosmith, Jeff Beck, Slash etc.. Robert is well known for discovering, shooting and bringing the biggest artists to the world stage. Robert is currently working closely with Jaclyn and his industry network. In the words of Robert Knight, Jaclyn "can hold her own against any female artist in the industry including Haylee Williams of Paramore and Amy of Evanescence"
Jaclyn became a sponsored acoustic artist by Fender USA in December of 2012 Her writing
Jaclyn has gained an impressive songwriting reputation across North America. Her diverse style and strong ability to write hooks in any style of music has garnered her the attention of major publishers including Patrick Clifford at Ten Ten Music publishing, Barbara Sedun EMI publishing and Vivian Barclay at Warner Chappell
At 14 years old Jaclyn caught the eye of world renowned vocal coach and multiplatinum producer "Mama" Jan Smith who immediately offered her a development deal in Atlanta. Jan Smith has personally mentored and/or produced Usher, Justin Bieber, The Band Perry, Sugarland, Drake and many other well known artists. Jaclyn travels back and forth to Atlanta from Toronto on occasion and recently spent a month working there writing and developing with Mama Jan and her team.
Jaclyn has written on projects for Shakira, Sisse Marie and other artists on the Mama Jan's Plumbline label in Atlanta. Mama Jan has been quoted in the Toronto Star saying"Jaclyn, as a writer, I believe she can write for anybody," "Stylistically, she really doesn't have a lot of limits, which is awesome."
Jaclyn has been given multiple songs to consider for recording from Warner Chappell and EMI and continues to be offered numerous writing and recording opportunities with major producers. Jaclyn's first single "Its All Fun" broke immediately onto US radio with Giant 96 WSVX in Indiana being the first to break the song.
Performances
Jaclyn is no stranger to the stage as a musician or an actress. She has played at the local and international level on the music scene and been a paid performer for over 3 years now. Jaclyn has played the lead of Gabriella in High School Musical and starred in a sold out production of Divas on Broadway. She has performed in multiple venues as a headliner, at music conventions, High schools, and corporate functions and in large capacity arenas. Jaclyn is beginning her first paid tour of school performances starting May 2013 and has partnered with the Canadian Government under their Public Health dept. to include full funding of her tour with an initial target of 42 schools. Jaclyn's band was carefully selected among some of the best teen musicians in North America who have achieved measurable success on their own and have been featured performers at NAMM 2012 and 2013.
Jaclyn's performances have included:
Honey Jam Canada (Canadian female Showcase/ MUCH music
Multiple corporate functions for Alegna international, 500-2000 person venues
Headliner – Ancaster Fair (Ontario's largest Fair)
Canadian Music Week Performer 2011
Jamilton/Festival of Friends
Dundas Square –Downtown Toronto outdoor performance- 2012
Nashville Two old hippies showcase
Acoustic high school performances and co-writing with Brian Melo (Canadian Idol winner)
Ontario Youth Summit 2012 –Hamilton Convention Centre
Copps Coliseum – Hecfi –One of North America's premier entertainment venues and
home to the Hamilton Bulldogs.
Cancer Relay for life events
Omni Television
That Chanel.com
High Schools in Ontario
Her Sound:
Jaclyn has the diverse ability to write "for anybody" in the Words of Mama Jan and is not confined to one particular style. She has been told her writing is well beyond her years. She has defined her vocal style as Evanescence meets Kelly Clarkson/Carrie Underwood. Jaclyn has a very powerful voice that defines her power pop/rock image and her tone has been described as, very unique and memorable with a soulful edge of country, depending on the song. This is what makes her unique as an artist. Jaclyn believes in writing and producing music that she can deliver live with her band and can also strip right down acoustically. Her influences have been everything from Aerosmith and Journey to Kelly Clarkson, Michael Jackson and Carrie Underwood.
Jaclyn writes and sings about her experiences and her life and has a unique gift in delivering vocals that are extremely emotional which capture the lyrics in her music. Her creativity in writing usually begins on the Piano or keyboards and has a distinct sound and feel to it.
Her Goal
Jaclyn feels extremely grateful and blessed to be working with the world's best on many fronts and to have achieved so much in a short time.
She is focused now on bringing her music out through the various tours and performances lined up for 2013 and building her fan base and recording her music with the world's top producers. Jaclyn's vision statement is to "Touch Lives, Change Hearts and Give Back, through the gift of music."
She feels a responsibility to understand the current culture and world events and to write music that comes from her direct experiences and that relate to the tough and difficult issues that society is facing today. She feels her music will touch the hearts of all ages delivering a positive message.
Her desire is to share her gifts and give back in any way and to help and make a difference to be a positive role model as she grows as an artist internationally.
Media
Jaclyn has been covered in numerous articles and industry journals from Verve Girl magazine, Exclaim .ca, The Hamilton Spectator, The Toronto Star, The Burlington Post, The Flamborough Review, That Channel.com, and many internet media, radio and blogs.
Here's a couple:
Ancaster Fair headline coverage
Verve Girl magazine coverage of Honey Jam performance
Her Music
Jaclyn is currently writing and recording, traveling to Nashville and LA regularly. She has released her first single "It's All fun "(till someone gets hurt) kenyon/rodrigues/tishler/powers