Jacob Reese Thornton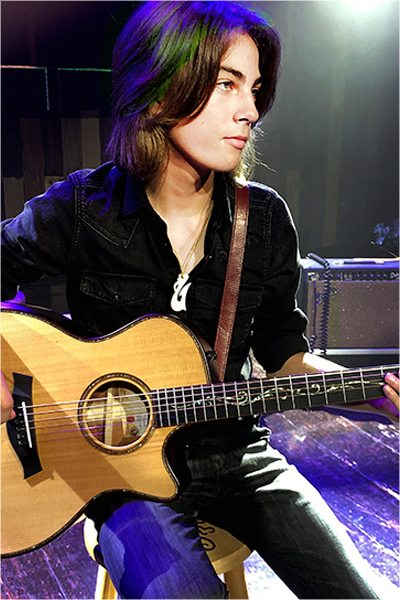 "Jacob Reese Thornton gets regular play on my show on Little Steven's Underground Garage on SiriusXM He's one of the most talented 16 year olds I've heard."
~Rodney Bingenheimer, SiriusXM; formerly KROQ, Los Angeles
Jacob Reese Thornton is a 16 year old guitarist, songwriter, and recording artist, who brings a depth and a passion to his music that significantly exceeds his years. Jacob is partnered with both Taylor Guitars and Ernie Ball Music Man Guitars. In 2017, he was invited to join legendary rock photographer Robert M. Knight's "Brotherhood of the Guitar" organization, which is supported by Taylor, Ernie Ball and the Guitar Center, and consists of a select group of hand picked young guitarists from around the world.
Already a prolific songwriter, Jacob's 2018 debut LP, "Different Times," includes a guest appearance by Todd Kerns from Slash feat. Myles Kennedy & The Conspirators. The two singles, "Bombs Away" and "Head First," were both featured on numerous radio stations across the U.S., in Japan and in the U.K. Los Angeles KROQ legend Rodney Bingenheimer has repeatedly featured Jacob's music on his weekly show, '"Rodney on the Rock," on SiriusXM in Little Steven's Underground Garage, Ch. 21.
Jacob has traded licks onstage with Rock Hall of Famer Buddy Guy, and his videos have collectively received more than 2.5 million social media views. In January of 2018, Jacob performed in Hollywood, CA at the launch for Robert M. Knight's book "Rock Gods Vol. II, Fifty Years of Rock Photography." Jacob is featured in the next generation section of Knight's book.
In July of 2018, the video for Jacob's song "Bombs Away" placed second behind Greta Van Fleet in Classic Rock Magazine's "New Tracks of the Week" reader's poll. Classic Rock Magazine, which has over 1.7 million followers, featured Jacob again in December 2018; selecting his version of the Chuck Berry holiday classic "Run Rudolph Run" as one of the magazine's "New Tracks of the Week." This time Jacob's track finished 1st in the poll; besting new songs from Smashing Pumpkins and Rivals Sons.
In October of 2018, Jacob joined KISS & Grand Funk Railroad legend Bruce Kulick and his band, which includes Todd Kerns and Brent Fitz from Slash & The Conspirators, for a rollicking version of "Rock and Roll All Night" at a pre-KISS Kruise VIII benefit concert in South Florida.
Jacob was profiled by Guitar International Magazine in January of 2019. In March of the same year, Jacob released two new singles, the Lindsey Buckingham influenced original, "Sketches of You," and a fresh version of The Smith's classic "Girlfriend in a Coma," which has been featured numerous times on Rodney Bingenheimer's show in The Underground Garage on SiriusXM; on Dino Bedrocker's popular U.K. show on Spire Radio, "The Music Shindig;" and on Mike Roger's InterFM show nationwide in Japan. In April of 2019, Classic Rock Magazine included "Sketches of You" as one of its "New Tracks of the Week" Reader's Poll. The track finished 1st in the reader's poll, besting a new track by the Hollywood Vampires. This marked Jacob's 3rd appearance and his second 1st place finish in this Classic Rock Magazine reader's poll. In May of 2019, "Sketches of You" received rave reviews on the "New Music Friday" segment of the "Feedback" program on SiriusXM Volume Ch. 106.
Jacob continues writing and recording and will release additional new material in 2019. Jacob is managed by Michelle Bakker at "One to One Artist Develop