Jersey Sullivan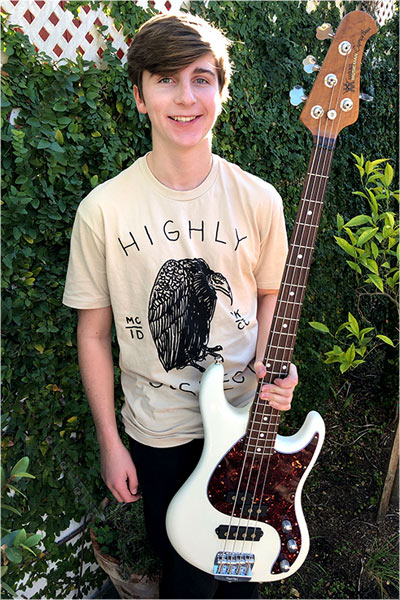 14-year-old Venice, California native Jersey Sullivan (www.jerseysullivan.com) is a multiinstrumentalist (drums, bass, guitar) who started playing music as a toddler and originated the role of James in Andrew Lloyd Webber's hit Broadway show, "School of Rock." Shredding on guitar, he had the opportunity to play alongside such luminaries as Stevie Nicks, Slash, and Lin-Manuel Miranda; additional, he made many television appearances, including on "Good Morning, America," "The View," and the 2016 Tony Awards. Recently, Jersey helped raise thousands of dollars for Broadway Cares/Equity Fights AIDS playing bass at several New York City benefit concerts. He also was the drummer on the "Young Guns" stage at the Dallas International Guitar Festival.
Currently, Jersey plays bass and writes music for Detoure (www.detourebandla.com), a hardhitting Southern California rock band that loves to play live and has had the opportunity to do so in some of the most iconic clubs on both coasts, including The Whisky A-Go-Go and The Mint in Los Angeles, as well as The Iridium and The Bitter End in New York City. With his band, Jersey has opened for such legends as Missing Persons, The Alarm, and Steven Adler from Guns N' Roses. He is stoked to record with producer Brent Woods (Sebastian Bach, Vince Neil, Chevy Metal), and can't wait to release an EP.
Jersey continues to be influenced by bassists such as Tim Commerford, Flea, Oteil Burbridge and Thundercat, as well as bands like Royal Blood, Death From Above 1979, and Highly Suspect. He is thrilled to play his new Music Man Caprice bass, as it easily cuts through a heavy mix and feels perfect in his hands.