Jim Evans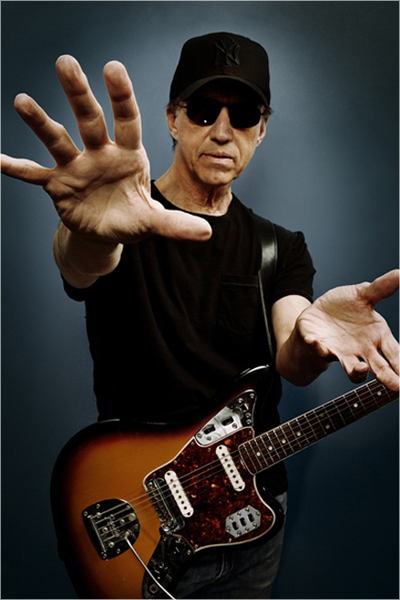 By the time Jim Evans saw Jimi Hendrix set his guitar on fire at the Monterey Pop Festival, he had already spent years playing lead guitar in a series of San Diego area rock bands. In the feedback, fuzz box, wah wah world of psychedelic riffs, Evans fired up the local stages with his mega amped, wall-to-wall sound, playing with bands like "Me and The Others," "The Iron Horse," and "Project Sound," Evans thought he had a career as a professional rock musician ahead of him. He was wrong.
Almost as an afterthought, he also designed the logos and promotional flyers for the groups he played with. Already artistic, with marketing savvy beyond his years, Evans had custom painted a teacher's surfboard in exchange for a passing grade and a ticket out of high school. So it wasn't long before the quality of his heavily illustrated drumheads and distinctive poster illustrations drew the attention of competing groups. Soon he was doing commissions in between gigs.
In a Southern California landscape littered with would be Claptons and Mike Bloomfield clones, Evans' art began an evolution that took him from musician to one of only a handful of illustrators who could successfully navigate the promotional demands of a hectic rock music scene. As an understudy of legendary rock artist Rick Griffin, Evans was immediately deluged with album sleeve work, including the first release by Alice Coltrane, wife of Jazz musician John Coltrane.
Moving his family to Hawaii, Evans met Robert Knight for the first time. Together they collaborated on a number of projects, including album graphics for a release by Don Ho's band, the Allihis. In addition, Evans did posters for the notorious Crater Celebrations at Diamondhead, featuring bands like Santana and Little Feet. But success in Hawaii only made him itchy to head back to California and dive headfirst into the rock music art scene again.
The 70′s were the golden age of album packaging and Evans did his share, starting with Robby Krieger of the Doors. The decade found him designing album graphics for The Beach Boys, The Allman Brothers, Chicago, Neil Young, a Jan & Dean reissue, and dozens of lesser groups.
A chance reunion with Robert Knight in the mid-eighties led to a renewed collaboration. This time it was fine art. Taking Robert's photographs and carefully reworking the context, Evans created a new style of art called the "icon narrative." Using graphic information about the life of his subject, he built an impressionistic milieu for the portrait's setting. Together Evans and Knight did commissioned portraits of Slash, Stevie Ray Vaughn, Jimi Hendrix, Eric Clapton, Billy Idol, Steve Vai, and Dick Clark, some of which hang in various Guitar Centers around the country. Each portrait was hand silk-screened in a limited series of monoprints. During this period Evans was commissioned to design the poster for the 1990 Grammy Awards in his icon narrative style.
Not one to be restrained by conventional wisdom, the anarchist in Evans became fascinated by the new, alternative sounds booming out of the late eighties, led by The Smashing Pumpkins, Nirvana, and Jane's Addiction. Starting an entirely new collaboration with his son, Gibran Evans, and master printer, Rolo Castillo, he created the T.A.Z. collective, a hierarchy-free creative environment that intentionally broke all rules of color theory. Returning to his roots as a rock poster artist, Evans and the T.A.Z. collective turned out hundreds of posters for bands like U2, Oasis, Porno For Pyros, Green Day, Pearl Jam, The Beastie Boys, The Ramones, Rage Against The Machine, The Wu Tang Clan, Metallica, and Nine Inch Nails. T.A.Z. also did a number of high profile album jackets for The Beastie Boys, Beck, Aerosmith, House of Pain, and Face To Face.
A commission to art direct the look and feel of Lollapalooza 1994, led Evans to the Internet and the chance to develop online identities for rock musicians. A series of websites for the Beastie Boys, Ozzy Osbourne, and The Smashing Pumpkins, led to Evans becoming a founder, with music mogul Al Teller, of the online record label, Atomic Pop. The label became home to Public Enemy, Ice-T, The Black Eyed Peas, and even released a single by the legendary L7.
Most recently, Evans finds himself involved in another collaboration with Robert Knight and his wife, Maryanne Bilham. Under the name Rock Machine, the three are combining a lifetime of music-based art and photography into re-imagining the experience of rock music. This latest creative incarnation uses art, fashion, video, and interactivity to view familiar rock iconography with a new set of eyes. They plan to bring the results of their efforts to galleries and retail venues worldwide over the next few years.