Joshua Bryan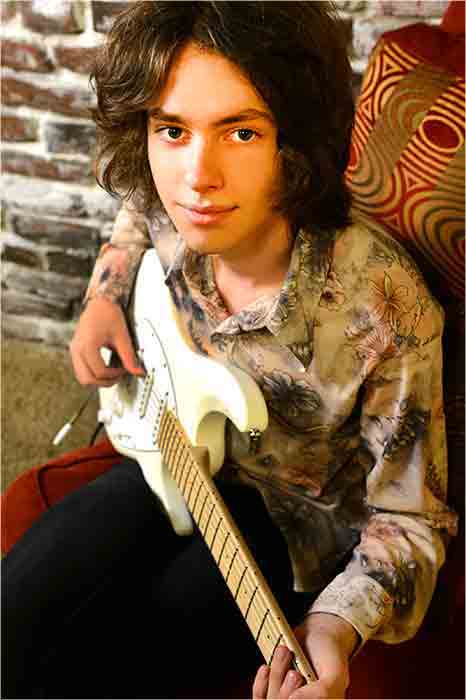 Joshua Bryan aims to inspire others through playing the guitar. The main genre he focuses on is rock and roll, and often with a hint of blues. He's been hooked on performing with the electric guitar since he first hopped on stage to jam a tune with a local cover band at 11 years old.
When Joshua was 10 years old, he asked his parents to start taking guitar lessons. With a cheap Hohner acoustic guitar gifted to him by his uncle, he quickly dove into the world of guitar purely as a hobby, never thinking of the opportunities it might someday bring him. He found himself interest in playing folk, jazz, blues, rock, and even classical music over his earliest years of learning.
Josh was first mesmerized by the high powered, loud and energized performances of Jimi Hendrix and Led Zeppelin, The Rolling Stones, and The Who, and even the glam-rock of David Bowie and the newer groups like Tyler Bryant and the Shakedown and Rival Sons. Influenced by these artists, he wanted to upgrade from the guitar he now wielded, an Epiphone acoustic, and moved onto an Epiphone Les Paul, eventually a Fender Stratocaster, and now has upgraded even further from there with the axe he owns now, the Music Man Silhouette.
Joshua draws a lot of creative inspiration from artists such as Jimmy Page, who's blues influenced rock has strongly shaped Josh's own taste in music, Jeff Beck, where Josh draws technical style from, as well as younger bucks Joe Bonamassa and Tyler Bryant who have shown young musicians how to get out there and rival their heroes, which is what Josh aims to do.
Joshua's goal as a musician is to make himself known to the world in a way that allows him to continue doing what he loves: playing music. He wishes to work with loads of different musicians in loads of different places, and hopes for many people to look up to him like he does to his heroes.