Logan Layman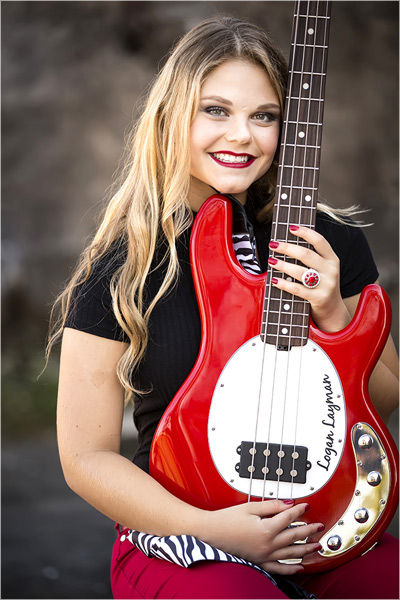 Logan Layman is known as a young artist with an old-school soul. She has a BIG voice and even BIGGER bass lines. At 16 years-old, she is an award winning singer-songwriter that plays bass, upright bass, piano, and foot percussion. Her favorite genre is Indie Blues but she also loves Jazz, Classic Rock, and Funk. Her musical influences include but are not limited to: Victor Wooten, Tal Wilkenfeld, Bonnie Raitt, Janis Joplin, Amy Winehouse, Grace Potter, Shemekia Copeland, and Esperanza Spalding.
Logan and her older brother Cole have grown up writing original songs and making music together. They perform nationally as the duo "InLaymanTerms," and Logan used to front The UnXpected band as the lead vocalist and bassist. Logan and Cole have played large venues such as the North Atlantic Blues Festival, Tall City Blues Festival, Bradenton Blues Festival, and the International Blues Challenge in Memphis, TN, to name a few. The two of them have recorded four EPs, and recently released their first full length CD, "Tangled." Logan and Cole wrote five of the songs on Tangled, which has been getting rave reviews and airplay all over the world. One song in particular, "Fake It Till I Make It," was originally a poem written by their Mom concerning her life long battle with depression. Logan and Cole turned the poem into a song, which was recorded as a video and can be viewed on the In Layman Terms website.
Even though a teenager, Logan is no stranger to accolades. In2016,she was featured in Bass Guitar Magazine. Also in 2016, their CD Tangled was given a great review by Downbeat Magazine. Logan was named the VEER Magazine's Emerging Artist of the Year for 2015. She was the Sea Level Singer/Songwriter's Emerging Artist of the Year for 2014. In August 2014, Logan and Cole appeared in Guitar Player Magazine. She was named Blues Kid of the Year in 2013. Logan is honored to be inducted into the prestigious, Ernie Ball Music Man, Brotherhood of the Guitar.
"I met Cole and Logan at the Pinetop Perkins Foundation workshops in 2014. Both were playing on such an advanced level that I knew immediately that they were not 'just kids learning to play.' It was obvious that they had great talent, stage experience and an original personal creativity in their music that most players never achieve. Then I listened to their CD and was blown away by the quality and originality. They are great now, not 'someday will be.' It is a pleasure for all of us to enjoy their progress and fine music. I am truly amazed and inspired." Bob Margolin, Guitarist for the late Muddy Waters and founding partner inThe VizzTone Label Group
"If you haven't seen them live at either a club or festival, these young guns of the blues are about 18 and 15 years old and they play like they've been in the business 40 years or more. Cole is a guitar wizard of the first order who drives music and his younger sister Logan has great chops on the bass. But it's her voice–oh my God that voice–that sounds like it's connected to all the great blues singers of the past and you just can't believe that this incredible voice is coming out of a barely five feet tall teenager." John Porter–Professor Johnny Ps Juke Joint
"There's plenty of great, young singers out there and plenty of young guitar prodigies too, but rarely do soulful muse and technical proficiency come in equal measure from talent so young, especially in the demanding genre of the blues, where integrity of expression immediately sorts those musicians with much to offer from those whom think the blues is an easy entry point into a career in music. IN LAYMAN TERMS, a sibling duo of multi instrumentalistsis in the former category and their excellent debut album TANGLED, a recording with depth and sass will set their career on a stellar trajectory. The mature writing skills of the Layman's seem to exceed their youth and experience, so no doubt these kids grew up steeped in the traditions of the blues, they must have in order to produce a debut blues album of such high caliber and consistency. The future of the blues is in good hands with these young musicians." Pete Williams – Made in the Shade
Logan would love to attend the Berklee College of Music in a few years after graduating from highschool. Regardless of where life takes her on this journey, she will always strive to share her music to inspire and connect with others.

Website: www.3inlaymanterms.com
Reverbnation: www.reverbnation.com/inlaymanterms
Twitter: @3inlaymanterms
Instagram: 3InLaymanTerms