Luke Sorensen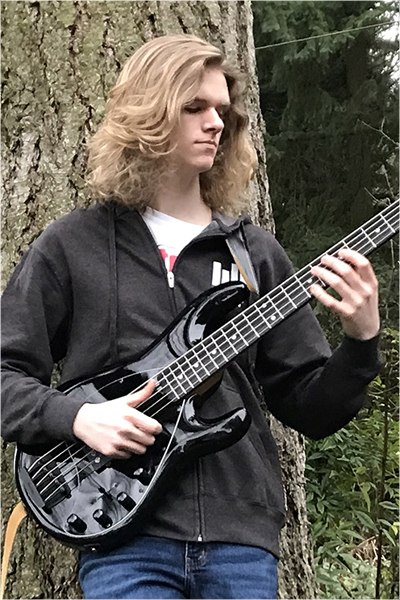 Luke Sorensen, 17, hails from the Seattle area. His affinity for music was apparent since he was a toddler, but once he heard Geddy Lee play bass Luke knew that's what he had to do. He picked up the bass for the first time in 2015 and instantly found his groove in the rhythm section.
With School of Rock Seattle, Luke has played at Milwaukee's iconic Summerfest, Seattle's Bumbershoot, as well as countless gigs in the Pacific Northwest. He has also auditioned and been awarded the School of Rock's prestigious All-Stars program honor three years in a row (180 kids out of 30k) and has toured nationwide, from Nashville to Los Angeles, playing world-class venues including Lollapalooza, House of Blues, Lincoln Hall, Rebel Lounge, and many others. Luke's also recorded in several studios, including Robert Lang (Seattle), Rax Trax (Chicago), and Sunset Sound (Los Angeles).
A dedicated student of the bass, Luke attended Berklee College of Music's Groove Camp in Boston, an intensive bass program led by 5-time Grammy award winner Victor Wooten and Steve Bailey. He is currently studying under gospel legend Andrew Gouche. Luke's musical style has been shaped by the likes of Herbie Hancock, Larry Graham, Les Claypool, Rush, Frank Zappa, Stevie Wonder, Steely Dan, and others.
Luke also plays piano in an honors jazz ensemble and played bass and drums in the Seattle's School of Rock House Band. He is a part of many local Seattle bands; one being King Sheim (riot grrrl) and his own band, David's Van (comedic metal). He has recorded several EPs and upcoming albums for both (2020 releases). David's Van was selected as a semifinalist for MoPOP's SoundOff 2020, which is the most notable Pacific Northwest music competition which has skyrocketed unknown bands to international recognition.
Luke's mastery of theory and perfect pitch serves him well in performing and producing, and he plans to pursue a career in the music industry.