Lyric Dubee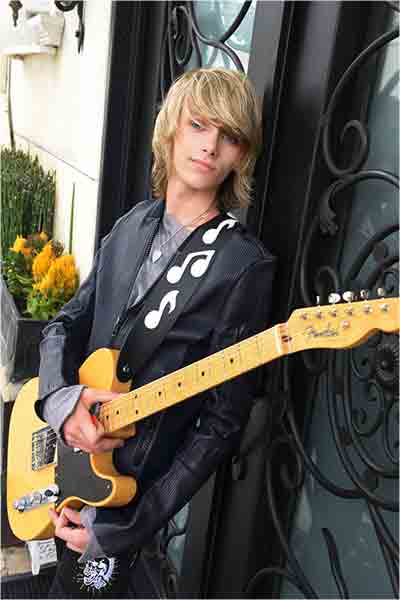 Lyric Dubee is a multi-genre artist born and raised in Barrie, Ontario, Canada. Proficient and at ease playing ROCK, POP, BLUES and JAZZ, his deep appreciation and experimentation with all the genres led Lyric to personalize his own style of music known as REVOLUTION ROCK.
Lyric just finished recording his 4th album at 16! He just got back from LA where he completed his 4th album with Grammy Award Winning Producer Warren Huart and is now managed by legendary Rock Photographer Robert Knight. Robert has put together a killer band to back Lyric from all across North America.
Lyric wrote all the songs for his first and second album, and won the BEST YOUNG SONGWRITERS award at the Barrie New Music Festival 2011. He hit the studio in 2014 to record his 3rd and recorded all 11 songs between Nashville and Toronto with 4 singles currently released. Lyric took home the MOST PROMISING YOUTH award at the Barrie Arts Awards in Nov 2014.
Lyric has opened for or shared the stage with performers such as Walk Off The Earth, David Usher, Rik Emmett of Triumph, Jim Cuddy of Blue Rodeo, Lee Aaron, and did his first USA tour throughout Ohio, Kentucky, and Tennessee in 2013. He has since performed in Austin, Texas at SXSW Music Festival for the CIMA Canada Showcase. He has performed live in over 200 shows and in music festivals such as NXNW, CMW and headlined the Music By The Bay Festival.
Lyric studies classical guitar, jazz guitar and music theory and just completed his grade 8 Royal Conservatory (RCM) exam. He passed his grade 8 classical guitar exam with "Honours " and he received " First Class Honours " on his last theory exam.
Lyric has been featured and interviewed in various media outlets including CBC, CP24 Breakfast TV and the Humble and Fred Show and has had many articles written about him.
"I have never seen anyone so young sound so great, original and musically sophisticated. Both albums are really great"
T.M. Stevens, bassist for The Pretenders & recorded with Steve Vai, Neil Zaza, Cyndi Lauper, Little Steven, Tina Turner, Dan Hartman and Billy Joel.
"Definitely a star! And the hardest working artist I know."
Elaine Overholt – vocal coach to the stars (John Travolta, Michelle Pfeiffer, Richard Gere, Catherine Zeta-Jones, Renée Zellweger, Queen Latifah. Elaine also coached Ellen Degeneres in a live segment on her hit talk-show
"Canada over the years has brought about some great superstars of music, like Shania Twain and Justin Bieber. Now we have another great artist coming from Canada, and he has the ability to be the greatest yet. Lyric Dubee will be, "Canada"s Newest Superstar!" TOMMY NEAL – STARS2COME.COM
"Lyric Dubee is the real deal. I love this young man's talent, work ethic and current song list which is light years beyond everything I heard!. He has the song writing ability of Taylor Swift and a young Bryan Adams combined with the youthfulness of Justin Beiber and the guitar playing and blues knowledge of Colin James. He is the embodiment of the future of music in Canada." MICHAEL WILLIAMS – JOURNALIST, RECORD PRODUCER & MEDIA PERSONALITY