Matt Ireland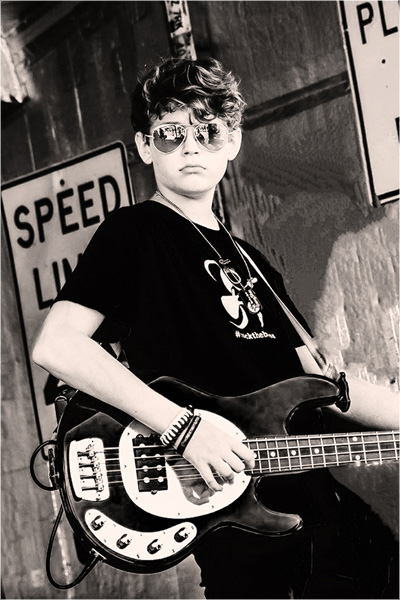 Matt is a 14-year-old bass player from Memphis, Tennessee. He first started playing bass when he was 10. Watching Wolfie Van Halen in the Van Halen Guitar Hero game is what sparked his interest in playing bass. He quickly took to the instrument and within a few weeks was learning and playing songs from all sorts of genres. He played bass with a young band in the school talent show and nailed the bass solo from Godzilla by Blue Oyster Cult. Later that summer he joined forces with a young guitar player (Zeke Yarbro) and, at age 11, they formed the band, Under The Radar, in August of 2014. By April of 2015 and still only 11 years old, they found themselves opening for the legendary Kansas. Under The Radar has two releases on iTunes and has since gone on to open for .38 Special, Loverboy, Saliva, Better Than Ezra, Bret Michaels, Every Mother's Nightmare, Roxy Blue, Tora Tora and countless others. Matt has even had the chance to sit and jam with his idol, Victor Wooten.
Matt is now a freshman in high school and plays both the electric bass and the standup bass in the oldest high school band in America, the Christian Brothers High School Band in Memphis, TN.
Matt and his band play many charity events every year for St. Jude Children's Hospital, Dogs 2nd Chance, and Bands Against Bullying in coordination with Rock Rage Radio.
Matt is a self taught player and has impressed many a veteran player with his sense of groove and tasteful licks. Playing bass in a 3-piece band is a huge task and Matt handles that task with the consistency of a seasoned professional. He relies on his main axe, his Black EB MusicMan StringRay, show after show and it never lets him down. He still can't wrap his head around the fact that Ernie Ball gave him a string endorsement along with his guitar player and that their picture on the Ernie Ball site is right there in the middle of artists that they've been huge fans of for years. Matt is constantly pushing himself to be better on the bass and that probably comes from his success in the classroom. Matt is a straight "A" student and take his academics very seriously. He understands the rewards of hard work and never shies away from a challenge whether with his music or his academics.
Matt comes from a musical family. His dad is a drummer with extensive experience and his older brother is an amazing guitar player in his own right. Matt's grandad was an amazing guitarist that opened for Bo Diddley when he was in high school and he was also instrumental in the Memphis Music scene during the 60's and 70's with Stax, Ardent, Sunn and Phillips Recording studios.