Maunel Durate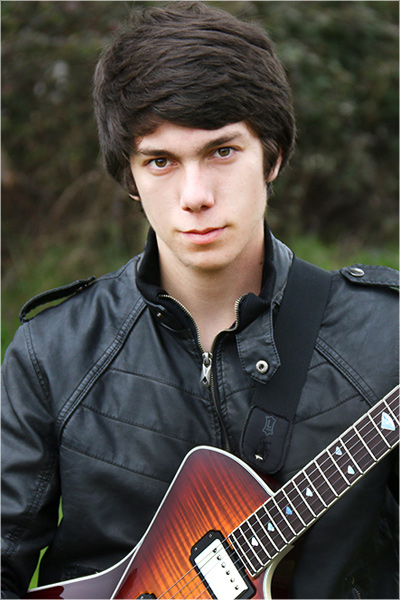 Manuel Duarte is an guitar virtuoso from Portugal. Borned in 5th, September of 2000, he started studying the piano when he was 6 years old and since then he became much influenced by classical music and classical composers like Bach, Mozart, Waltz, Beethoven and his favorite, Nicolo Paganini.
When he was 8, he discovered the Rock n' Roll and Heavy Metal, so he started listening bands like Iron Maiden, Aerosmith, Bon Jovi, Van Halen, Black Sabbath, Motorhead and portuguese metal and hard rock bands like Iberia, Tarantula and Ramp.
At 10 years old, he decided learning the guitar and quickly he started playing and studying compositions from many guitar players, like Jimi Hendrix, Gary Moore, Randy Rhoads, Dave Murray, Adrian Smith, Van Halen, Eric Clapton and others.
An year later (2011), was released the neoclassical instrumental album "For Eternity", from his favourite portuguese guitar player and a big influence for him, Hélder Oliveira. That album introduce to Manuel an new world, where he could combine his classical influences with his metal influences. Since then, he has been studying his favourites neoclassical and shredders guitar players like Marty Friedman, Paul Gilbert, Yngwie Malmsteen, Jeff Loomis, Michael Angelo Batio, Vinnie Moore, Steve Morse, Steve Vai and the guitarist that he consider as "the best guitar player ever and one of the most inspirational persons in the world", Jason Eli Becker.
With age 15, in only a few months of recording some videos to his instagram, he have already more than 7000 followers from all parts around the world and he's getting very positive comments by the mainstream.
Manuel has been featured as "young and promissor guitar player with amazing skills" on pages like RiffWars, World of Music and Guitar Nation where he obtained thousands of likes and great comments.
One amazing thing of his guitar playing style is that he's able to play really fast but he also can play slowly melodies with an incredible feeling.
Manuel Duarte is endorsed by Ernie Ball and Ernie Ball Music Man Guitars and he's working on his solo project.