Max Barth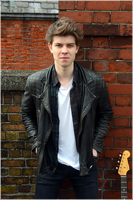 Maximilian Barth is a German guitarist and singer born in 1993. Growing up in small town called Wadern, he started playing the guitar at the age of eight.
It all started out with his dadʻs old guitar. After a few piano lessons he found an old nylon string guitar at home. For 4 years he then learned to play the instrument, but somehow the classical way was lacking something – the passion.
"My piano teacher even told my former classical guitar teacher not to teach me, he thought there was no creative energy in me."
Luckily, teaching didnʻt stop. At the age of 12, he decided to switch to the electric guitar. Inspired by his grandfatherʻs love for the blues and his fatherʻs old records (Pink Floyd, Jimi Hendrix, The Eagles…), he wanted to learn everything about the instrumentʻs possibilities and limits:
"The electric guitar offered me the opportunity to create a range of sounds and noises that the classical guitar just couldnʻt give me. I wanted to know how to create the sound that my heroes created."
Only a few months after Marc Barbian started teaching him, he started to look out for fellow musicians. He found these people at the blues jam sessions in a city nearby.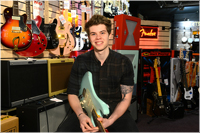 "I didnʻt know what it would be like to be on a stage. There were people forty years older than me, playing the blues in a small bar. I had no idea how to improvise and I was really nervous. So they just put me on stage with a band and started a 12 bar shuffle blues and let me play whatever I wanted to."
From this moment on, his second mentors were the people at the jam sessions. They taught him how to play the music of Muddy Waters, Robert Johnson, Eric Clapton and other blues heroes.
At the age of 15 he formed a band with friends from school. He fell in love with the music of John Mayer, John Frusciante, Jeff Beck, Stevie Ray Vaughan and Tyler Bryant and studied their songs, sounds and way of interpreting the blues.
When he turned 16, Max started writing songs and singing. He formed the band "Max Barth & The Backdraft". The band released a EP in 2010 and the album "Uprooted" in 2012. In 2013, the band won the title as "Best emerging artist of the state". They will be touring Germany in Summer and record a new LP at the end of 2014, produced by Kurt Ebelhäuser.
Max moved to Mainz at the age of 19 where he constantly meets new musicians and finds new music everywhere. He will be part of the "Popkurs" at Hamburg university of music this year.
"By moving to the city I have had the great opportunity to develop as an artist. I am constantly keeping my eyes open for new music. Some friends play in punk bands and some love hip hop music. I really want to try to see the beauty in everything. I want to create music that is influenced by all the music I find on my way and combine it with my roots without losing the authenticity of the blues. There are no limits, and thatʻs what I love."