Nolan Garrett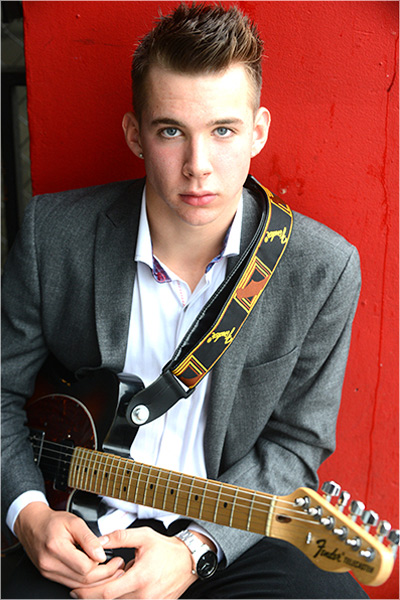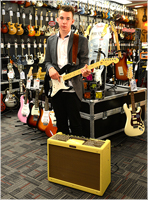 Raised on a steady diet of Jimi Hendrix, John Mayer, Alice In Chains and The Black Keys, Tacoma's Nolan Garrett is just as accomplished as a fiery axe-slinger as he is an ambitious songwriter. A mere moment's scan of his unique artistic amalgamation suggests an artist on the verge of something extraordinary as personified in his gutsy blend of timeless rock n' roll, sophisticated pop, elements of grunge and garage rock, doused with just the right of amount of blues on the fire.
For an artist of any age, it's surely an electrifying dichotomy, but considering Garrett is a mere 15-years-old, it suggests he's nothing short of a modern day prodigy. Yet even with youth on his side, the versatile performer is already a veteran of sorts who first started playing at age 8, took to the professional stage a year later and is currently criss-crossing the Northwest as a weekend warrior while he maintains a straight A average at the highly coveted Tacoma School of the Arts.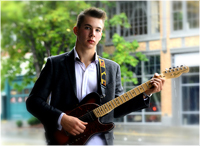 "I wasn't very good at sports, so I decided to try music and picked up the guitar, but when the day of my first lesson came around, I didn't even want to go," he lets out with a laugh of those pre-teen beginnings. "But after my first lesson, I was hooked, and besides having a knack for it, I was able to get instant results where there wasn't any competition. I basically began playing all of the time, constantly striving to get better and improve, and wound up in front of 200 people within six months at a Relay For Life charity event."
Aside from blowing away the crowd with his maturity, professionalism, and perhaps most importantly, playing chops well beyond his years, Garrett hit the open mic/jam night circuit with abandon. It was there that he met a slew of seasoned musicians at least twice his age, which led to further introductions of past and present greats spanning Stevie Ray Vaughan through Joe Bonamassa.
"From the moment I started, I've loved the feeling of being on stage," he observes. "It's such an adrenaline high and it's the one place you can start going crazy without anyone yelling at you. It's the place where you can really let loose, have fun and feed off the people cheering back at you."
Smaller shows soon blossomed into prestigious area accomplishments, like sweeping "Kids Got Talent 2010" (where he scored "Best Solo Artist," "Best Band" and "Audience Favorite"), bringing Seattle's l