Owen Rivera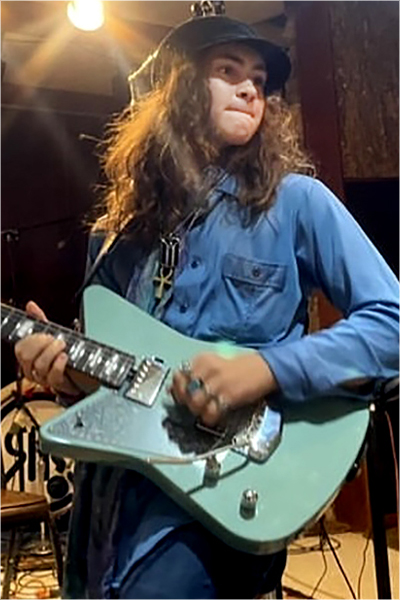 Owen is an old classic soul living in the body of a thirteen year old Puerto Rican boy. Owen discovered his love for music at the young age of two and has not looked back since. By 4 years old, he was rocking the stage at The House of Blues and by 5 years old he had already signed multiple music endorsement deals. Owen is a singer, songwriter, guitarist, keys player, percussionist and drummer. He wrote and produced his first original song at 8 years old. Over the years, he has been blessed to work with or perform for many Legendary Artists including Joan Osborne, Graham Nash, and William Bell, as well as, many other artists from the iconic Memphis Stax Record label including Mavis Staples. Owen is currently collaborating on his own original music with a multiple Gold and Platinum Album Award Winning Producer, as well as many Grammy and other Award Winning musicians from bands such as Tom Petty and the HeartBreakers, Ringo Starr's All Star Band, Alice Cooper, Guns And Roses, Mavis Staples, Patti LaBelle, Christina Aguilera and Halsey to name a few. Owen's music is also featured on Tom Petty Sirius XM Radio. Stay Tuned much more in the works!
Owen's intense passion for music has led him to opportunities and success in the acting world as well. He has appeared on numerous TV Commercials, in Music Films and on TV Music Shows. He was also flown to New York and offered a lead role in an Andrew Lloyd Weber Broadway Musical. He also loves being a VoiceOver Artist and has worked on feature films, multiple animated movies, and starred as a lead character in a recent Emmy Nominated TV Show. Owen very recently started working with Nickelodeon Studios starring on a TV Show as well…
Owen is an artist truly not limited by age. He has an uncontainable passion to tell stories through music that promotes messages of Peace, Love and Equality and also to take people back to an old soulful sound. He sees his music as a vessel to carry these messages and to speak out against the injustices that have become woven into the fabric of the modern world. Inspired by the likes of Bob Dylan, John Lennon, Bob Marley and many others before him… Owen's pursuit is to be the voice of a generation and to take people back to an older sound and time. With the right platform, Owen will use his voice to uplift spirits, make people think about the world, and ultimately cultivate a desire within others to make a difference.