Rebecca Laird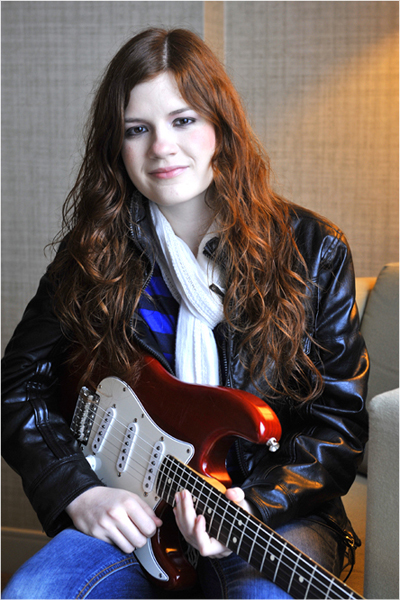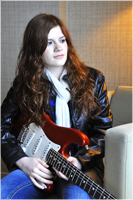 Born and raised in Houston, Texas, Rebecca Laird (19) picked up the guitar at the age of 13 and hasn't let go of one since! Self-taught at first, Rebecca was onstage and writing songs with bands as little as six months after playing her first chord. After demonstrating her desire to delve deeper into guitar, she began taking guitar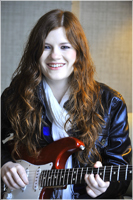 lessons from classically trained guitarist and songwriter, Adam Flint. Between her parents and her guitar teacher, she was exposed to a vast variety of different musical styles, all of which played a vital role in her development as an artist.
Rebecca's life changed dramatically one day when her parents showed her a PBS special featuring Stevie Ray Vaughan. Immediately captivated, Rebecca picked up her Strat and began learning the songs she had just heard well into the night and into the next morning. Soon, she began a regular attendance of the blues jams across Houston, honing her chops in a hotbed of Texas Blues. Using her newfound skills, she entered Guitar Center's King of the Blues competition (now called Battle of the Blues) and at the age of 16, she won at the store level.
In 2010, Rebecca was the first ever recipient of the Houston Blues Society's "T-99 Nelson" scholarship award for young musicians. She was also a repeat award winner the next year. Using the scholarship money, (coupled with scholarships from the National Guitar Workshop itself) Rebecca was able to go to the National Guitar Workshop in Austin and attend masterclasses by Jimmie Vaughan, Hubert Sumlin, Bob Margolin and Elvin Bishop. On one of these trips, she found herself inadvertently opening for Bob Margolin as well as the late Hubert Sumlin and Pinetop Perkins when they showed up for a jam at Antone's. She has also opened for Ted Nugent at a benefit for the Wounded Warriors Project and has been featured in articles by The Houston Press and other media. Recently, Rebecca (along with the Peterson Brothers from Bastop, TX) represented Houston at The International Blues Challenge in Memphis, Tennessee.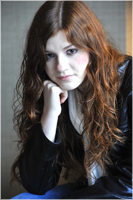 In addition to blues, Rebecca also plays lead guitar for alternative rocker Cari Quoyeser (who was recently featured on American Idol). Lending her blues vocabulary to Cari's vocal ability and song writing skills, the two worked with producer Dan Workman (ZZ Top, Clay Walker, Beyonce) at Houston's legendary Sugar Hill Studios to record Cari's debut album, "Blueprints to Infinity". Together, Rebecca and Cari have played across Texas from Six Flags Arlington to the main stage at Texas Rockfest two years running during the week of SXSW in Austin.
Since her very first guitar, Rebecca's guitar of choice has been the Fender Stratocaster. Most of her personal guitars have had slight modifications and upgrades. Working on guitars is one of Rebecca's favorite pastimes. Because of her familiarity with guitar equipment (particularly Fender), she was hired by a local guitar shop and has also begun to teach lessons there. She plans to begin pursuing a degree in Jazz guitar this fall.
Recently, Rebecca has begun the process of recording some of her own original songs. Her unique sound draws from her blues roots and a blend of jazz, funk and rock both classic and modern. Look for the release of her first EP later this year!
Rebecca's main influences include the Vaughan brothers, Alan Haynes, Albert Collins, Robben Ford, Jeff Beck, Matt Schofield, Pat Martino, Joe Bonamassa, Bonnie Raitt, Al DiMeola, the three "Kings" (Albert, B.B. and Freddie), Steve Howe (of Yes), Lightnin' Hopkins, Wes Montgomery and David Gilmour (Pink Floyd) among many more.