Ronny Dave Castro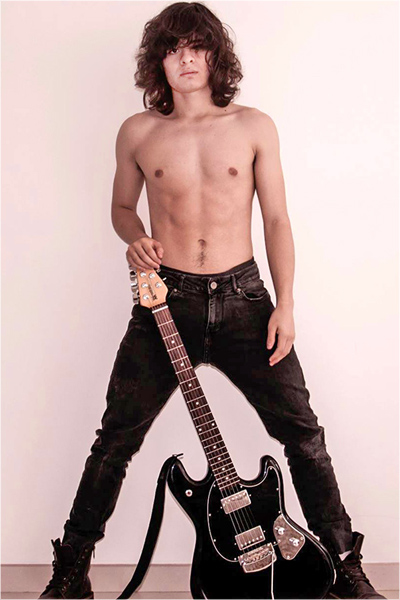 My name is Ronny Dave, I am a 19 year old guitarist. I was born in Ecuador, but thanks to my dad we've been moving to different places throughout the course of my life. Now I am living in Mexico City but in the following months I am heading to Los Angeles California to pursue my dreams of having the best rock n roll band. And also I'm gonna be studying at Musicians Institute.
I grew up listening rock n roll and blues. My dad gave me my first guitar as a gift for Christmas when I was 14 years old. I remember playing around with the guitar and learning the basic chords and scales following by covers from Metallica, Guns N' Roses and AC/DC. All my friends in high school played guitar and they were really good, so I didn't want to stay behind. They encouraged me to start becoming a better guitar player, and play with them, jamming covers at a their houses and playing for fun. The more I played, the more I was falling in love with it. It didn't hit me until I perform live with the band I had with my friends at a talent show at school. I realized the stage Is where I belong. I knew what I was going to do with the rest of my life.
My influences are: Guns N' Roses, Gary Moore, Motley Crüe, Aerosmith, Led Zeppelin, skid row, Queen, Scorpions, the doors, Rolling Stones and many more. I feel identified with this type of music, real rock and roll. My dad gave me this love for music, since he was always a big fan of all this great bands and taught me about them.
My brother and I have made a band which we played for a while and also played lots of live shows. Me and my brother Nikolai (drummer who is also in the drummerhood)have created original music and have sufficient material for recording an LP. Currently looking for the rest of the musicians to form the best rock n roll band in the world !!