Sam Castro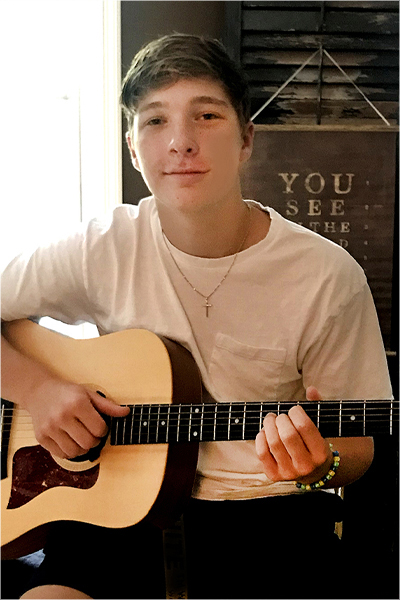 Sam Castro is a 14 year old guitarist from St. Louis Missouri. Sam began playing guitar at age 8. Sam plays mul;ple instruments, but began focusing on his guitar at the age of 11.
Sam started playing all genres of music, and then se?led into the blues. At the age of 12 Sam started focusing on Jazz , Soul Jazz and Funk.
Sam's favorite bands include Panic at the Disco, Soulive, Snarky Puppy, Vullpeck, Stevie Wonder, Earth Wind and Fire, Herbie Hancock, West Montgomery, the Meters, John Scofield, and his favorite local band The Service featuring his guitar teacher Pete Lombardo.
Sam is a Freshman at CBC this year and is a member of the CBC Jazz band. Sam is also a member of the St. Louis Blues Society, the St. Louis Legacy Ensemble, the Gaslight Recording Studio and the Heal Center for the Arts, where he currently plays with the North County Big Band and the Point of View Jazz Ensemble, lead by Harvey Lockhart. Sam has had the great pleasure of playing in many ci;es including; Nashville, Memphis, Miami and Chicago, but is most oVen found playing around St. Louis with his friends at open jam sessions, the Dark Room at the Kranzberg Arts Center, the Sheldon Theatre and a large variety of venues with his Point of View Jazz Ensemble.