Shaunt Avakian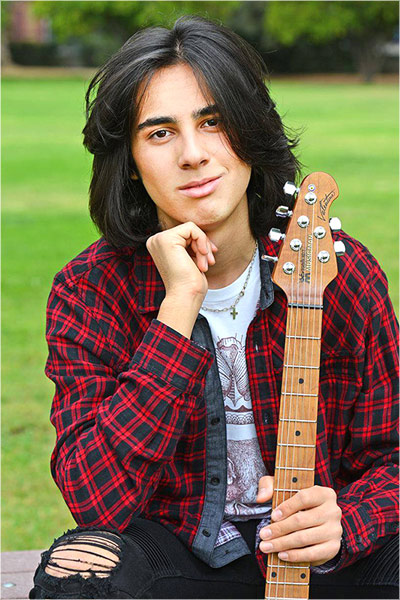 Ever since he can remember, Shaunt has been enthralled by music. Most adults around him remember his singing and dancing along to the beat of the drum, the groove of the bass, the roar of the guitars and the melodies of the human voice. As he started to grow up, he became fascinated by the idea of playing a musical instrument. Classical Piano training came first around the age of five, along with a short stint in the world of musical theatre. But as Shaunt matured, and ended up in a band as the lead singer, he realized that it was time to sling up a six-string and has never turned back. The blues became a fascination of his as he dove into the likes of B.B. King, Gary Moore, Stevie Ray Vaughan and Joe Bonamassa.
Currently, he studies vocal performance with Grammy Nominated Artist and Songwriter, Jan Linder-Koda, who's been a great source of musical inspiration along with her friend and L.A. studio stalwart, Marty Rifkin, who helped him record his first few singles. His guitar teacher is prolific classical and jazz guitar virtuoso and bandleader of the famous "Falla Guitar Trio" and "Quarteto Nuevo", Prof. Kenton Youngstrom, who challenges him to push further into the world of technical guitar and jazz improvisation.
Recently, Shaunt was contacted by legendary rock photographer, Robert M. Knight who has made his mark by photographing multiple rock legends including Jimi Hendrix, Led Zeppelin, Jeff Beck and Stevie Ray Vaughan. Robert, who has a knack for discovering new talent, inducted Shaunt into his program for young musicians, the Brotherhood of the Guitar which led to a sponsorship by The Ernie Ball Company.
Shaunt is now proud to play his new EB Music Man Valentine around town.
He is still in High School, trying to deal with homework and a relatively successful Speech and Debate career, but his passion seems to lie in music and performance, which is what he one day plans to purse in the world of higher education and the professional world.
"The only love affair I have ever had, was with music" – Maurice Ravel