Tamish Pulappadi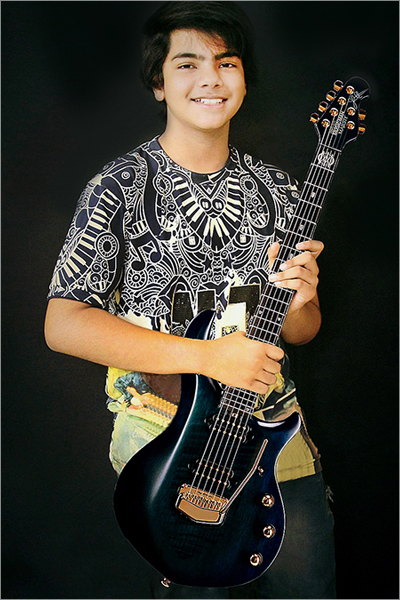 Tamish Pulappadi is a 13 Year old guitarist /singer /composer based out of Bangalore, India. Tamish has been playing guitar since he was 8 Yrs old. Guns N' Roses and Slash has played a major role in shaping this young guitarist. His favorite players include Steve Vai, Yngwie Malmsteen, David Gilmour, John Petrucci, Shawn Lane, Stevie Ray Vaughan and Jimi Hendrix.
While he enjoys and appreciates all genres of music, his passion lies in Blues and Rock. Tamish also did the Steve Vai technique course from Berklee online which he finished at the age of 12 with an "A" Grade and went on to cover one of the best compositions of Steve Vai "Taurus Bulba" which was also later appreciated by Steve Vai himself.
Currently Tamish is totally focussed on producing his own music and releasing his first EP in July 2017. He has just finished recording one of the tracks for his new EP. For one of the tracks of his EP, he recorded all the lead guitars, rhythm guitars, bass guitar and also programmed all drum parts.
Tamish is super excited to have been invited into the elite Brotherhood of the Guitar [BOTG] group and super happy to be among the most talented young musicians from all over the world. Tamish is endorsed by Ernie Ball and Ernie Ball Music Man Guitars and he's working on his solo project and plans to travel and collaborate with various artists.