Thayer Aletheia Zomlefer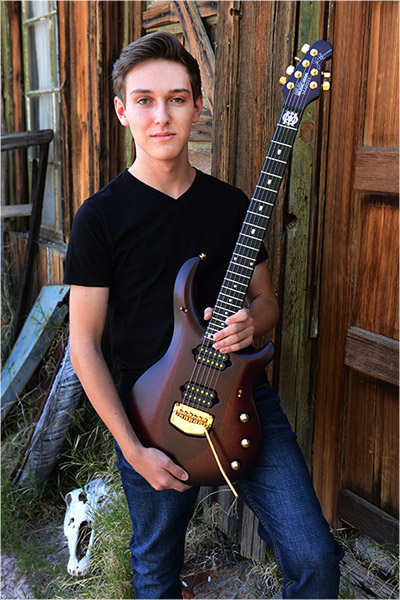 Thayer possesses a unique playing style infusing neoclassical shred, blues and rock. Thayer began playing at the age of nine. He was enthralled from the moment he held his first guitar. Thayer is known for his speed, accuracy, fluidity, passion and soulfulness in his playing. He is a multi-instrumentalist also playing the piano, bass, mandolin and drums.
Thayer was a member of the School of Rock house band, the Sugar Skulls for several years which opened for Joan Jett and Lynyrd Skynyrd. The Sugar Skulls also played the main stage at Super Bowl Central XLIX in Phoenix, AZ.
Thayer is also known as solo artist, Tazshredder. He has been featured in articles by Metal Shock Finland and TeamBecker. Thayer performed at NAMM 2016 with legendary guitar virtuoso, Bruce Bouillet and recently released his first single "Day's End."
Thayer draws inspiration from guitarists Jason Becker, John Petrucci, Joe Satriani, Steve Vai, Brian May and many others. In 2014, Thayer was very fortunate to have the opportunity to meet one of his guitar idols, Jason Becker, and perform for Jason in his home. Since this meeting, Jason has become a close friend and mentor. Thayer was honored to be invited to perform at Gary Becker's Open Studio in 2015.