Tom Euler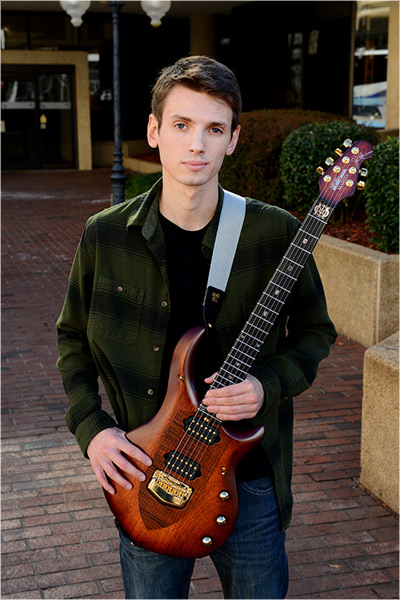 Known as the "young guy with the old soul", 20 year old Tom Euler is an award winning singer/
songwriter, accomplished guitarist and multi-instrumentalist from Hartfield, Virginia. Tom's
powerful and thoughtful playing style coupled with his affinity for blues and rock, quickly led him
to the active blues community of Hampton Roads. In 2014, Tom entered jazz legend Lee
Ritenour's global "Six String Theory" guitar competition, and after judging by some of the world's
greatest guitarists, made the finals, ultimately landing in the top 5 for blues players among
entries from 48 countries. As lead guitarist for the Bobby Blackhat Blues Band, Tom has
competed twice in the International Blues Challenge in Memphis, TN. In January, 2016, they
were one of only 8 bands to make the finals at the IBC. The unique opportunity to perform on
some of Beale Street's legendary stages in the company of world class musicians is a huge
accomplishment and playing the finals at the Orpheum Theater is an experience he is not likely
to forget any time soon!
In addition to his time with Bobby Blackhat, he fronts the Tom Euler Trio, and plays in a metal
band as well. Tom was named the winner of the 2015 Sea Level Singer/Songwriter Emerging
Artist Contest in Tidewater, and is a 2016 Veer Magazine Music Award nominee. He has
recently written and released a self-produced EP entitled "Fool Me Once."
Tom is drawn to many music genres from blues, rock, metal, and pop, to celtic and classical.
He is influenced and inspired by guitar greats Mark Tremonti, Alex Lifeson, Joe Bonamassa,
Duane Allman, B.B. King, and Stevie Ray Vaughn, to name a few. Tom is honored and excited
to be a part of the Ernie Ball/Music Man Brotherhood of the Guitar and looks forward to
connecting with other members in the near future.