Zack Salsberry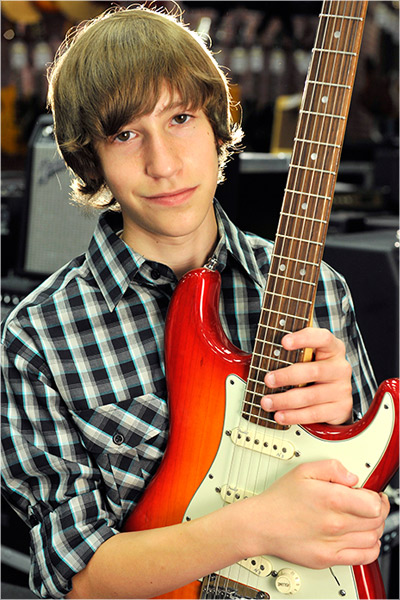 Zachary Salsberry is a 14-year-old guitarist from Newport News, Virginia who started playing at the age of 5. While he enjoys and appreciates all genres of music, his passion is blues and classic rock. He is heavily influenced by Stevie Ray Vaughan, Jimi Hendrix and Albert King as well as modern guitarists such as Gary Clark Jr. and Albert Cummings.
Zack has been playing live shows since the age of 9 when he enrolled at the Academy of Rock Music in Virginia. In March 2012, he joined four other young musicians and began a new venture with his current band – The UnXpected – for whom he plays guitar and sings. In January 2013, The UnXpected released their first EP. They were also named VEER Magazine's "Best Teen Band" for 2013 and recently began writing new original music for their first full length CD, which will begin production in the summer of 2014. Zack has performed on Beale Street in Memphis at the International Blues Challenge and has also played shows and festivals throughout Virginia as well as in Maryland and Washington D.C.. He and his band have been featured and performed on local radio and television shows and he also makes regular guest appearances with other local musicians.
Zack was recently awarded a scholarship from Generation Blues to assist with travel to Chicago where he will take part in the Fernando Jones Blues Kids session in July 2014. He attended the same camp in Hampton, VA in 2013. He also excels on the violin where he is first chair in his school's orchestra and has been named "Most Outstanding Musician" for 2013-14. Zack also plays drums and piano and hopes to make a living in the music industry. He appreciates the value of education and has excelled in his school's Talented and Gifted (TAG) program. He has been accepted into the International Baccalaureate (IB) program for high school and will seek the IB diploma beginning Fall 2014. Zack is thrilled to have been invited into the Brotherhood of the Guitar and included among such talented young musicians.