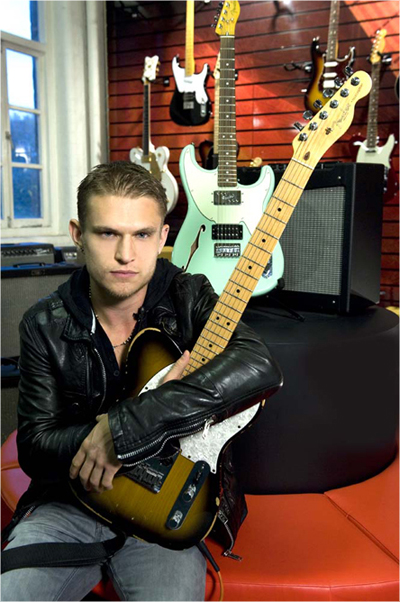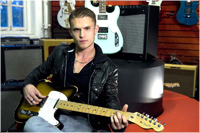 Guitarist, vocalist and songwriter, Ben Poole is at the forefront of the UK blues/rock movement, a name that will grow from strength to strength in 2012. His live performance must not be missed and his eagerly awaited debut album is due for release early 2012.


"Amazing! I really loved his playing"
- Jeff Beck

"A really great guitar player!"
- Gary Moore


When you hear comments such as the above from two of the worlds' greatest guitar players you just know they have heard something very special. Twenty-three year old Ben Poole is currently being described as the most exciting young blues/rock guitarist to come out of the UK for a long, long time.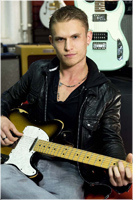 The past few years have been extremely exciting ones for Ben, seeing his name crop up regularly in Europe's biggest selling guitar magazine Total Guitar who recently named Ben as "the guitarist to watch out for this year". The past few years has seen Ben and the band playing all over the UK and Europe and he recently became the only unsigned blues roots artist to ever play at the "Download" festival in Donnington Park in June, playing alongside artists including Aersosmith, AC-DC and Rage Against The Machine. 2011 is shaping up to be an even bigger year for Ben with his band having already completed a hugely successful 12 date UK tour and playing two nights at the prestigious Glastonbury Festival in the UK, Rhodes Rock Festival in Greece, Maryport Blues Festival in Cumbria, Colne Rhythm and Blues Festival and many, many more. Ben's UK booking agency are currently planning another UK tour for March 2012. Ben has recently been voted "Best Newcomer" by the biggest blues magazine in Britain "Blues Matters" and received 3 nominations in the British Blues Awards including "Best Young Artist" and "Best Original Blues Song".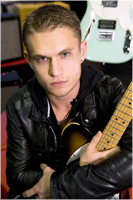 Besides Ben's own solo career, he also made time to tour extensively around Europe during 2009/10 as lead guitarist with "Ruf Records" blues artist Dani Wilde. Together they toured in Switzerland, Luxembourg, Spain, Portugal, Holland, The Canary Islands and Germany as well as extensively around the UK, making appearances at festivals such as Maryport Blues Festival in Cumbria (with John Mayall and The Blues Band), Fricktaler Blues Festival in Switzerland, Brecon Jazz Festival in Wales, V Festival Correlajo in Feartaventura, Spain. Ben also recorded with Dani Wilde for "Ruf Records" on her highly anticipated second album "Shine" back in March 2010, working with legendary British blues producer Mike Vernon (Eric Clapton/Peter Green/Fleetwood Mac/John Mayall/Buddy Guy). Ben has also realised a lifelong dream to play with one of his favourite living musicians - US guitarist/singer/songwriter Richie Kotzen, touring with him on Richie's October 2009 UK tour.

With the release of the five track mini-album EVERYTHING I WANT in 2010, produced by none other than esteemed guitarist Bernie Torme (Ozzy Osbourne, Ian Gillan), Ben Poole got his unique virtuoso guitar playing out to a far wider audience and has since become the name to drop when talking about new, young and gifted blues/rock guitarists.

Website: www.benpooleband.com