Ayla Tesler-Mabe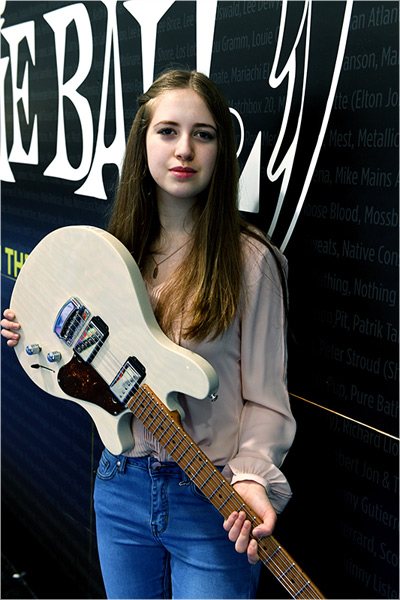 "Finally.... someone who plays with feeling, not just another shredder playing mind-numbing arpeggios and boring scales at warp speed. A pleasure to listen to." A viewer's comment in reaction to one of Ayla's Facebook videos, Led Zeppelin's "Since I've Been Loving You", that has already gotten more than 2.7 million views and counting.

Ayla started her musical journey at age 9 with the cello, picked up the bass at 11, and then delved into the world of the electric guitar at age 12, never once showing signs of turning back. With the help of her incredibly supportive parents and family, Ayla has developed into the articulate musician, singer, and multi- instrumentalist that she is today. Initially inspired by guitar legends Jimi Hendrix, Santana and Jimmy Page, Ayla has since explored her love of various other musical genres such as jazz, blues, fusion and funk, helping her create her own unique musical voice. Her deep passion for expression through the guitar was recognized by the Berklee College of Music who awarded Ayla with a full tuition scholarship for their five week summer program, as well as for various online courses. Humbled by the thousands of immensely positive reactions to her online videos, Ayla however recognizes the limitless extent of how much she has yet to learn in music, and looks forward to developing her skills and breadth of knowledge needed to truly become a musical master. Here are a few more viewer reactions to Ayla's videos, of which she does all the recording, filming and editing:

"This girl could easily carry the future of music in her hands. We need more like her in mainstream music."

"I have never in all my years of playing guitar, having played with some great musicians, and loving the music of Led Zeppelin, seen anyone male or female, old or young, play this complicated piece of music with more feeling and articulation. Just a phenomenal job! Very inspiring."

"Very impressive guitar skills. Is it true that you gave up eating and sleeping to have time to get that good by 15 years old? Or maybe you did the 'ol Robert Johnson technique?"