Ernie Ball Music Man Artists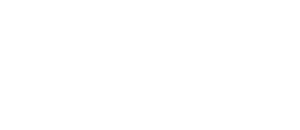 Lyric Dubee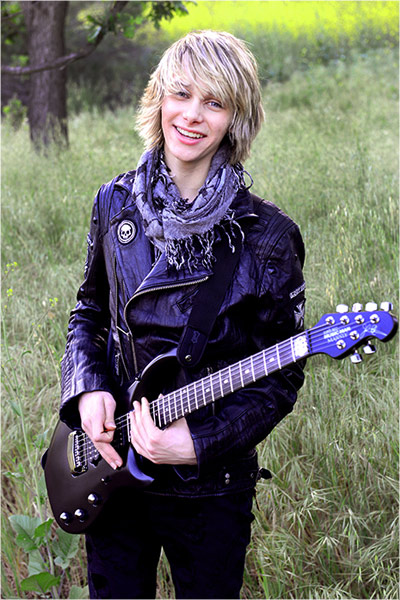 Lyric Dubee is a multi-genre artist born and raised in Barrie, Ontario, Canada. Proficient and at ease playing ROCK, POP, BLUES and JAZZ, his deep appreciation and experimentation with all the genres led Lyric to personalize his own style of music known as REVOLUTION ROCK.
Lyric just finished recording his 4th album at 16! He just got back from LA where he completed his 4th album with Grammy Award Winning Producer Warren Huart and is now managed by legendary Rock Photographer Robert Knight. Robert has put together a killer band to back Lyric from all across North America.
Lyric wrote all the songs for his first and second album, and won the BEST YOUNG SONGWRITERS award at the Barrie New Music Festival 2011. He hit the studio in 2014 to record his 3rd and recorded all 11 songs between Nashville and Toronto with 4 singles currently released. Lyric took home the MOST PROMISING YOUTH award at the Barrie Arts Awards in Nov 2014.
Lyric has opened for or shared the stage with performers such as Walk Off The Earth, David Usher, Rik Emmett of Triumph, Jim Cuddy of Blue Rodeo, Lee Aaron, and did his first USA tour throughout Ohio, Kentucky, and Tennessee in 2013. He has since performed in Austin, Texas at SXSW Music Festival for the CIMA Canada Showcase. He has performed live in over 200 shows and in music festivals such as NXNW, CMW and headlined the Music By The Bay Festival.
Lyric studies classical guitar, jazz guitar and music theory and just completed his grade 8 Royal Conservatory (RCM) exam. He passed his grade 8 classical guitar exam with "Honours " and he received " First Class Honours " on his last theory exam.
Lyric has been featured and interviewed in various media outlets including CBC, CP24 Breakfast TV and the Humble and Fred Show and has had many articles written about him.
"I have never seen anyone so young sound so great, original and musically sophisticated. Both albums are really great"
T.M. Stevens, bassist for The Pretenders & recorded with Steve Vai, Neil Zaza, Cyndi Lauper, Little Steven, Tina Turner, Dan Hartman and Billy Joel.
"Definitely a star! And the hardest working artist I know."
Elaine Overholt – vocal coach to the stars (John Travolta, Michelle Pfeiffer, Richard Gere, Catherine Zeta-Jones, Renée Zellweger, Queen Latifah. Elaine also coached Ellen Degeneres in a live segment on her hit talk-show
"Canada over the years has brought about some great superstars of music, like Shania Twain and Justin Bieber. Now we have another great artist coming from Canada, and he has the ability to be the greatest yet. Lyric Dubee will be, "Canada"s Newest Superstar!" TOMMY NEAL – STARS2COME.COM
"Lyric Dubee is the real deal. I love this young man's talent, work ethic and current song list which is light years beyond everything I heard!. He has the song writing ability of Taylor Swift and a young Bryan Adams combined with the youthfulness of Justin Beiber and the guitar playing and blues knowledge of Colin James. He is the embodiment of the future of music in Canada." MICHAEL WILLIAMS – JOURNALIST, RECORD PRODUCER & MEDIA PERSONALITY
---
Steve Costello
Hard-hitting original rock songs driven by classic guitar licks and heavy riffs are what Steve Costello has always strived for. And in the years since playing the Northern Ontario club circuit at the age of 13, he has more than adequately proven his ability to rock with the best of them. Now 23, has been doing what he loves best: entertaining.
As a teen building his chops, Steve found inspiration in the work of artists like Foo Fighters, Queens of the Stone Age and Joe Bonamassa; but his earliest influences were the legends—Zeppelin, Hendrix, Beck— and it is from these British Blues roots, along with elements of Rock, Grunge and Steve's own considerable gift of invention, that he has managed to forge a fresh, signature sound. And nowhere is this sound better demonstrated than in his 2013 debut solo album, Steve Costello – Vol. 1, a powerhouse collection of 7 originals songs and a rockin' cover of the Willie Dixon classic, "Evil." Following its release both physically and digitally on iTunes, the album took his growing fan base by storm, and has lead to many new opportunities, including winning the 2013 LCBO Whisky Rocks Competition and opening for Theory of a Deadman in November of that year.
"Lead singer Steve Costello not only writes the lyrics, vocal melodies and most of the riffs, he also brings a sincere stage presence and monstrous lead guitar chops with highflying solos that surprised most everyone in attendance."
Lithium Magazine
Steve also had the great pleasure of playing on the first run of "Keeping the Blues Alive at Sea" in 2014, an at sea Blues festival aboard the Norwegian Pearl. The festival included such blues greats as Joe Bonamassa, Robin Ford, and Robert Randolph.
"Great musical things are coming out of Canada and his name is Steve Costello a wonderful singer and a great guitarist I love the remake version of the song evil you should check him out for sure"
---
Joshua Bryan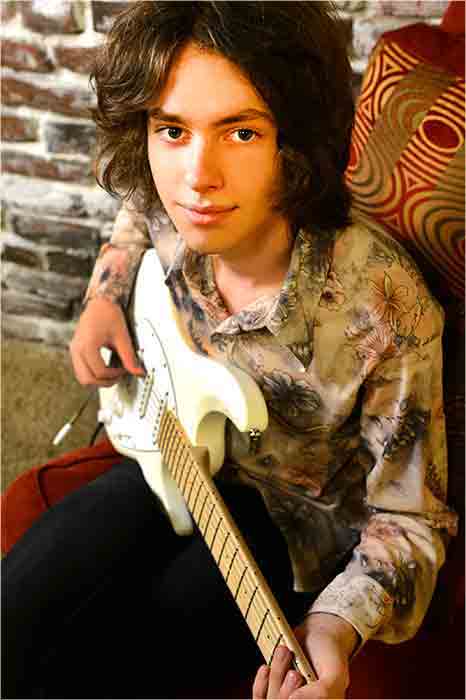 Joshua Bryan aims to inspire others through playing the guitar. The main genre he focuses on is rock and roll, and often with a hint of blues. He's been hooked on performing with the electric guitar since he first hopped on stage to jam a tune with a local cover band at 11 years old.
When Joshua was 10 years old, he asked his parents to start taking guitar lessons. With a cheap Hohner acoustic guitar gifted to him by his uncle, he quickly dove into the world of guitar purely as a hobby, never thinking of the opportunities it might someday bring him. He found himself interest in playing folk, jazz, blues, rock, and even classical music over his earliest years of learning.
Josh was first mesmerized by the high powered, loud and energized performances of Jimi Hendrix and Led Zeppelin, The Rolling Stones, and The Who, and even the glam-rock of David Bowie and the newer groups like Tyler Bryant and the Shakedown and Rival Sons. Influenced by these artists, he wanted to upgrade from the guitar he now wielded, an Epiphone acoustic, and moved onto an Epiphone Les Paul, eventually a Fender Stratocaster, and now has upgraded even further from there with the axe he owns now, the Music Man Silhouette.
Joshua draws a lot of creative inspiration from artists such as Jimmy Page, who's blues influenced rock has strongly shaped Josh's own taste in music, Jeff Beck, where Josh draws technical style from, as well as younger bucks Joe Bonamassa and Tyler Bryant who have shown young musicians how to get out there and rival their heroes, which is what Josh aims to do.
Joshua's goal as a musician is to make himself known to the world in a way that allows him to continue doing what he loves: playing music. He wishes to work with loads of different musicians in loads of different places, and hopes for many people to look up to him like he does to his heroes.
---
Grant MacKenzie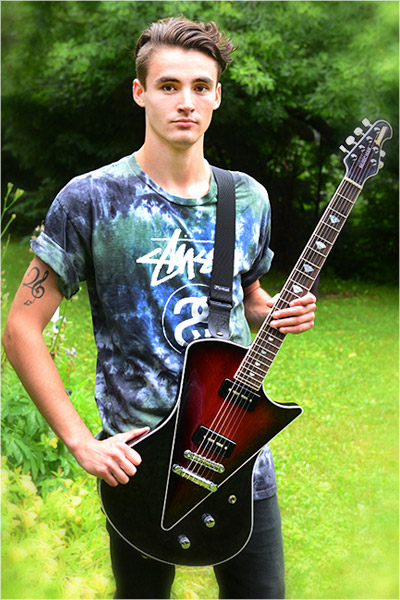 Grant MacKenzie is a guitarist, producer, songwriter and marketer from the small town of Coldwater, Ontario, about an hour outside of Toronto, Canada. Dedication, determination, innovation, passion & hard work are what make up the core of Grant's day to day life. Since picking up the guitar at age 12, now 20, he has released a full length independently produced record called "Childhood Brain" (2014), and will be releasing a new EP "Unravelled In Chaos" with his band Final Sight this year (2015). Grant is also finishing up his final year of business marketing at College to help him further his music career.
Not only has Grant produced both of his band's records, but recorded all lead guitars, all rhythm guitars, all bass guitar (exception of the song Groove 126), all acoustic guitar (exception of the song Red Shoes), all synth and electric piano, backup vocals on the new "Unravelled In Chaos" EP (exception of the song Groove 126), assisted in the mixing of both records and co-wrote some of the songs. Grant's band Final Sight is strongly based out of Toronto, playing at venues such as The Horseshoe Tavern, The Virgin Mobile Mod Club, The Rivoli, has opened for headlining band IllScarlett in 2014, and playing music festivals such as Indie Week Canada. Grant has developed a professional website for his band FinalSightMusic.com, and has developed some great relationships with his fans from around the world (China, Mexico, Colombia, U.S, U.K). Currently working hard with his band, Grant's goals are to keep releasing music, and to eventually do a major tour. Grant is very eager to take his career to the next level, and won't stop until he hits the big stage.
Grant has strongly been influenced by iconic guitarists such as Slash, Stev Vai, John Petrucci (Dream Theatre), The Edge (U2), and Luke Hoskin (Protest The Hero) to name a few. Grant claims that these musicians have taught him many techniques over the years, but that their main lesson has been showing him how to tell a story with his music, because music is storytelling; structuring his music in a way that takes the listener on a journey to create value in their lives. Grant is also very diverse and open with his musical playing styles. He can play anything from hard rock, blues, alternative, folk, open tuning acoustic songs, to soaring heavy metal. Creativity is key to Grant, and strives to set himself apart from others.
---
Casey Messent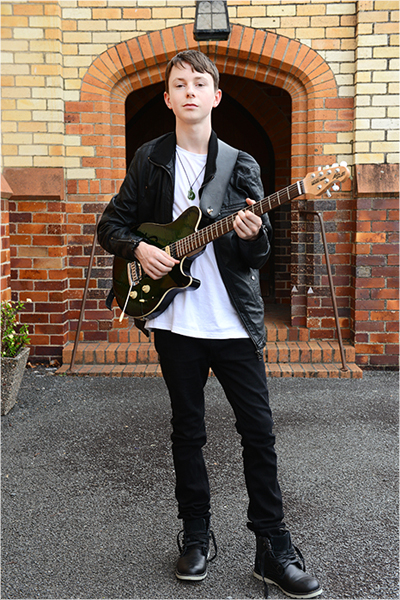 Casey Messent is a 16 year old guitarist, singer and songwriter from Waikato in New Zealand. His guitar style is influenced by the Blues, Jazz, and 70s Rock which have led to a variety of writing styles, involving both Acoustic and Electric guitar orientated songs. Casey's interest in the guitar began at a young age as his father played bass in a variety of local bands, leading him to be introduced to music at a very young age.
At the age of 7, Casey was introduced to Led Zeppelin, and his fascination with Jimmy Page's blues driven riffs brought him to pick up the guitar seriously. He expanded his influences to include Jimi Hendrix, Stevie Ray Vaughn, Ben Harper, Audioslave and Cream. Recently he has begun to listen to the likes of Joe Bonamassa and his project Candy Rock Funk Party, George Ezra, Hozier, Govt Mule, Coldplay, Yes, and Derek Trucks which have broadened his thoughts on musical directions.
Casey has been writing material for various projects and competitions since he was 12, including Smokefree Rockquest, which Casey gained the musicianship award, best song and first in the solo/duo section in the Waikato region. His duo, Situation Vacant, gained highly commended on a National level. When he was 13, he entered the Rockshop Bandquest, where his band gained 2nd place at the national finals, and were the only band in the final to play only originals.
Casey has played many shows, including opening for NZ artist Jamie Mcdell, playing in local production of Andrew Lloyd Webbers' Jesus Christ Superstar, the Tauranga National Jazz festival, touring with classical guitar and jazz bands, and various blues showcases and festivals.
Casey recorded his first single 'Salt Water Rain' at Roundhead studios in 2015, and since then, he has been looking forward to recording in the studio more often in the future.
---
Lucas "Blues" Peaquin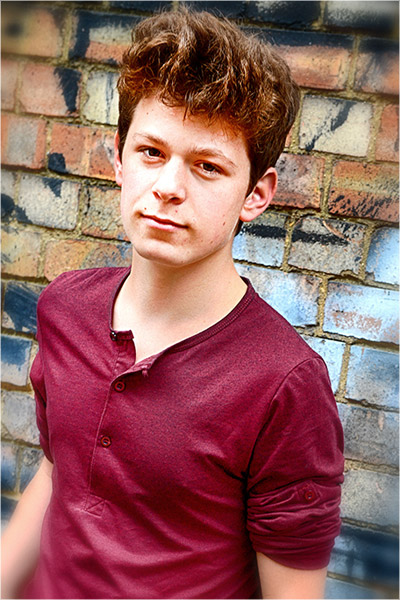 Lucas is a French guitarist. He was born in 1997, and grew up in a little village of Provence in the South of France. At the age of 11, he discovered the guitar with his first idols – Gary Moore, Alvin Lee, SRV and Joe Bonamassa. At a very young age, he started playing on local stages, and at 14, he had the chance to share a great moment on stage with Ana Popovic in front of an enthusiastic public. For him, it was THE revelation. At only 15 years of age, he started training to become a professional musician of the FNEIJMA at the IMFP of Salon-de-Provence. His style is jazz, with new influences such as Robben Ford and Scott Henderson. On stage, Lucas impresses Carvin Jones and Joel Patterson. He created the "Lucas Blues Project" in 2013, which thrilled the public from the very first exhibition. In January, 2014, France Blues sponsored the band to represent France at the International Blues Challenge of Memphis, for the youth category. Their showcase entertained at the clubs of Beale Street, and they recorded three (3) songs at the legendary Sun Studio. The adventure continues as he got his first radio interview that same year, and played at two (2) reference-concerts at the International Festival of university music (FIMU) in Belfort and the Cahors Blues Festival, with stars of the blues road such as Craig Adams and Dale Blade. After that, he performs the first part of Electro Deluxe and is elected "Revelation of the year 2014″ by the webzine Zicazic.
In 2015, Lucas played at the first part of his friend's, Gaelle Buswel, concert, with Chris Bergson and the Royal Southern Brotherhood. He was also invited by the Blues Power Band to play in Paris, at the New Morning, where he shared in an unforgettable moment with the legendary Norbert Krief "Nono" at Issy-les-Moulineaux. At age 18, Lucas obtained his diploma of "Musician and Interpretor of Actual Musics" and was admitted at the prestigious Pôle Supérieur de Musique de Bourgogne in September 2015.
---
Jacob Deraps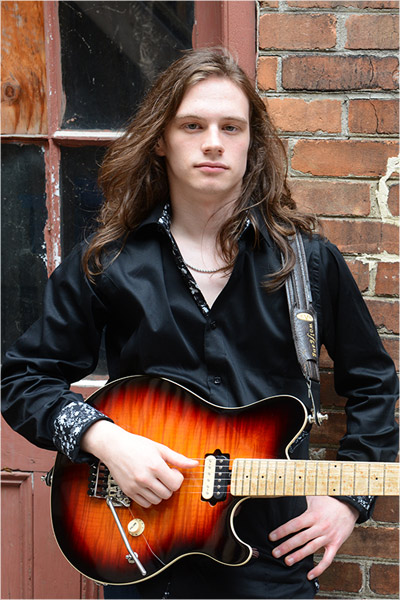 Jacob was born on March 15 1997, in St-Georges Quebec Canada, from two musician parents. At this time, His father was playing the clubs as a guitar player and his mother had a college degree in saxophone and piano and she was currently doing a university degree at L'université Du Québec à Montreal in saxophone and bass jazz interpretation. Jacob soon discovered he had a great interest in music. He was repeating the melodies he heard on the radio before he can even talk. Jacob grew up in a musical environnement assisting to his parent's practice very often and even playing drums with them at the age of 4 but haven't seem to have much interest into it yet. Jacob turns his interest in video games at his pre-teen years and that's how he discovered Guitar Hero. He was playing at a pace no one could handle. One day he asked his father to play with him but his father was unable to compete at this level and share the fact that he could play the songs in a real guitar and ask Jacob to give it a try. Jacob did and instantly felt good with the guitar and acquired a good skill level very fast. He began searching for the sound that he heard so often in the Van Halen cd's of his father. That was the start of the adventure that leads Jacob to youtube and on television and radio shows and to open for bands as big as Simple Plan at the age of 16. Jacob is now 18, he met Dweezil Zappa earlier this year and talked with him for an hour in his private room after the show. He recently signed an endorsement with Ernie Ball Music Man and is being part of the brotherhood of guitar for a year now. Jacob would love to go to California and hopefully, have a career in music as a guitar player.
---
Hunter Craig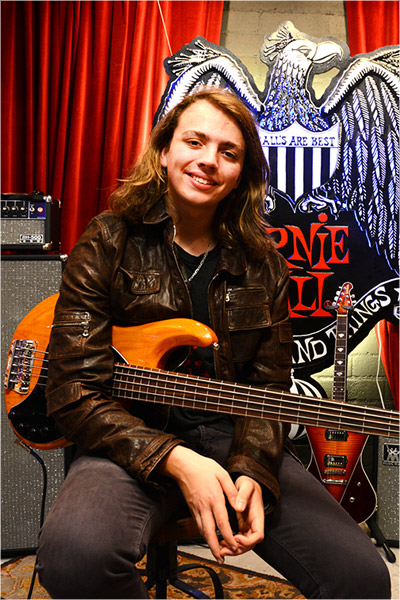 Bio Coming Soon
---
Alfie Glass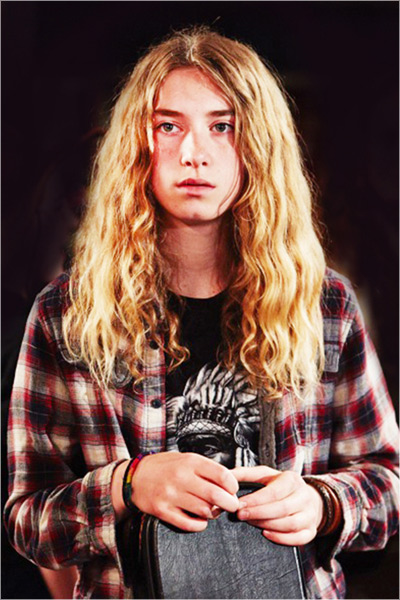 Bio & Video Coming Soon
---
Armando Leibeck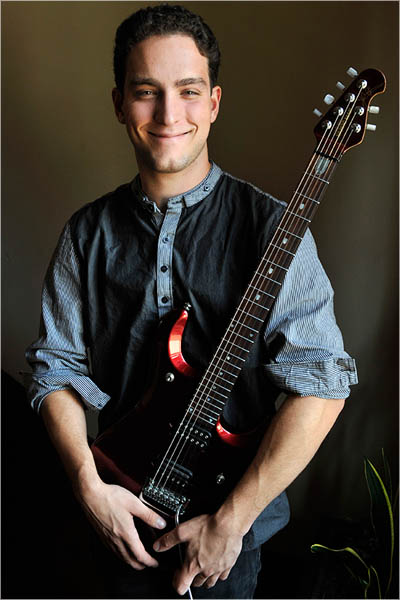 Armando Leibeck was born April 15, 1997, and raised in southern Ontario. Music was always a part of his life in one way or another, startng his collecton of albums at 9 and spending a majority of his birthday money at record shops. At the age of 12, Armando started guitar lessons through his grandmother's guidance, quickly gaining appreciaton for the instrument. Rather than hang out with friends or complete school assignments, he practced by himself for hours on end once he had goGen home.
With the support of his parents, Armando took lessons from various teachers, exploring different genres of music. In the beginning it was rock and heavy metal, then it became progressive metal, and now he focuses much of his tme on completng his RCM grades and studying jazz music. Incorporatng elements of different genres into his music helps him find inspiraton to create new tunes to keep both himself and the listener entertained.
Armando enjoys the live aspect of playing music as much as the practcing and writng aspects. He had played Burlington Ribfest and Oakville Jazz Festval at 15, and has contnued on to play many shows since then.
Armando started his first progressive metal band at 16, roughly around the tme he had purchased his first Ernie Ball Music Man instrument. His parents may not have enjoyed the seemingly endless band practces and jam sessions, but the band went on to play two performances at the Rockpile before spliVng up to focus on new things. Since then Armando hasn't spent much tme on the genre, but stll enjoys listening and playing music from bands like Protest the Hero, Periphery, and Polyphia every once in a while.
More recently, Armando had been focusing on a Jazz fusion band which had played at the 2015 Burlington Ribfest and the Merriam Sky Festval. The band consists of either one or two guitar players at
tmes, bass, keys, and drums, making for a strong 4/5 piece band. They hope to play several shows around the GTA to get their names and music out there for the world to enjoy.
His musical influences include Guthrie Govan, Jason Richardson, John Petrucci, Eric Johnson, Wes Montgomery, Luke Hoskin, Tim Millar, Mark Holcomb, Kirk Hammet, Kerry King, Jack Black, as well as non-‐guitarists like Stevie Wonder, John Coltrane, Miles Davis, Franz Liszt, Dr. Dre, Eminem, Snoop Dogg, Bruno Mars, Serj Tankian, and Frank Sinatra.
---
Josh J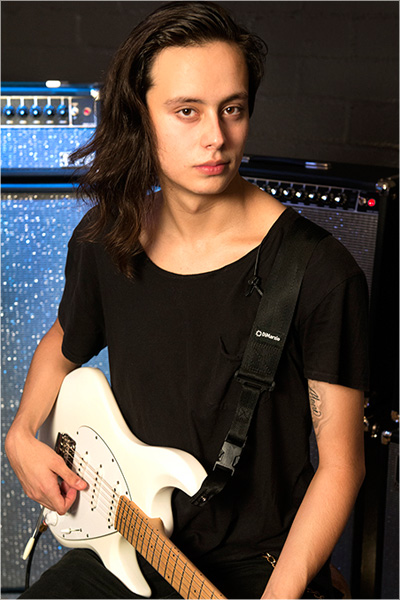 Josh J. is a 20 year old guitarist and producer based out of Los Angeles. Josh has been playing music since he was 7, and started playing the guitar at age 11. Guns N' Roses and Slash are what turned him onto the guitar at an early age. His favorite players include Jeff Beck, Steve Lukather, Jimmy Page, Steve Morse, and Jimi Hendrix. Josh grew up in a small California town in the high desert called Barstow. With not much going on there, he stayed focused and practiced 8 hours a day every day. Eventually Josh finished high school early and moved to Hollywood to pursue his dream. So far Josh J. has met and played with many of his heroes, gone on tours, and experienced life as he dreamed of it. In just 6 months, Josh has gained over 10,000 followers and 1 million plays on Soundcloud. Today Josh J. is producing his own music and playing with various artists all over. To hear Josh J.'s music, go to soundcloud.com/joshjarmusic
---
Connor Low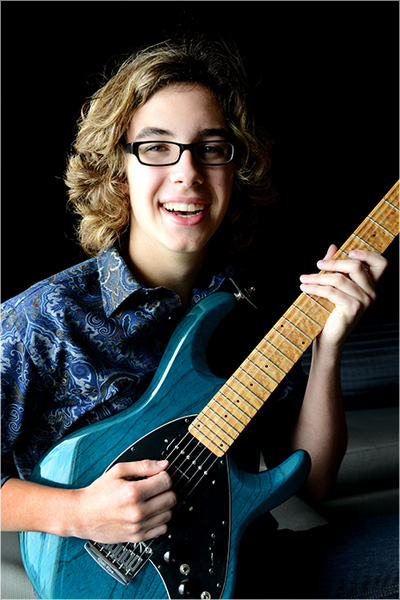 Connor Low's world revolves around music; Performing, creating, and sharing his love of music with as many people as possible is his life goal.
Connor Low was born in Saint Louis, Missouri in the spring of 2000. Growing up in a very musical family, Connor was influenced by his talented uncles and cousins. At 9 years old, Connor picked up the guitar and began learning with Marty Schwartz's guitar tutorials on YouTube. Soon, Connor was performing at his schools talent show and within 9 months, at just 10 years old , he played with the popular St. Louis band Trixie Delight at The Festival of The Little Hills in front of more than 10,000 people. This experience was just the beginning for Connor. He began studying classical, jazz, rock, and blues with many respected guitar teachers and players in the area along with performing everywhere that he could, from festivals, charity, and community events, restaurants and coffee shops, to talent shows and open jams. He quickly captured the attention and respect of the St. Louis music community. This led to many incredible opportunities for Connor to perform at several St. Louis events and festivals, along with being invited to be a guest guitarist with many St. Louis bands including Trixie Delight, Dr. Zhivegas, Javier Mendoza, Kim Massie, Kung Fu Caveman, Vega HeartBreak, El Monstero and The Funky Butt Brass Band. In August of 2014, Connor had the honor of performing with Jon Anderson of Yes along with a select group of musicians from the School of Rock St. Louis House band at the Chesterfield Amphitheater. Later that year, Connor was the youngest featured guest guitarist for St. Louis's Premier Pink Floyd Tribute Band, El Monstero, made up of members of the bands The Urge , King of the Hill and Stir. One of Connor's most recent and notable guest performances was with the legendary bass player Marcus Miller and his band at The Jazz Bistro in the summer of 2015.
Beyond the stages of Lollapalooza in Chicago, or the Fabulous Fox Theater in St. Louis , when he's not on a main stage , Connor performs regularly around the St. Louis area ; solo, with several acoustic duos , bands , music programs and local groups. He has recorded with many artists on their albums, and has started writing his own music , which he plans to release in the near future. His solo aspect of playing and performing includes acoustic fingerstyle guitar , which allows him a broad range of musical creativity when arranging the music he performs . At just 14 years old , Connor opened for award winning Canadian guitarist , Ewan Dobson, with a solo fingerstyle acoustic set , and in October 2016 , Connor was the featured guitarist in the Young Artist Profile of Fingerstyle Guitar Journal Magazine . Playing and studying Jazz is another passion of Connors and 2016 marks his fifth year as one of the top guitarist in the prestigious JazzU program through Jazz St. Louis. Connor was part of a Jazz Trio that was selected to perform as one of 10 final acts in the 2015 Fox Teen Talent Competition where they won the Keep Art Happening Scholarship Award. Continuing with his versatility and insatiable appetite to perform , Connor is also a 3 time School of Rock AllStar, selected as part of the top 1.5 % across the nation from over 15,000 young musicians in the SoR program. The AllStars tour all across the country each summer to popular music venues and some of the biggest Music Festivals in the nation. In the fall of 2015, Connor was honored to be invited as one of 6 AllStars to perform at The School of Rock National Convention in Las Vegas at The Palms Hotel . Connor then met with world renowned photographer , Robert M. Knight , to be interviewed and join " The Brotherhood of the Guitar ". The BOTG features some of the best , up and coming , young guitarist across the world, and Connor is extremely humbled to be among the list of such a talented group of musicians that are as passionate about making music as he is .
Connor's enthusiasm to learn and work hard has also caught the attention of some of his greatest musical inspirations. He has had some incredible experiences to meet, play for and even perform with a few of them including Marcus Miller, Jon Anderson, Eric Johnson, Dweezil Zappa, Tommy Emmanuel, Stu Hamm, Andy McKee, Pat Martino, Steve Vai, and Guthrie Govan. Connor hopes to meet and perform with many more.
From Jimi Hendrix to Miles Davis , Connor Low finds inspiration and influence in a myriad of musical artists. His musical style is free and limitless, like the musician himself. Rock, Jazz, Blues, Reggae, R & B, Funk, Psychedelic Rock, Jazz Fusion, Hip Hop, Classical, and Soul are just a sampling of the wide varieties of music that empower this young artist.
In Connor's own words:
" I want to make music that will inspire and touch future generations. I want to create music that will stand the test of time. I aspire to travel the world — performing, learning, and positively impacting people with my love of music.
I feel extremely blessed to have had so many teachers and musicians work with me , give me incredible opportunities to perform and mentor me along the way . They have all helped shape the musician I am today and the musician I desire to be . "
For more information on performances and booking . Check out his social media on Facebook – Youtube – Instagram – Twitter and Soundcloud
---
Andro Jologua
Andro Jologua was born in Zugdidi. Its a small town in west Georgia. He developed an interest in guitar at the age of 10, this was really important period for him. Guitar became his life and he wanted to play technically difficult things. but he had no teacher, because of this he began to play 6-7 hours a day. practice was hard, sometimes painful but his dream came true. After this he made his Youtube Channel and uploaded covers of Randy Roads, Andy James, Zakk wylde and etc. criticism and good attitude helped him to became more brave and now making mistakes does not scare me anymore. because he knew he could always correct them. He decided to take part in online competitions but had never won anything until he found "Georgian Guitar Battle".He was the winnet! in 2015 september he moved to Tbilisi(capital of Georgia) and then started studying in a musical ten-year secondary school.
---
Beamer Wigley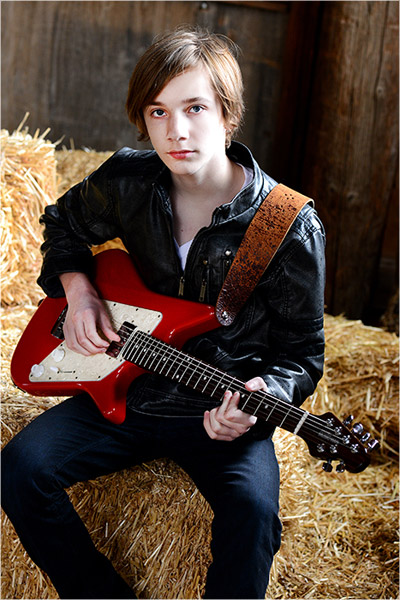 Born in 2002, Beamer started playing guitar when he was 5 years old, and as he loves to tell his audiences, that was when he first saw Keith Urban in the video "Start A Band" with Brad Paisley. He turned to his Mom and said "I want to learn to play guitar. I want to be just like Keith Urban". So he got his first guitar and started his first lessons.
At the age of 7, he was accepted as a contestant in the "Our Kids Have Talent" competition for ages 8-18. That was also when he wrote his first two songs for that event, and although he didn't place, he so captured the hearts of the judges, that he was invited to open at the gala final. This was beginning of his musical journey and as his talents grew, so did his reputation as a remarkable young performer who had no fear of being on stage, and the larger the audiences, the better he likes it!
Over the ensuing years, he was a contestant in numerous music competitions, and he was very often the youngest. In a number of cases, the rules of the competitions were even changed to a lower age, just they could have him compete. And whenever he did, he wowed the audiences. When he was 9, he won first place at the Vancouver P.N.E. 'Star Showdown' in the youth category, against contestants from all across British Columbia.
As part of his vocal training, he entered into the Kiwanis Festival for 5 straight years in Classical Voice and Musical Theatre, and has consistently won first place positions including first class honors and junior scholarships. For 2014, he was chosen as the representative to go on to the Provincials in Musical Theatre, against the best from across the province. He went on to win first place in that category, along with first place in Musical Variety. He was also then awarded the inaugural Pentiction Youth Arts Award for ages 25 and under, a huge honor. In November 2015, he was thrilled to be awarded membership in The Brotherhood Of The Guitar, a group of highly talented musicians from many parts of the world. In addition, he also received a sponsorship from Music Man/Ernie Ball guitars.
His love of music and performing transcends into acting as well, and when he was 9, he was given a small solo part in Soundstage Musical production of "Evita". The following year, he was given a major role in 'Whistle Down The Wind'. He then went on to play Gavroche in 'Les Miserables' in 2014, and Toby in 'Sweeny Todd' in 2015″. He also got his first movie roll in 2014, playing the 4th lead as Ethan in the movie, "A Christmas Tail".
His ambition from the time he was 5, has been to be a professional musician and performer, and as he continues to write new songs and advancing his guitar and vocal skills, he is unwavering in his determination to succeed.

Official Site
---
Chase Walker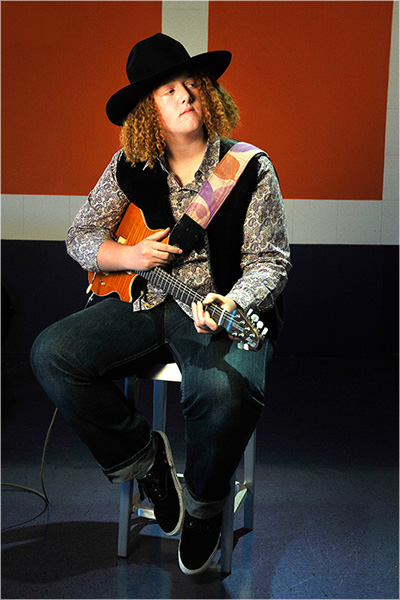 This is a story about what a kid and a guitar can accomplish in a few short years. Born in August, 1998, Chase Walker, of Riverside CA grew up minutes away from the Fender Guitar factory in Corona, CA; yet he didn't start playing guitar unJl 2010. Today, he is a triple threat. Young Chase Walker is already an award-winning guitarist, songwriter, and vocalist creatng and performing rock, blues and jazz with equal command. While guitar is his primary instrument he also plays drums and piano.
Walker was inspired to play guitar after attending the Doheny Blues Festival in 2009. Later that year, he got his first guitar for Christmas. In Jan. 2010, with musical influences as diverse as Otis Redding, Stevie Ray Vaughan, Jim Croce, Warren Haynes, The Black Crowes and The Black Keys, Chase started lessons with Dave Osborne, and Chase picked up fast….really fast.
By the Summer of 2011, Chase had won a custom Fender Stratocaster and received a scholarship to aSend Blues Kids of America Chicago where Jay Shefsky of WTTW Chicago Tonight said of his performance "this 12 year old from California already sounds right at home on stage at Buddy Guy's Legends"
In 2013, Chase was honored as one of only seven young guitarists selected from hundreds of applicants nation-wide to attend the GRAMMY foundation's prestigious camp for young musicians held at the acclaimed USC Thorton School of music.
At the age of 15, Chase was a Semi-Finalist in the 2014 Lee Ritenour Six String Theory international guitar competition, making him eligible for full scholarship to the prestigious Berklee School of Music. Fans who've seen him perform live often compare him to greats like Gary Moore and Johnny Hiland saying that he is "Not just fast like some hotshot kids, but subtle, sophisticated & soulful. Excellent singer too!" Jim Kruger – Ticketmaster.
Chase began performing as the Chase Walker Band (CWB) in March 2012, but the band was not complete until he connected with teens Matt Fyke (Drums/Voc) and Randon Davitt (Bass/Voc) to form the current powerhouse trio in October 2012. Since then, the Chase Walker Band has been launching their original hell raisin', vinyl-worthy, American rock experience on the clubs and festivals across the western United States and beyond. To date, CWB has over 150 performances to their credit including dates on the Vans Warped Tour, the 2013 and 2014 International Blues Challenge Showcase, House of Blues, The Mint in LA, BB King's in Memphis, Artists in the Plus Worldwide Music FesJval, Colorado River Festival, Gator by the Bay Festival, and many more, opening for greats like Kenny Loggins, B.B. King, Eric Sardinas, Tab Benoit, Devon Allman and Cyril Neville of Royal Southern Brotherhood, and American Idol star Casey Abrams. Chase Walker Band continues to build a loyal following with fans saying "Chase Walker Band was awesome! I would see them again in a heartbeat!" ChaQe Krugg – Ticketmaster
Chase began songwriting in 2012 and was a finalist in the Reflections songwriting contest that same year. In 2013, his song "Too Many Days Ago" was as a Finalist in the prestigious John Lennon InternaJonal Songwriting Contest, awarding him $800 in prizes. Chase continues to learn and refine his songwriting as a proud member of ASCAP, West Coast Songwriters Association and Nashville Songwriters Association.
In Sept. 2014, Chase Walker Band released their debut album "Unleashed" containing 9 original songs and 4 unique covers. "Unleashed" got immediate attention with airplay in 40 countries worldwide and rave reviews from fans saying,"If Hendrix, Zep, Cream & The Black Crowes made an album … This is it! Fantastic guitar driven rock." CaliratedX – iTunes
In 2015 "Unleashed" was named Best Debut Album 2015 by Wasser Prawda Magazine — Germany with critics suggesting "Unleashed as an immediate listen! Listen…or just buy it, you won't be sorry. 5 out of 5 stars." Alice Neiley – Music Review . Their release "Good Day for the Blues" climbed the HIT-TRACKS top 100 chart in Europe rising for 6 weeks in a row.
Chase was humbled and honored recently, when acclaimed photographer Robert Knight invited Chase to join "The Brotherhood of the Guitar" (BOTG). The BOTG is a project launched by Knight and sponsored by Ernie Ball. The BOTG's purpose is to shine a spotlight on a select group of unsigned up-and-coming young guitar players from around the world. Knight recently filmed an interview with Chase and photographed him in Las Vegas. Chase considers it a huge honor to meet Mr. Knight and to be included among so many great young players in the BOTG.
Today, Chase frequently tells interviewers "I am always blown away at how far we have come in a few short years. I am just doing what I love and hope people like it." If the feedback from fans and industry professionals is any indicaJon, people LOVE what they are seeing and hearing from Chase Walker Band. Kevin Lyman, founder of the Vans Warped Tour, hailed the Chase Walker band as "the best young blues rock band in this country", and Singer, Songwriter, Kenny Loggins said "They blew me away!" It seems the buzz is building about Chase Walker.
Chase is endorsed by Heil Sound, QSC Audio Products, Dog Days Guitar Straps, and Carp AmplificaJon.
Official Site
Facebook
Twitter
Youtube
Instagram
Reverbnation
---
Christian Vegh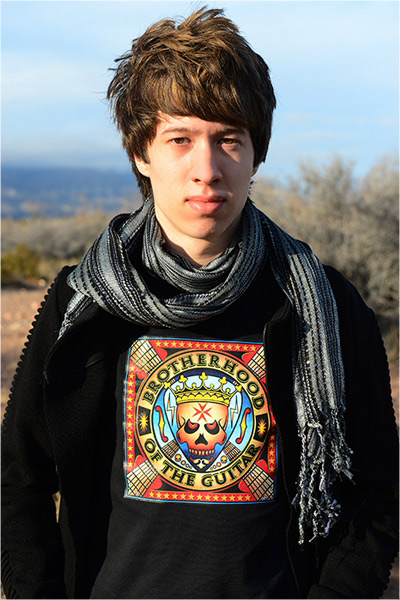 Christian Vegh is a young guitar prodigy born in Detroit, Michigan on March 26, 1997. As a solo artist he is lead vocals/guitar/songwriter for the band "Christian Vegh". Christian attends Berklee School of Music in Boston and graduated as a Principal's honour student in the International Baccalaureate Music Program at Assumption College Catholic High School in Windsor, Ontario.
Christian's first band "West Palm" was the youngest band to ever win "Long and McQuades Battle of the Bands" and Battle of the Bands for Cancer. His second band "Red Legacy" with McKenzie Burrows on drums was in the finals of CBC Searchlight – "Canada's New Rising" Star and the Canada South Blues Challenge Finals.
Christian performed at many top 100 festivals and venues such as Windsor Bluesfest with drew up to 35,000 people; Fork & Cork Rock Festival; Tecumseh Art of Food/Wine; Corn Fest; Rock of Dimes; Strawberry Fest; Headlined Passport to the World and performed in front of 10,000 people at the International Children's Games.
In addition Christian played in the Assumption Jazz band and won gold at the Regional's and was named "Jazz Musician of the Year". They also won gold at an International Music Competition in New York and Nashville where Christian received the Outstanding Soloist Award. At 15 years old Christian performed at B.B. King's in Nashville and opened for Sonny Rhodes induction into the Canadian Blues Hall of Fame. He has shared the stage with performers such as Steve Vai, Scott Holt and Susan McNeil. He is just releasing his second CD recorded at SLR Studios with Marty Bak. His musical influences are Joe Bonamassa, Eric Johnson, Guthrie Govan, Stevie Ray Vaughan, Rush, Polyphia, Chon, and Pink Floyd.
Christian was featured on the cover of "The Local Stream" as well as several other magazines such as "Boom", Biz X and was nominated for the "Youth Changing Lives Award". He wrote a theme song for a youth engagement program winning a spokesperson role and a scholarship to Steve Vai's Song Evolution Summer Program in New York. Christian has been a "Me to We" speaker and performer and received a grant from "Think Global/Act Local" for a seniors/youth engagement music program. He teaches the Blues School Program with the Canada South Blues Society; leads guitar clinics at Long & McQuade and various children's camps and raises money for charity using his musical talents.
He is honoured to join the Brotherhood of Guitars and looks forward to representing Ernie Ball, Music Man Guitars and Guitar Center. His goal is to be a professional musician and to one day play on stage at Royal Albert Hall with Joe Bonamassa. Career highlights – Having Joe Bonamassa tweet about the band at it's first big performance; getting support from musicians like Alex Lifeson, Dick Wagner, Robin Ford, Scott Holt and many local musicians and being featured in their magazine and performing at the American & Canadian Federation of Musicians Canadian Unity Conference. He recently received a scholarship from the prestigious Berklee School of Music in Boston and credits his music teachers for changing his life.
---
Adrian Tanner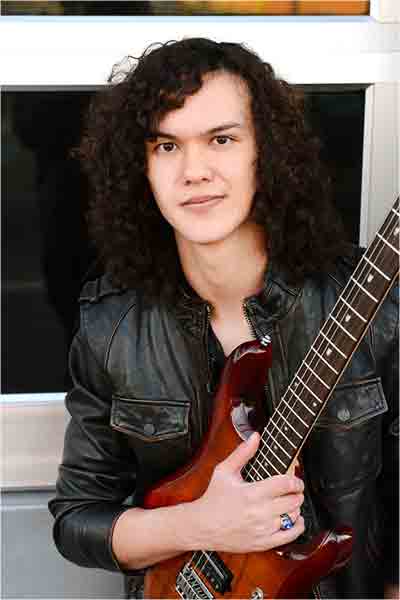 Exploding onto the music scene at the mere age of 12, Adrian Tanner was able to captivate audiences with his playing and build a respected reputation for himself as a songwriter and a producer as well as an overall musician. 6 years later he is now an 18‐year‐old artist living in Las Vegas; a town notorious for its brutality in the entertainment industry. Despite the odds stacked against him, he has managed to make a name for himself and constantly looks for a way to leave his mark on history.
Adrian started his career at a local music store taking blues guitar lessons although his initial interest was in the rock guitar lessons. This "mistake" would inevitably wind up giving him one of his biggest strengths in regards to his playing. Although he hated playing, he would watch hundreds of youtube videos of all the greats playing to thousands of screaming fans and it inspired him to the point where he quit taking lessons in order to teach himself the ways of rock and roll. It was around this time he would start posting his own youtube videos and playing out at school concerts. He auditioned for the prestigious Las Vegas Academy guitar program and was accepted immediately. Adrian aMended the program for 2 years before deciding to leave and pursue college years in advance. His junior year of high school/freshman year of college he was put in contact with the legendary rock photographer, Robert Knight, and joined the Brotherhood of the Guitar shortly thereaTer.
Currently, Adrian is the lead guitarist for the up and coming artist Amanda Hardy and he also fronts the progressive rock band "Twenty 81" where he takes on lead vocals as well as lead guitar. In his down time between bands, Adrian works as a producer where he tries to help local bands in any way that he can. He has recorded/mixed/mastered all of his personal projects thus far and hopes to utilize that skillset in his career with Amanda Hardy. He is also hoping to start a solo project in the near future where he incorporates music from all different genres ranging from pop to metal and even to hip hop.
Adrian Tanner is definitely someone you will want to keep your eyes on.
---
Grant Parker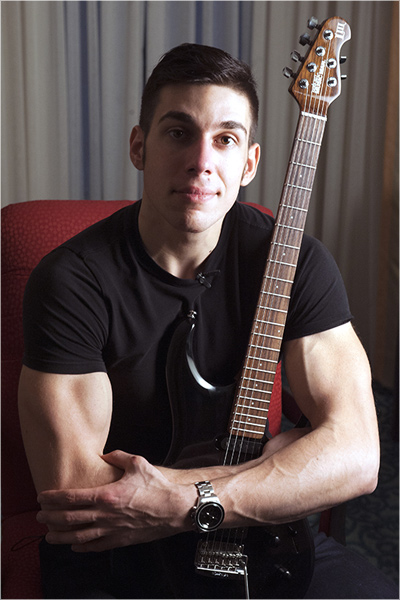 Since before his birth, Grant Parker was immersed in the world of music, whether it was
the symphonies of Beethoven and sonatas of Mozart that always filled the house, or the
songs of James Taylor and Patsy Cline that escorted him to school each day. Before
the age of three, Grant was already discovering the keys of the piano, and soon began
formal instruction under the guidance of several masterful musicians, including Aleta
Baligian-Heidt, a graduate from Julliard in New York. Until the age of sixteen, Grant
aspired to be a touring classical pianist, performing in both concert and recital, and
continuing to surprise his fellow schoolmates. It was only when a close friend took him
to an AC/DC concert for the first time, that he fell in love with contemporary music, and
of course, the guitar. Self-taught, with practices lasting as long as eight hours a day,
Grant quickly earned the respect and praise of his esteemed mentors, and in no time,
earned himself passage to the Berklee College of Music in Boston, where he currently
attends on scholarship. Though Grant will often stumble to answer when one questions
him of his favorite genres, there is no doubt his roots lay near the blues.
---
Randon Davitt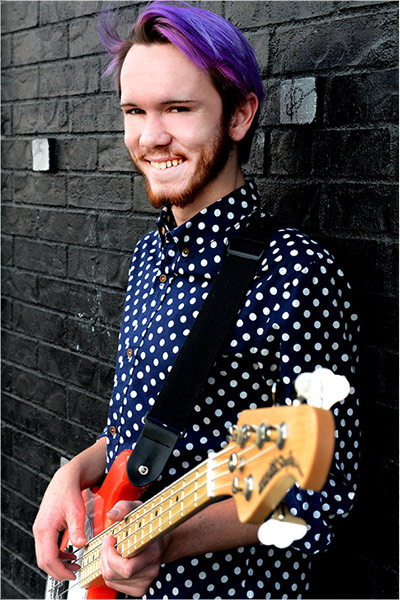 Randon Davitt is a bassist, vocalist and songwriter with experience and skills well
beyond his 18 years. With over 160 shows in the last four years, he's played big stages
like Van's Warped Tour and small clubs like the venerable Biscuit and Blues in
downtown San Francisco. He has opened for greats like Kenny Loggins, Casey
Abrams, and Tab Benoit. And he has played the U.S. from Memphis to Seattle, touring
from his home base in Southern California. He takes his music seriously, studying
technique for four years at the prestigious Orange County School of the Arts
Commercial Music Conservatory where he received the 'Most Professional Award' for
2015.
With the Chase Walker Band he's lit up the blues scene: their award winning first album
Unleashed has played on over 170 radio stations worldwide. One of their singles
reached #47 on the Top 100 Hit-Tracks in Europe, and the album achieved medium or
higher rotation on over 35 stations in the U.S. Their eagerly awaited second album is
due out spring of 2016. Their achievements have been covered by newspapers,
websites and magazines from the Wall Street Journal to Guitar World. He's also
recorded and recently released an album with his pop punk band Self Help.
His dynamic stage presence was developed with an early start acting in Hollywood, with
roles on the Disney Channel, Criminal Minds, and a Lifetime Movie. Early stage work
includes being a backup dancer and singer for Carol Channing, Joanne Worley,
Shoshana Bean and other great Broadway stars. All this supports his ability to connect
with an audience – he's fun to watch; his enjoyment creating innovative bass lines and
expressive melodies is contagious. Music critics and fans praise his work, calling his
bass lines tight and in the pocket and his vocals rich and expressive.
With a repertoire of 170+ covers and originals spanning from modern pop to classic rock
to old style blues, he's ready to entertain – after 5 or 6 hours with his fingers bleeding
and and his voice rasping the crowd is still standing, dancing and yelling for more.
---
Tom Euler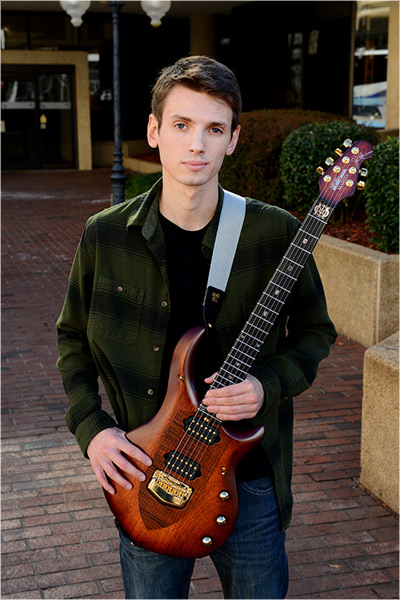 Known as the "young guy with the old soul", 20 year old Tom Euler is an award winning singer/
songwriter, accomplished guitarist and multi-instrumentalist from Hartfield, Virginia. Tom's
powerful and thoughtful playing style coupled with his affinity for blues and rock, quickly led him
to the active blues community of Hampton Roads. In 2014, Tom entered jazz legend Lee
Ritenour's global "Six String Theory" guitar competition, and after judging by some of the world's
greatest guitarists, made the finals, ultimately landing in the top 5 for blues players among
entries from 48 countries. As lead guitarist for the Bobby Blackhat Blues Band, Tom has
competed twice in the International Blues Challenge in Memphis, TN. In January, 2016, they
were one of only 8 bands to make the finals at the IBC. The unique opportunity to perform on
some of Beale Street's legendary stages in the company of world class musicians is a huge
accomplishment and playing the finals at the Orpheum Theater is an experience he is not likely
to forget any time soon!
In addition to his time with Bobby Blackhat, he fronts the Tom Euler Trio, and plays in a metal
band as well. Tom was named the winner of the 2015 Sea Level Singer/Songwriter Emerging
Artist Contest in Tidewater, and is a 2016 Veer Magazine Music Award nominee. He has
recently written and released a self-produced EP entitled "Fool Me Once."
Tom is drawn to many music genres from blues, rock, metal, and pop, to celtic and classical.
He is influenced and inspired by guitar greats Mark Tremonti, Alex Lifeson, Joe Bonamassa,
Duane Allman, B.B. King, and Stevie Ray Vaughn, to name a few. Tom is honored and excited
to be a part of the Ernie Ball/Music Man Brotherhood of the Guitar and looks forward to
connecting with other members in the near future.
Official Site
Facebook
Youtube
---
Manuel Duarte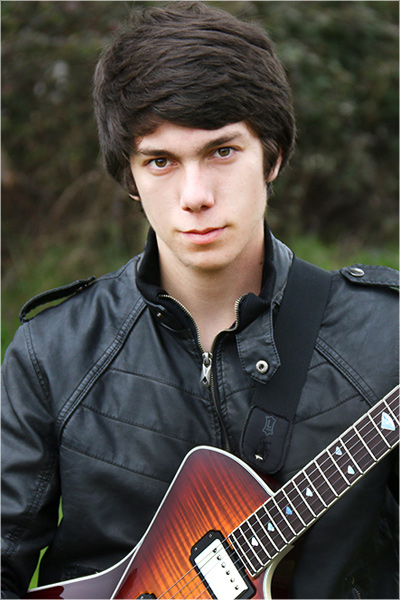 Manuel Duarte is an guitar virtuoso from Portugal. Borned in 5th, September of 2000, he started studying the piano when he was 6 years old and since then he became much influenced by classical music and classical composers like Bach, Mozart, Waltz, Beethoven and his favorite, Nicolo Paganini.
When he was 8, he discovered the Rock n' Roll and Heavy Metal, so he started listening bands like Iron Maiden, Aerosmith, Bon Jovi, Van Halen, Black Sabbath, Motorhead and portuguese metal and hard rock bands like Iberia, Tarantula and Ramp.
At 10 years old, he decided learning the guitar and quickly he started playing and studying compositions from many guitar players, like Jimi Hendrix, Gary Moore, Randy Rhoads, Dave Murray, Adrian Smith, Van Halen, Eric Clapton and others.
An year later (2011), was released the neoclassical instrumental album "For Eternity", from his favourite portuguese guitar player and a big influence for him, Hélder Oliveira. That album introduce to Manuel an new world, where he could combine his classical influences with his metal influences. Since then, he has been studying his favourites neoclassical and shredders guitar players like Marty Friedman, Paul Gilbert, Yngwie Malmsteen, Jeff Loomis, Michael Angelo Batio, Vinnie Moore, Steve Morse, Steve Vai and the guitarist that he consider as "the best guitar player ever and one of the most inspirational persons in the world", Jason Eli Becker.
With age 15, in only a few months of recording some videos to his instagram, he have already more than 7000 followers from all parts around the world and he's getting very positive comments by the mainstream.
Manuel has been featured as "young and promissor guitar player with amazing skills" on pages like RiffWars, World of Music and Guitar Nation where he obtained thousands of likes and great comments.
One amazing thing of his guitar playing style is that he's able to play really fast but he also can play slowly melodies with an incredible feeling.
Manuel Duarte is endorsed by Ernie Ball and Ernie Ball Music Man Guitars and he's working on his solo project.

Instagram
Twitter
Facebook
---
Thayer Aletheia Zomlefer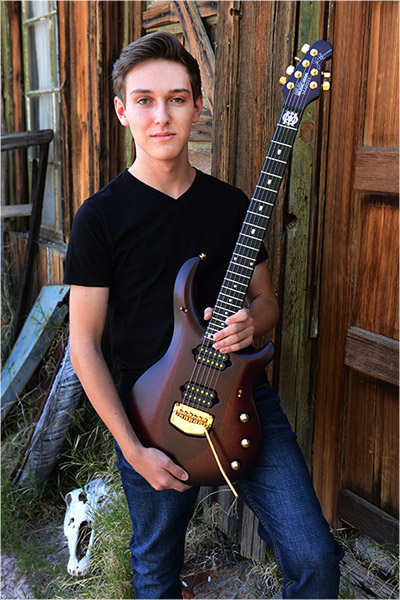 Thayer possesses a unique playing style infusing neoclassical shred, blues and rock. Thayer began playing at the age of nine. He was enthralled from the moment he held his first guitar. Thayer is known for his speed, accuracy, fluidity, passion and soulfulness in his playing. He is a multi-instrumentalist also playing the piano, bass, mandolin and drums.
Thayer was a member of the School of Rock house band, the Sugar Skulls for several years which opened for Joan Jett and Lynyrd Skynyrd. The Sugar Skulls also played the main stage at Super Bowl Central XLIX in Phoenix, AZ.
Thayer is also known as solo artist, Tazshredder. He has been featured in articles by Metal Shock Finland and TeamBecker. Thayer performed at NAMM 2016 with legendary guitar virtuoso, Bruce Bouillet and recently released his first single "Day's End."
Thayer draws inspiration from guitarists Jason Becker, John Petrucci, Joe Satriani, Steve Vai, Brian May and many others. In 2014, Thayer was very fortunate to have the opportunity to meet one of his guitar idols, Jason Becker, and perform for Jason in his home. Since this meeting, Jason has become a close friend and mentor. Thayer was honored to be invited to perform at Gary Becker's Open Studio in 2015.

TAZSHREDDER.COM
Facebook
Instagram
---
Jannek Zechner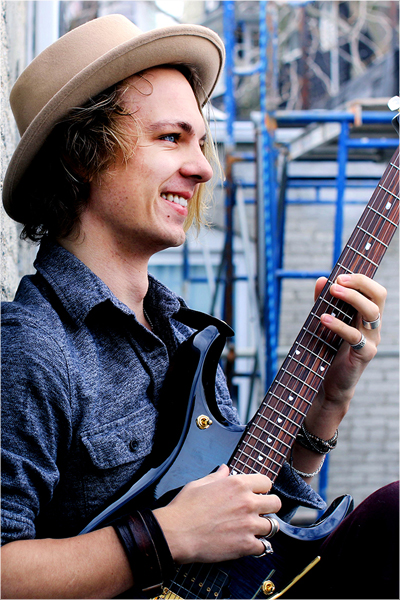 Jannek Zechner is a Guitar, Producer, Composer and Arranger currently located in Boston. He does lots of studio sessions, writes commercial music and produces artists from the US.
Inspired by his music teacher at school, Jannek Zechner began to play the guitar at the young age of 12. After learning on his own, his first guitar teacher, Jochen Bens, appeared in his life, who taught him loads about studio work.
Shortly after he caught the attention of the first call guitarist in Los Angeles, Carl Verheyen, who's for example playing with Supertramp for the past 30 years. The relationship between Carl and Jannek grew so much that Jannek had two weeks of private lessons in Los Angeles during the summer of 2011. He also received a private scholarship for half a year of private lessons in Los Angeles with Carl Verheyen and Pat Kelley (Chick Corea, George Benson,…) in 2014.
In the spring of 2013, he became a part of the "Brotherhood of the Guitar" and immediately hitchhiked down to Nashville to meet some producers and his new Brotherhood – friends.
Jannek is currently studying at the Berklee College of Music in Boston, where he is finishing his Dual-Degree in "Songwriting" and "Contemporary Writing and Production" with a minor in "Writing for TV and New Media" by the end of 2016.
His first guitar was supposed to be a Music Man Silhouette Special but he ended up getting a custom built Fender Stratocaster. After all these years he finally circled back and now owns a custom made Music Man BFR model.
Other than his musical abilities, he has a broad experience in management and marketing, since he lead a donation project for his studies, convincing many thousands of people to support him on his way. Apart from many other companies he also works hand in hand with the Austrian inventor who brought the "Deeflexx" on the market.

Facebook
Youtube
Twitter
---
Josh Nordlund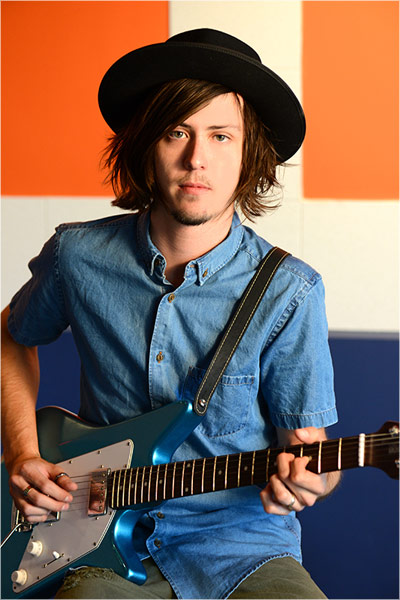 Josh Nordlund is a 24 year old guitar player, audio engineer and producer residing in Nashville, TN. After discovering an uncontested passion for all music at a very early age, Josh was eager to find the path to make art his way of life. Picking up the guitar at 11 pushed the desire for musical discovery even further, which led to playing in multiple alternative / rock bands throughout his adolescent years in Las Vegas, Nevada. At the age of 20 Josh moved from Las Vegas to Nashville to continue the pursuit of sound and ultimately ended up studying at Blackbird Studio's: The Blackbird Academy for studio engineering and production. After T.B.A. Josh went to work opening up his own project studio known as "The Crow's Nest," and was brought on as the house engineer at Bikini Atoll Studio's as well, making his ability to play and understand multiple styles of music a solid match for the saturated and versatile pallet of creativity being provided by the Nashville community.
Never straying from the original love for guitar, Josh also play's for, works with and writes with many groups and artist's in Nashville, including: Madame Athena, Concerned Citizens, Murder of Linneaus, Sky Temple Blues, Hannah Baldwin and a solo acoustic project.
For booking please contact: TheCrowsNestRecording@gmail.com
---
Christian Iverson Phoenix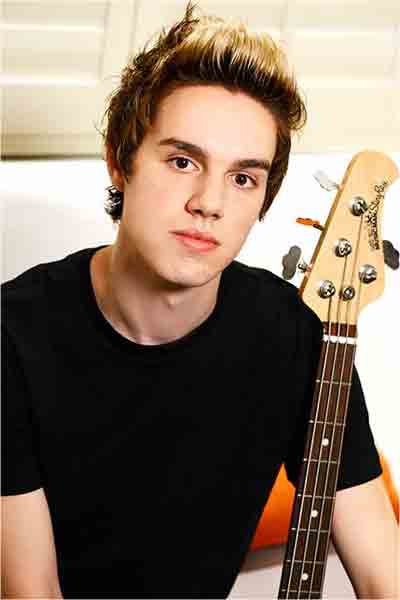 Christian Iverson, from Peoria, Arizona began playing bass in 2010 when he was 12 years old. Influenced by players such as Victor Wooten, Flea, Mark Hoppus and many others, he began to develop his own style, molded by his inspirations.
Christian is the lead singer and bassist for the pop rock band, Run 2 Cover. Being in Run 2 Cover has afforded many exciting opportunities such as, international touring, signing a record deal with KBB Records in 2015, and building an international fan base.
Christian is very dedicated to his Ernie Ball Music Man Stingray HH. The bass performs consistently on stage as it cuts through the mix with phenomenal sound.
Check out his band, Run 2 Cover at www.run2cover.com
---
Adrian Brown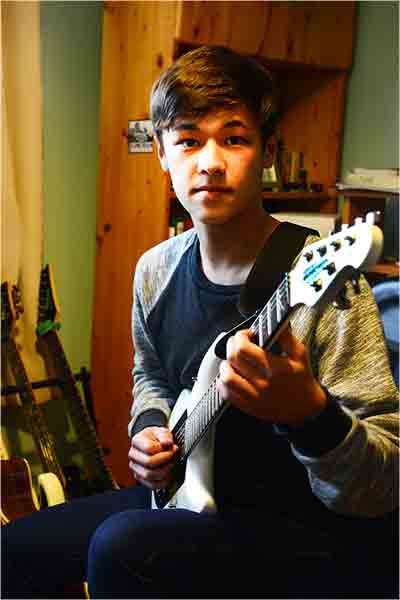 Hi my name is Adrian Brown. I am 17 years old and live in Auckland, New Zealand. My mother was a piano teacher and began teaching me at a very young age but I quickly became bored of the piano. Classic rock music was always around me as my Dad turned me on to bands such as Led Zeppelin, Guns and Roses, ACDC and many others. Eventually I suddenly felt the urge to start playing the guitar and bought my first acousKc guitar at the age of 12 and soon picked up the electric guitar.
As I began to seriously start pracKcing the guitar several hours a day I started listening to more virtuoso style music inspired by Steve Vai, Joe Satriani, Andy Timmons, Jason Becker, Guthrie Govan, Paul Gilbert, Jack Thammarat, Andy James, John Petrucci and many other virtuoso players. Guitar based music really interests me and I love learning it as it is a real challenge to nail down all the notes and phrases.
Online social media such as Youtube and Instagram has really helped me to expand and meet many other musicians around the world. I placed top 10 in a solo compeKKon hosted by Rabea Massad through Youtube which was really special to me as Rabea was one of my idols when I first started playing the electric guitar.
Through Instagram one of my biggest idols, Jack Thammarat, saw my playing and followed me. Luckily the next week Jack was doing a clinic here in New Zealand. During his clinic Jack invited me up to play a song with him which was such an amazing experience.
Now I am focusing a lot more on songwriKng and creaKng my own instrumental guitar music that is inspired by bands such as Intervals, Chon, Polyphia, Animals as Leaders, Dream Theater and many other progressive style bands. I hope to soon release singles and an EP in the near future.
---
Anthony Cullins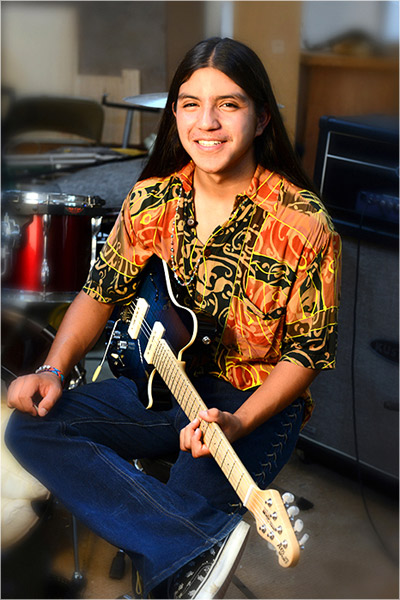 Anthony Cullins aka "The Fallbrook Kid," a 15 year-old musical prodigy whose guitar playing ability is years beyond his age. At 9 months of age, when Anthony first began to walk, he went around the house constantly banging on everything he could get his hands on, particularly pots and pans. He got his first guitar when he was 3 years old. When he was 9, Anthony began taking guitar lessons from Larry Robinson and soon enrolled at the School of Rock where he quickly became a standout. Anthony's musical influences include R&B, funk, the blues, and guitar greats from the 60s & 70s such as Jimi Hendrix and Eric Clapton.
Anthony has had the opportunity to play with and study under many great musicians that have been on the music scene for many years. Some of the legends he has been honored to sit in with include:
• Bill Magee (one of San Diego's busiest working blues guitarists)
• Rock & Roll Hall of Famer Greg Douglass (former guitar
player for the Steve Miller Band, Van Morrison, and others)
• Roni Lee (Venus & The Razorblades)
• Ron Blair (former bass player for Tom Petty & The
Heartbreakers)
• Blues Hall of Famer Darrell Mansfield (contributed vocals and
harmonica to many artists' recordings including Eddie Van
Halen, Jon Bon Jovi, and Loverboy)
• Stevie Salas (guitarist who has recorded on over 70 different
albums with George Clinton, Justin Timberlake, Buddy Miles, T.I.,
Mick Jagger, Rod Stewart, and more …)
• Kevin Cooper (2007 Grammy winner, Broadway and TV
entertainer)
• Jay Gordon (lead singer and original member of the alternative
metal and electropunk band Orgy which he founded in 1994)
• Jackie Bertone (percussionist)
• Laura Chavez (lead guitar for Candye Kane)
• James Harman (American blues harmonica player, singer, and
songwriter)
• Fabrizio Grossi (music producer/mixer; bass player)
• Lance Lopez (Texas blues rock king)
• Alvino Bennett (drummer for Dave Mason)
---
Ayla Tesler-Mabe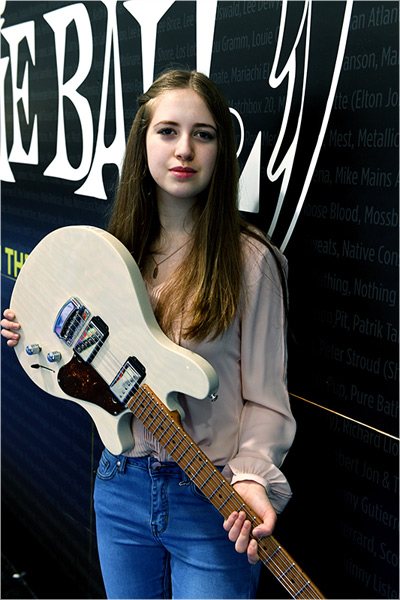 "Finally…. someone who plays with feeling, not just another shredder playing mind-numbing arpeggios and boring scales at warp speed. A pleasure to listen to." A viewer's comment in reaction to one of Ayla's Facebook videos, Led Zeppelin's "Since I've Been Loving You", that has already gotten more than 2.7 million views and counting.
Ayla started her musical journey at age 9 with the cello, picked up the bass at 11, and then delved into the world of the electric guitar at age 12, never once showing signs of turning back. With the help of her incredibly supportive parents and family, Ayla has developed into the articulate musician, singer, and multi- instrumentalist that she is today. Initially inspired by guitar legends Jimi Hendrix, Santana and Jimmy Page, Ayla has since explored her love of various other musical genres such as jazz, blues, fusion and funk, helping her create her own unique musical voice. Her deep passion for expression through the guitar was recognized by the Berklee College of Music who awarded Ayla with a full tuition scholarship for their five week summer program, as well as for various online courses. Humbled by the thousands of immensely positive reactions to her online videos, Ayla however recognizes the limitless extent of how much she has yet to learn in music, and looks forward to developing her skills and breadth of knowledge needed to truly become a musical master.
Here are a few more viewer reactions to Ayla's videos, of which she does all the recording, filming and editing:
"This girl could easily carry the future of music in her hands. We need more like her in mainstream music."
"I have never in all my years of playing guitar, having played with some great musicians, and loving the music of Led Zeppelin, seen anyone male or female, old or young, play this complicated piece of music with more feeling and articulation. Just a phenomenal job! Very inspiring."
"Very impressive guitar skills. Is it true that you gave up eating and sleeping to have time to get that good by 15 years old? Or maybe you did the 'ol Robert Johnson technique?"
---
Collin Fish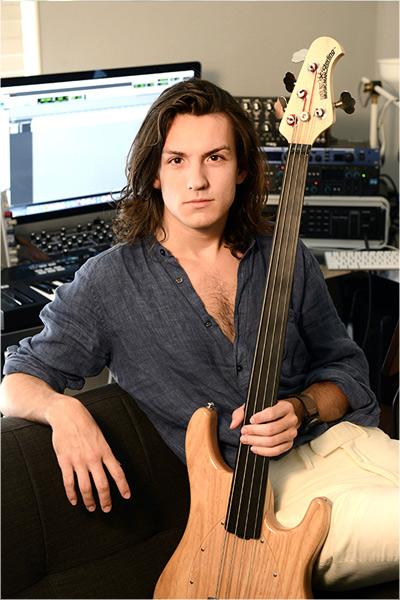 21 year old bassist, guitarist, singer, songwriter, and producer Collin Fish was born in Austin, Texas and spent his childhood learning the ropes of music in the School of Rock. He later formed the power trio Chronolung at the age of 14 and performed at some of Austin's most popular venues. After taking a hiatus from live performance to focus on songwriting, race car driving, and acting, Collin has come back with a fresh sound comprised of slap bass, analog synths, and catchy hooks. Now based out of Los Angeles, his retro-futuristic energy harkens back to a time of style and class while looking forward to something new and fresh.
---
Elias McDermott-Sipe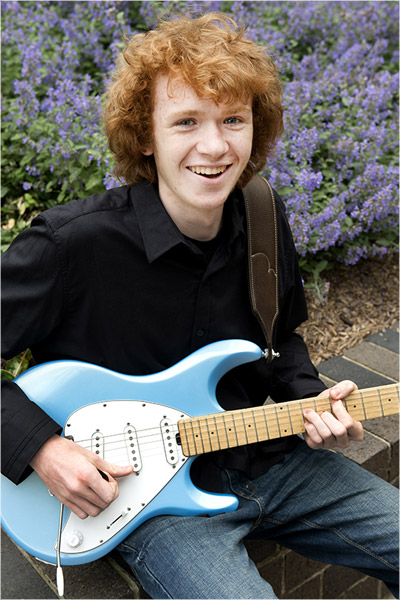 Elias was born in 1998. He began playing piano at age five. When he turned ten, he entered the IU Jacobs School of Music Young Pianists Program and studied classical piano with Anthony Weinstein. Elias's dad bought him an electric guitar for Christmas that year and soon he was giving equal practice time to both instruments. He loved piano, but you can't hold a Steinway and bend it to your will. After five semesters, Elias chose guitar and stopped the serious piano practice. Guitar had his heart (thanks to Tim Tryon his first guitar teacher for three years), but he still plays piano at a high level.
When he was thirteen, Elias started busking on Kirkwood Avenue in his hometown of Bloomington, Indiana. He wrote his first song just after he turned fourteen, and he fronted his first band, The BlueJays that year as well. He started going to the weekly blues jam at the fabled Players Pub. Elias began to sit-in with bands around Bloomington—the first of those being the Sad Sam Blues Jam featuring fellow B.O.T.G member, Sadie Johnson. Other bands like King Bee & the Stingers gave Elias time in festival slots, and people began to talk about the little kid that didn't play like one.
Elias knew Classic Rock first. His dad loaded his iPod with Hendrix, Clapton, Page, Walsh, May, Mike Campbell, and then, of course, SRV. Elias found the three Kings: Albert, B.B. & Freddie – Muddy, Robert Johnson, Albert Collins and on and on. Then, from up the road in Indy, there was Wes Montgomery and jazz.
In 2014, '15 & '16, Elias was the Indiana All-State Jazz Band Guitarist. Elias formed and led several combos when he was in Bloomington High School North's Advanced Jazz Band. He formed a "high school cover band" called SkyWay to play charity shows for Riley Children's Hospital.
Elias found two great local players, Paul Karaffa (drummer) and Matt Brookshire (bassist). That Blues Rock trio played the bulk of Elias's shows for a couple of years. Elias was featured on the WTIU (PBS) show "The Weekly Special" during that time, as well as the WFHB Radio "Saturday's Child" live broadcast.
Elias gives private guitar lessons. He is a hired-gun studio session player as well as a fill-in guitarist for bands around Indiana. On May 28th, 2016, Elias was photographed by one of the greatest living rock photographers Robert M. Knight for his induction into The Brotherhood of the Guitar. Elias will represent the South Central Indiana Blues Society at the International Blues Challenge Youth Showcase in Memphis in February 2017. He is a guitarist in the Indiana University Soul Revue.
Elias's first EP of original songs, Live with Matt Brookshire & Paul Karaffa, is available at EliasMcDermottSipe.com or for download on iTunes, Amazon, or Google Play.
---
Logan Layman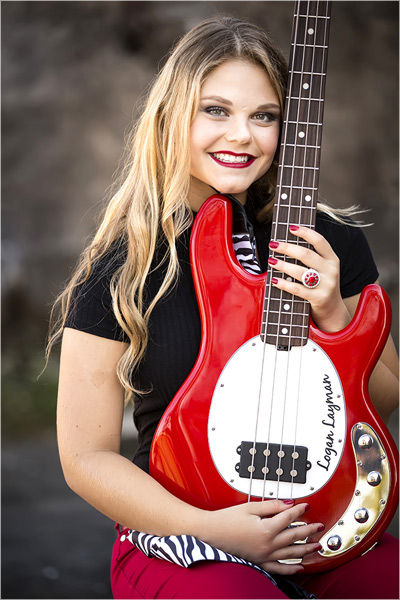 Logan Layman is known as a young artist with an old-school soul. She has a BIG voice and even BIGGER bass lines. At 16 years-old, she is an award winning singer-songwriter that plays bass, upright bass, piano, and foot percussion. Her favorite genre is Indie Blues but she also loves Jazz, Classic Rock, and Funk. Her musical influences include but are not limited to: Victor Wooten, Tal Wilkenfeld, Bonnie Raitt, Janis Joplin, Amy Winehouse, Grace Potter, Shemekia Copeland, and Esperanza Spalding.
Logan and her older brother Cole have grown up writing original songs and making music together. They perform nationally as the duo "InLaymanTerms," and Logan used to front The UnXpected band as the lead vocalist and bassist. Logan and Cole have played large venues such as the North Atlantic Blues Festival, Tall City Blues Festival, Bradenton Blues Festival, and the International Blues Challenge in Memphis, TN, to name a few. The two of them have recorded four EPs, and recently released their first full length CD, "Tangled." Logan and Cole wrote five of the songs on Tangled, which has been getting rave reviews and airplay all over the world. One song in particular, "Fake It Till I Make It," was originally a poem written by their Mom concerning her life long battle with depression. Logan and Cole turned the poem into a song, which was recorded as a video and can be viewed on the In Layman Terms website.
Even though a teenager, Logan is no stranger to accolades. In2016,she was featured in Bass Guitar Magazine. Also in 2016, their CD Tangled was given a great review by Downbeat Magazine. Logan was named the VEER Magazine's Emerging Artist of the Year for 2015. She was the Sea Level Singer/Songwriter's Emerging Artist of the Year for 2014. In August 2014, Logan and Cole appeared in Guitar Player Magazine. She was named Blues Kid of the Year in 2013. Logan is honored to be inducted into the prestigious, Ernie Ball Music Man, Brotherhood of the Guitar.
"I met Cole and Logan at the Pinetop Perkins Foundation workshops in 2014. Both were playing on such an advanced level that I knew immediately that they were not 'just kids learning to play.' It was obvious that they had great talent, stage experience and an original personal creativity in their music that most players never achieve. Then I listened to their CD and was blown away by the quality and originality. They are great now, not 'someday will be.' It is a pleasure for all of us to enjoy their progress and fine music. I am truly amazed and inspired." Bob Margolin, Guitarist for the late Muddy Waters and founding partner inThe VizzTone Label Group
"If you haven't seen them live at either a club or festival, these young guns of the blues are about 18 and 15 years old and they play like they've been in the business 40 years or more. Cole is a guitar wizard of the first order who drives music and his younger sister Logan has great chops on the bass. But it's her voice–oh my God that voice–that sounds like it's connected to all the great blues singers of the past and you just can't believe that this incredible voice is coming out of a barely five feet tall teenager." John Porter–Professor Johnny Ps Juke Joint
"There's plenty of great, young singers out there and plenty of young guitar prodigies too, but rarely do soulful muse and technical proficiency come in equal measure from talent so young, especially in the demanding genre of the blues, where integrity of expression immediately sorts those musicians with much to offer from those whom think the blues is an easy entry point into a career in music. IN LAYMAN TERMS, a sibling duo of multi instrumentalistsis in the former category and their excellent debut album TANGLED, a recording with depth and sass will set their career on a stellar trajectory. The mature writing skills of the Layman's seem to exceed their youth and experience, so no doubt these kids grew up steeped in the traditions of the blues, they must have in order to produce a debut blues album of such high caliber and consistency. The future of the blues is in good hands with these young musicians." Pete Williams – Made in the Shade
Logan would love to attend the Berklee College of Music in a few years after graduating from highschool. Regardless of where life takes her on this journey, she will always strive to share her music to inspire and connect with others.

Website: www.3inlaymanterms.com
Twitter: @3inlaymanterms
Reverbnation: www.reverbnation.com/inlaymanterms
Facebook: www.facebook.com/3InLaymanTerms
YouTube: www.youtube.com/user/DCLaymans4
Instagram: 3InLaymanTerms
---
Louis Perritt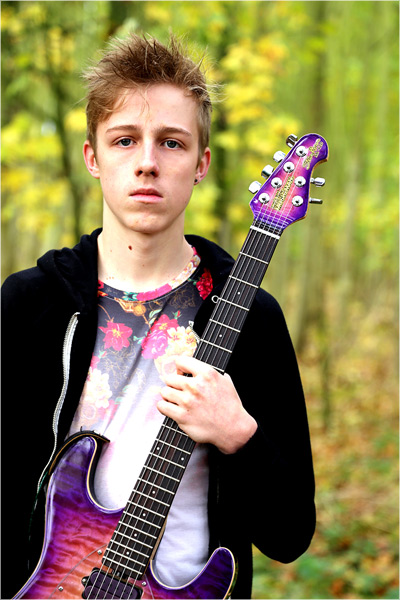 Louis Perritt is a singer/songwriter born in London and raised in Cambridge, UK. At fifteen he is about to release his second EP with his band, Maverick who recently played Cambridge Rock Festival and were the youngest band there. Already having supported 'Walkway' (who support Status Quo) and 'Coco and the
Butterfields' (winner of UK live and unsigned) Maverick have several gigs lined up including Cambridge Junction and Melbourne Rock Club running well into 2017.
Louis' early influences in guitar were George Harrison, Mick Ronson, and Keith Richards. More recently Louis has taken inspiration from Syd Barrett & Dave Gilmour (Pink Floyd), Robert Fripp (King Crimson), and Randy Rhodes (Black Sabbath).
Louis started performing at a local folk club at age 8 playing acoustic guitar and singing covers of the Beatles, Roy Orbison and David Bowie. Aged 10 he wrote his first original composition, and by 12 he was already regularly playing in a band. Local label and promoter R*E*P*E*A*T invited them to perform at local rock venue, The Portland Arms and at local rock festival, 'Strawberry Fair'. These gigs helped Louis meet up and work with slightly older bands and musicians, from whom he learnt a lot and who helped him develop both as a songwriter and performer.
Suitably inspired, Louis then spent time writing and developing his ideas towards his EP 'Uneasy Seasons' to be recorded at Bluebarn studios.
---
Ryan Brand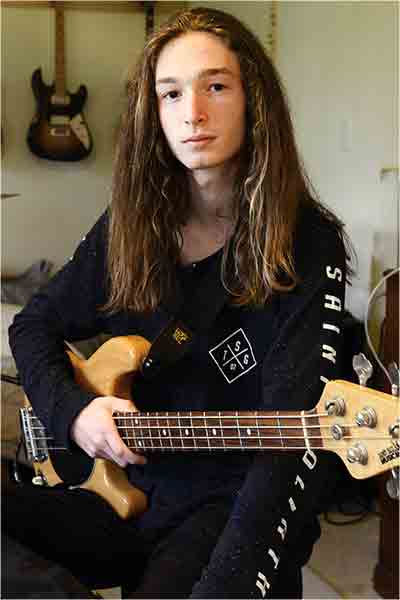 Ryan Brand is a 17 year old bassist, drummer and guitarist from Auckland, New Zealand.
Growing up in a musical family and listening to a very wide range of music and having the opportunity to play in jazz bands and jam with talented musicians older than himself helped guide his talent and broaden his style of playing and composing.
He is Left handed but plays right handed instruments and at the age of 8 started drum and guitar lessons with his older brother. To make their sessions more interesting and band like, Ryan was introduced to the bass guitar by his teacher and bloody loved it.
His Bass influences include Victor Wooten, Michael League, John Paul Jones, and Flea.
Entering several New Zealand national music competitions since he was 12, his College based Jazz combos and Concert bands won several awards at the Auckland Jazz and Blues competitions. His band, Flintwater Express also competed in Smokefree Rockquest where they placed first in the regional finals for Auckland's North Shore in 2016.
Ryan has been involved in several projects, playing different styles including, blues, jazz fusion, experimental, prog, psychedelic, indie and rock.
Drummer and bassist for the rock and roll band, Flintwater Express (a combination of multi-instrumentalists with a common passion for 70′s rock, inspired by bands like Led Zep, Rush, Deep Purple and Jimi Hendrix) the band likes to occasionally swap instruments to change the style of writing and give another dimension to their music creation.
For the last 5 years, Ryan has owned a late December 1994 model of the Ernie Ball Music Man Stingray and simply love the way it sounds and plays.
---
Shaunt Avakian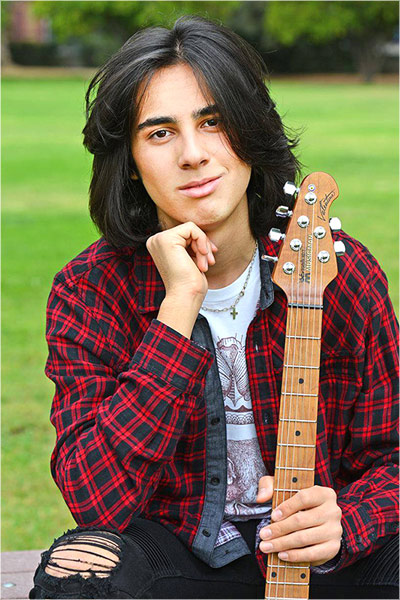 Ever since he can remember, Shaunt has been enthralled by music. Most adults around him remember his singing and dancing along to the beat of the drum, the groove of the bass, the roar of the guitars and the melodies of the human voice. As he started to grow up, he became fascinated by the idea of playing a musical instrument. Classical Piano training came first around the age of five, along with a short stint in the world of musical theatre. But as Shaunt matured, and ended up in a band as the lead singer, he realized that it was time to sling up a six-string and has never turned back. The blues became a fascination of his as he dove into the likes of B.B. King, Gary Moore, Stevie Ray Vaughan and Joe Bonamassa.
Currently, he studies vocal performance with Grammy Nominated Artist and Songwriter, Jan Linder-Koda, who's been a great source of musical inspiration along with her friend and L.A. studio stalwart, Marty Rifkin, who helped him record his first few singles. His guitar teacher is prolific classical and jazz guitar virtuoso and bandleader of the famous "Falla Guitar Trio" and "Quarteto Nuevo", Prof. Kenton Youngstrom, who challenges him to push further into the world of technical guitar and jazz improvisation.
Recently, Shaunt was contacted by legendary rock photographer, Robert M. Knight who has made his mark by photographing multiple rock legends including Jimi Hendrix, Led Zeppelin, Jeff Beck and Stevie Ray Vaughan. Robert, who has a knack for discovering new talent, inducted Shaunt into his program for young musicians, the Brotherhood of the Guitar which led to a sponsorship by The Ernie Ball Company.
Shaunt is now proud to play his new EB Music Man Valentine around town.
He is still in High School, trying to deal with homework and a relatively successful Speech and Debate career, but his passion seems to lie in music and performance, which is what he one day plans to purse in the world of higher education and the professional world.
"The only love affair I have ever had, was with music" – Maurice Ravel
---
Alberto Barsi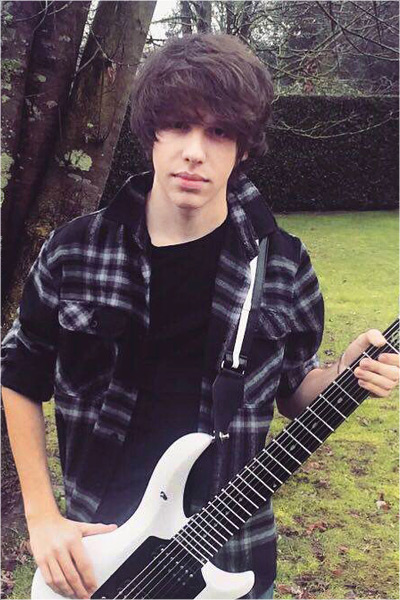 Alberto Is a 15 years old guitarist from Lucca, Italy. His style is oriented towards heavy metal, particularly the shred genre, and is influenced by players like Marty Friedman, Jeff Loomis, Andy James and John Petrucci.
He started playing guitar around the age of 11, studying at a local school. At the time, hearing for the first time players such as Eric Clapton and BB king blew him away, and he started developing a big passion for guitar driven music.
After the discovery of bands like Megadeth, Dream Theater and Nevermore he got interested in the heavy metal/prog kind of music and began spending 5-6 hours a day practicing, trying to emulate songs and solos by his idols. Taking lessons and studying with players such as Lee Hodgson at the Institute of Contemporary Music Performance in London and Andy James really helped him on his musical development. Later on, in 2015 he started sharing videos on social medias, gaining popularity on Facebook, and receiving positive comments and feedback from all over the world.
Alberto has been invited to play alongside guitar masters like Tommy Vitaly and Ciro Manna, and also opened the Tuscany fencing regional competition of 2016 with a guitar rendition of the Italian anthem.
Alberto is currently working on his solo debut album, which he is planning to release during summer 2017.
---
Alex Wennerlund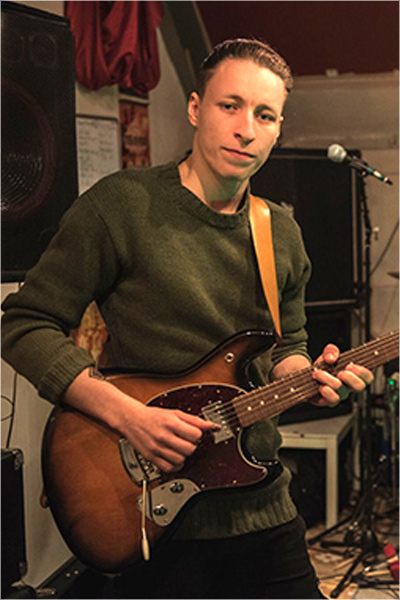 In august 2016 Alex Wennerlund Band, released their debut EP, Rendezvous, available on Spotify. Singer Alex Wennerlund writes the lyrics, vocal melodies and all of the riffs. The rest of the band, Robin Halldin, bass, Niklas Sandell, drums, Sanna Björk, Co-Vocal, was also involved in the process with ideas and harmonies.
The band are planning to start working on their second EP and upcoming festival gigs during summer 2017.
Writing rock- and blues inspired songs built on personal and historical stories and inspired by global issues, to allow him to play hendrix and Stevie Rray vaughan like solos, are what Alex always wanted to express in his music.
As a young teen starting his music career Alex found his inspiration in artists like Jimi Hendrix, Stevie Ray Vaughan, AC/DC, Guns and Roses, Mark Knopfler and Robben Ford and old blues giants, like B B King, Albert King, Freddie King …
During the last couple of years Alex music has been more influenced by John Mayer, The Greatful Dead, Bob Dylan, Gary Clark Jr, James Bay, and Neil Rogers and the roots of funk, soul, reggae and RnB music. Over the years Alex has played guitar to back up different local artists on the West coast of Sweden, in different kinds of music genres. Like South American music, hip hop, jazz, pop, sing and song evenings, and played blues and rock at some well known local pubs and rock clubs with his band, Alex Wennerlund band. Always receiving good creds for their performances characterized by energy, feelings, improvisation, and the personal contact with the audience.
GAFFA MAGAZINE
"… one of the best tracks of the year is called, The Voyage Of Mayflower 1620, lyrics and music written by Alex Wennerlund … despite the young voice this almost sounds like a copy of an early song by Mark Knopfler… but when it sounds this good, it is just a big compliment. The song just creates an amazing atmosphere and is played over and over again. Every instrument completes the total sound picture and the light melancholic atmosphere combined with repeteadly Knopfler like guitarlicks gives me goose bumps. Just a big applause."
---
Jacob Reese Thornton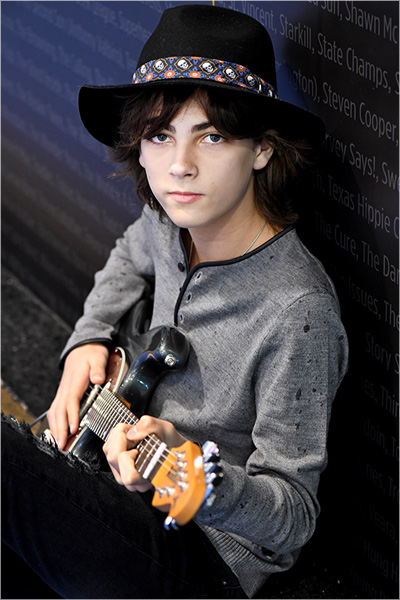 Jacob Reese Thornton is a 14 year old songwriter and guitar prodigy based in South Florida. Jacob writes and plays rock and blues with precision, depth and a passion that belies his age. Jacob first picked up the guitar at age 9, and has hardly put it down since. Thanks to a number of outstanding musical mentors, Jacob quickly developed a reputation as a gifted up and coming young artist. Jacob has traded licks onstage with blues legend Buddy Guy, and his remarkable live videos have collectively received nearly 1 million views on social media. Jacob's varied influences include Stevie Ray Vaughan, Elmore James, the Rolling Stones, the Beatles, Chuck Berry, Dire Straits, Neil Young, Foo Fighters, Cheap Trick, Joan Jett, the Ramones, Howlin' Wolf, Muddy Waters, the Allman Brothers Band, the Clash and Miles Davis, among many others. Jacob is currently writing and recording his debut EP, which he expects to release in 2017.
---
Reece Malone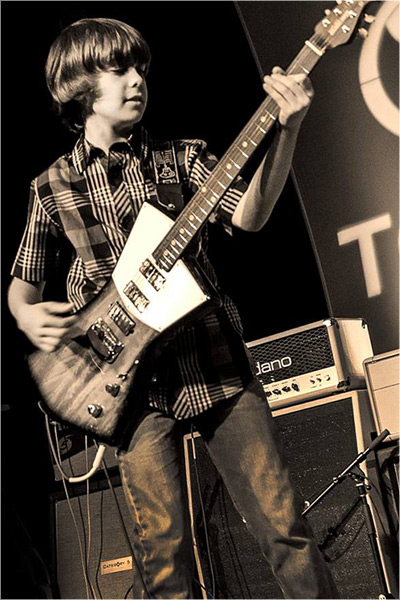 Reece Malone is a 13 yrs old that has been playing guitar since he was 5. His influences are Lance Lopez, Jeff Beck, Eric Gales, Philip Sayce, Jimi Hendrix, Robin Trower, Paul Gillbert, Andy Timmons & Albert King! He became a part of the Ernie Ball family last year. He had the opportunity to attend several guitar camps in the last few years such as Joe Satriani G4 Camp & The Great Guitar Escape with Paul Gilbert. He has taken lessons from Lance Lopez, Eric Gales & Andy Timmons. Reece has also had the opportunity to share the stage last year at the Dallas International Guitar Festival with Derek St Holmes & Brad Whitford.
---
Tamish Pulappadi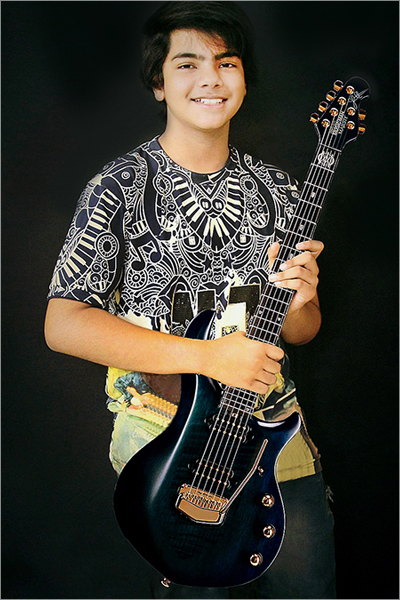 Tamish Pulappadi is a 13 Year old guitarist /singer /composer based out of Bangalore, India. Tamish has been playing guitar since he was 8 Yrs old. Guns N' Roses and Slash has played a major role in shaping this young guitarist. His favorite players include Steve Vai, Yngwie Malmsteen, David Gilmour, John Petrucci, Shawn Lane, Stevie Ray Vaughan and Jimi Hendrix.
While he enjoys and appreciates all genres of music, his passion lies in Blues and Rock. Tamish also did the Steve Vai technique course from Berklee online which he finished at the age of 12 with an "A" Grade and went on to cover one of the best compositions of Steve Vai "Taurus Bulba" which was also later appreciated by Steve Vai himself.
Currently Tamish is totally focussed on producing his own music and releasing his first EP in July 2017. He has just finished recording one of the tracks for his new EP. For one of the tracks of his EP, he recorded all the lead guitars, rhythm guitars, bass guitar and also programmed all drum parts.
Tamish is super excited to have been invited into the elite Brotherhood of the Guitar [BOTG] group and super happy to be among the most talented young musicians from all over the world. Tamish is endorsed by Ernie Ball and Ernie Ball Music Man Guitars and he's working on his solo project and plans to travel and collaborate with various artists.
---
Clay Vigo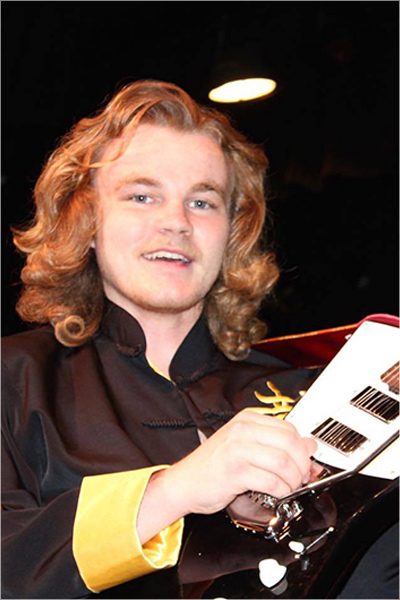 Clay Vigo is a 19 year old guitarist from Riverside, CA. He has been playing guitar since he was 9 years old and was inspired to play after listening to "Back in Black." Clay's main musical influences include Jimmy Page, Jim Morrison, Stevie Wonder, Tony Iommi, along with many other legends. Clay has had many great and diverse mentors which helped him create his overall sound and style. Playing guitar has opened many doors for Clay. Clay has opened for such greats as B.B. King, Leon Russell, Buddy Guy, Tab Benoit, and many iconic artists. He has also been invited to play at the Chicago Blues Festival for the last 4 years in a row consecutively. Clay received 9 scholarships from several prestigious universities. He attends CSULA on a music scholarship where he collaborates with like-minded musicians playing shows as well as recording together. His music is continually progressing and growing helping him mature into a well versed and extremely diversified musician. He cannot wait to see what the future holds for him. Clay is beyond excited to be part of the brotherhood and cannot wait to collaborate with the other members.
---
David Jgeria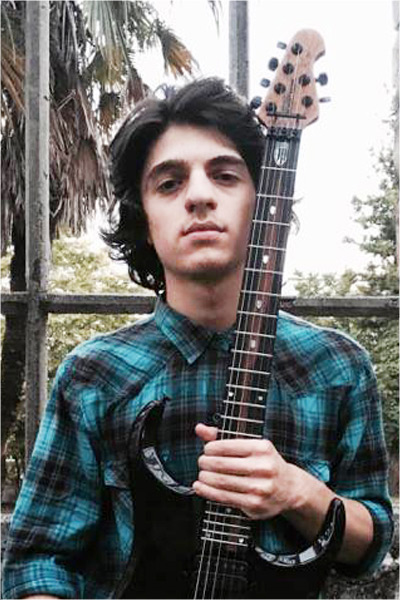 David Jgeria is a 16-year old self-taught guitarist from Georgia in Eastern Europe. He started playing at the age of 15. He performed for the first time at Tbilisi Fiestalonia International Festival, where he won the second place. His idols are Sergey Golovin, Richie Allan , John Petrucci, Jason Richardson By now, David is doing covers and is preparing to record his own compositions, which will take place in the near future. David practices for 5-6 hours everyday, is determined to follow his calling and is going to do everything to achieve his goal.
---
Jack Hickman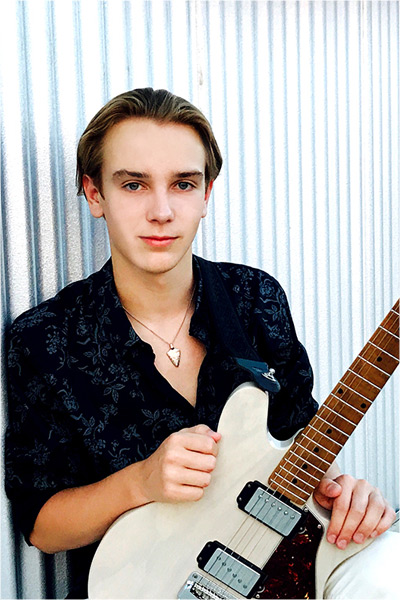 Jack Hickman is a guitarist from Denton, Texas. Born in 2003, he is the youngest member of Dallas-based alt-rock/alt-pop band, Love Past Blue™. Though neither of his parents are musicians, Jack started showing an interest in the guitar at a very young age, beginning lessons at age four on a ¼ size Classical. By age nine, he had taken up the electric guitar, and quickly developed a passion for the rock genre. A year later, he began studying under Dan Dockrill at Bonduris School of Music. In 2016, Jack met Love Past Blue, when both were finalists in the Dallas International Guitar Festival's Texas 10 Under 20 Competition. Jack made an impression playing Joe Satriani's 'Satch Boogie'. When Love Past Blue's previous guitarist suddenly moved on to other projects a month later, they contacted Jack on vacation about coming to audition. It was a match. Jack played a gig with the band just hours after they met, the day he returned from his trip. That success began a year filled with gigging, travel, festival performances, radio interviews, songwriting and recording sessions. Love Past Blue's selftitled EP is available on iTunes, Amazon and Spotify, and a follow-up album is in the works as of summer 2017. Things came full circle at the 2017 Ten Under 20 Competition, where Jack again performed as a finalist, this time playing Rush's 'Working Man' with his bandmates from Love Past Blue. Jack's musical tastes span alternative rock and progressive rock genres, as well as jazz, with influences from artists like Incubus, Red Hot Chili Peppers, Maroon 5, Rush, Buckethead, Snarky Puppy, and Led Zeppelin. When not playing or listening to music, Jack enjoys competitive swimming and hanging out with friends.
---
Joe Galate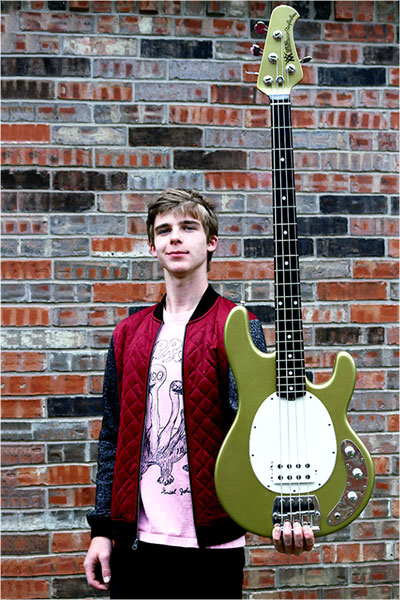 Joseph Galate is an upcoming bass player based out of Dallas, Texas. Born in Kansas City and raised in Texas, he began his musical journey at age 10 on piano then began playing electric bass at age 12. Lately, Joseph has been working with players Jack Hickman, and Clio Cadence to create a sound that is known as Love Past Blue. Together they are a tight, dynamic trio of musicians known to rock the stage. Along with Joseph's involvement with Love Past Blue he also gigs with local band, Scarlett Fever. His top musical Influences include: Flea, Victor Wooten, Marcus Miller, Jaco Pastorius, Wayne Shorter, Led Zeppelin, Jimi Hendrix, and, "anything else on the radio".
---
Lia Spanos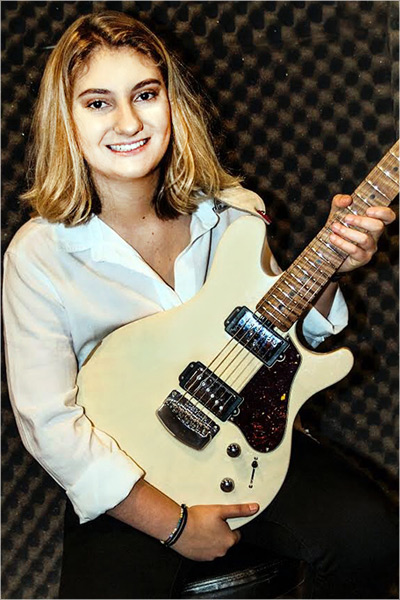 It was a full moon, on Friday the 13th in October of 2000 when Lia Spanos made her debut. Always musical, at the age of 9, she picked up her sister's old guitar and began picking out classic tunes such as, "The Joker" and "Sunshine of Your Love". Lia has been glued to the guitar ever since. At 11, she started playing at local bars and by 12 was in her first band. Her next band was selected to play at the kick off event for the National Blues Museum and then invited to be the first band to hit the stage at their Grand Opening. In May of 2017, they played at the ribbon cutting of the new St. Louis Gateway Arch monument grounds. It was after a performance at the National Blues Museum that she received an invitation from Robert M. Knight to join the Brotherhood of the Guitar. Lia has been honored to be a School of Rock AllStar. The program selects only 174 students out of 25,000 from nine countries. As an AllStar, she has been privileged to play on some iconic stages, such as Lollapalooza, MoPop Festival, the Knitting Factory, the Wonder Bar, and the Crofoot. Major influences such as John Scofield, Prince, Kevin Parker, Nick Drake, Frank Zappa, Jimi Hendrix, Chet Atkins, Wes Montgomery, Bernard Purdie, Stevie Wonder, Buddy Holly, Jaco Pastorius, Ween, D'angelo, Jerry Garcia, Beach Boys, James Brown, Tribe Called Quest and Thundercat, have instilled in Lia the desire to keep learning and listening. She is passionate about writing, composing and producing her own music. To quote Lia, "I will play music for the rest of my life, any music, all music, all of the time."
---
Vedant Shankar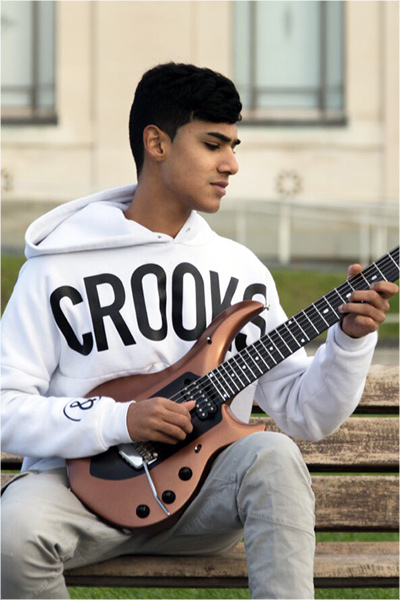 Vedant is a unique 7 & 8 string guitarist, drummer and producer from Auckland
New Zealand. He first started playing music when he was 4 years old on violin,
followed by 3 years of keyboard lessons from when he was 7. Vedant started
playing electric guitar when he was 10 and since then he has been determined to
become a professional musician. He has won many school solo music
competitions in the strings category, has come 1st in his school talent quest and
currently plays drums and guitar In his High School Big Band and Senior Jazz
Combo, both groups have won many awards.
Vedant was the 2nd highest ranked electric guitarist and came 5th overall at the
mercury bay young guitarist award festival in 2016 which featured many guitarists
aged 16-25 from all over New Zealand. Vedant achieved distinction in Trinity
Grade 8 Electric Guitar and Drums and is into his second year teaching the two
instruments part time. His favourite guitarists include: Tosin Abasi, Plini, Guthrie
Govan, Jason Richardson, Larry Carlton, Sithu Aye and Slash.
Vedant Is also into a wide variety of electronic music including artists such as
Squarepusher, The Algorithm, Aphex Twin, Cause & Affect and Graphyt. Vedant
has been using Ableton Live 9 and Logic Pro X to produce music for 3 years and
is currently working on a solo EP set to come out later on this year in which he
aims to combine the expressive Harmonies of Jazz, the intricate polyrhythms and
odd time signature patterns of found in Prog Metal and the incredible range of
electronic sounds and audio effects used by contemporary Dubstep, Trap and
House producers in order to create a pathway for a new generation of guitar
fused music. Check out Vedant's facebook and guitar instagram to hear more,
---
Caleb Davis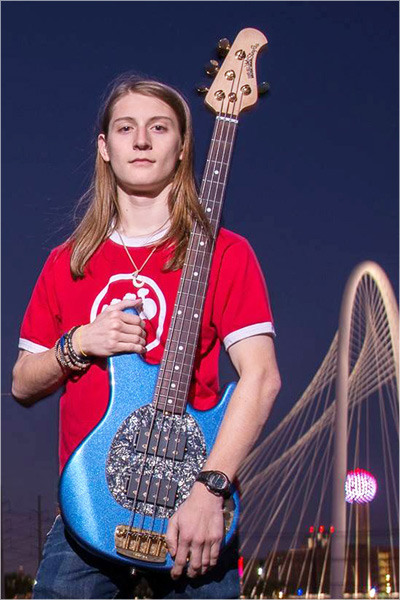 My name is Caleb Davis. It's debatable where I truly began my career in music, but my first encounter with music was piano lessons when I was little. I didn't really enjoy it. I liked making music, but I wasn't overly fond of the keys instrument, so I never did my homework. When I was about 11 or 12 guitar hero came out, and I happened to get a copy. It took me forever to figure out how to play it. I'd say that Guitar Hero was what got me into rock music. I developed an obsession with Slash from Guns N Roses for a while. Then I was into eighties music for a while, but I still hadn't actually picked up a guitar. I first picked up a guitar after hearing Andy Mckee play a cover of Africa by Toto. Combine that with the (admittably easy to learn) soundtrack from The Last of Us, and i was soon learning my first chords. I was still never too serious about it though. This was during my freshman year I think. I also had been reading the Scott Pilgrim books, and figured maybe i should try playing a Bass sometime. Sometime during freshman year, my father joined a band called Prime of Life, playing drums for them. I had been hanging out after they finished Rehearsal, and Keith McCarty allowed me to play his Stingray 5, and i instantly fell in love. I got a job as a lifeguard and started learning a few basslines from Gorillaz and Silversun Pickups. I bought my Musicman Stingray that summer of my sophomore year. I took lessons from a few different sources…
but none of them really satisfied me
They all wanted me to learn theory and didn't really teach me what I wanted to know. I was just starting out and all I wanted to do was jam out and stuff. Eventually my family and I found School of Rock, and it wasn't too long until I signed up. My first season there was Radiohead vs Beck, and it was run by Steve Phillips of Vinyl. Steve had a huge impact on me as a musician and taught me a lot of the tools of the trade. His band Vinyl quickly became one of my favorite bands of all time, outshining other bands I had loved for years such as Pearl Jam and Silversun Pickups. I learned a lot from the teachers at School of Rock Southlake and eventually I was put on the Dean's List, which is sort of like a special representative band. Marty Morris constantly pushed me to become a better musician, and it's because of his tough love that I am where I am today.
The summer of my… I think Senior year, I applied for School of Rock Summer tour. I was actually lucky enough to be chosen, and learned a lot of cool stuff from the kids on that tour, as well as from the teacher, Ray Kidd. Ray Kidd is why I have the stage presence I do today. I also met Drummerhood member Travis Harwick on that tour, but had no idea he was a member until recently. Small world I suppose.
Today I'm in a band called Bessemere with fellow Brotherhood member Griffin Tucker, and Drummerhood member Dakota Redmond. Griffin is a particularly talented individual, and I'm hoping that he can make me a better bass player.
I listen to a lot of music but I'd say there's two or three big sources when it comes to my writing, especially as a bass player. Hunter Johnston and Vinyl. Vinyl consists of Justin Hawkins, Steve Phillips, Dustin Fleming, and Hunter Johnston. After I aged out of School of Rock, I took lessons from Hunter for a while, which was a dream come true. Vinyl is still one of my favorite bands to this day. It'd be like taking lessons from John Paul Jones or Paul McCartney, but the teacher has a better moustache! He certainly influences how I write my basslines, and his tone impacts my choice in guitars. It's because of Hunter that I play my Music-Man Caprice! Keith McCarty of Prime of Life. Keith is a very melodic bass player. His basslines are very upbeat, and catchy. I try to write basslines that grab attention like his do. Learning his basslines early on was a big part of what I write today. Silversun Pickups. I honestly don't know how to introduce this band. I was just casually scrolling through youtube and happened to see a thumbnail for Lazy Eye, and thought, "Why not?" I fell in love. When Brian said "I've been waiting" I almost thought to answer "me too." I'd been waiting for a band with a sound that was so… me! I identify very strongly with Silversun Pickups and the way they write and sound. Brian's tone impacts my pedal choice and vocal sound. His unique combination of sounds are reminiscient of My Bloody Valentine, and Smashing Pumpkins. Silversun Pickups even shares initials with the pumpkins! As well as Scott Pilgrim! This band is very personally dear to me, and I don't think I'll ever stop listening to them.
---
Jacob Elalouf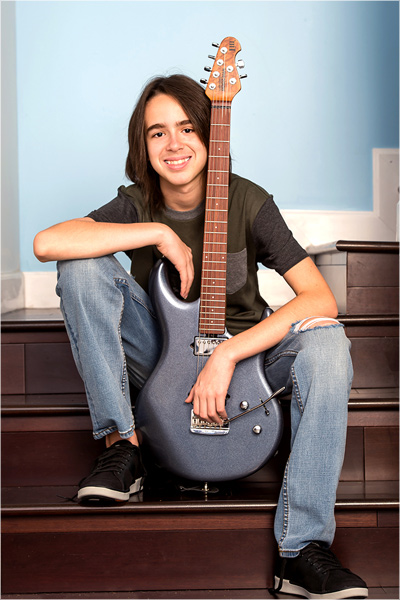 Jacob first discovered his love of guitars at the age of 4 while listening to classic rock playing on his parents' car stereo. It was shortly after, at the age of 5, when they bought him his first guitar. He loved it so much, he would sleep with it in his bed. Without any formal training at the time, he would listen to and mimic music of the guitar gods. Hearing that, he taught himself how to play chords and his parents sought out formal guitar lessons for him. Visiting his first music school, he was told he was too young to take on this instrument, but Jake was determined and told the owner, "I am not leaving until you give me a lesson." It was that determination which caught the owner's attention and he took him on as his youngest pupil, and thus the journey began. Since that time, Jake has graced stages from bars to music festivals across the country playing everything from blues to classic rock. Performing on stage is Jake's home away from home. While constantly working at perfecting his craft, Jacob, currently 15 years old, is also honing his vocals while embarking on songwriting and producing.
---
Ronny Dave Castro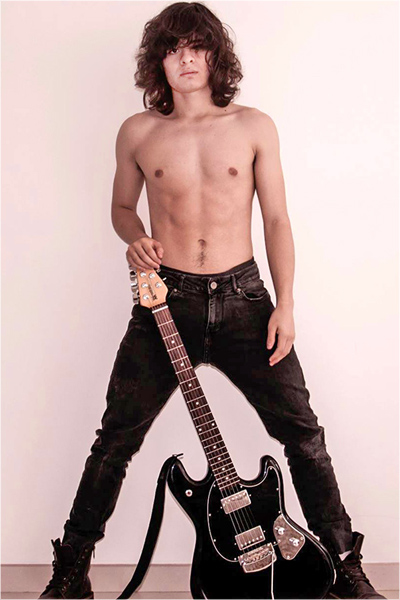 My name is Ronny Dave, I am a 19 year old guitarist. I was born in Ecuador, but thanks to my dad we've been moving to different places throughout the course of my life. Now I am living in Mexico City but in the following months I am heading to Los Angeles California to pursue my dreams of having the best rock n roll band. And also I'm gonna be studying at Musicians Institute.
I grew up listening rock n roll and blues. My dad gave me my first guitar as a gift for Christmas when I was 14 years old. I remember playing around with the guitar and learning the basic chords and scales following by covers from Metallica, Guns N' Roses and AC/DC. All my friends in high school played guitar and they were really good, so I didn't want to stay behind. They encouraged me to start becoming a better guitar player, and play with them, jamming covers at a their houses and playing for fun. The more I played, the more I was falling in love with it. It didn't hit me until I perform live with the band I had with my friends at a talent show at school. I realized the stage Is where I belong. I knew what I was going to do with the rest of my life.
My influences are: Guns N' Roses, Gary Moore, Motley Crüe, Aerosmith, Led Zeppelin, skid row, Queen, Scorpions, the doors, Rolling Stones and many more. I feel identified with this type of music, real rock and roll. My dad gave me this love for music, since he was always a big fan of all this great bands and taught me about them.
My brother and I have made a band which we played for a while and also played lots of live shows. Me and my brother Nikolai (drummer who is also in the drummerhood)have created original music and have sufficient material for recording an LP. Currently looking for the rest of the musicians to form the best rock n roll band in the world !!
---
Zack Waters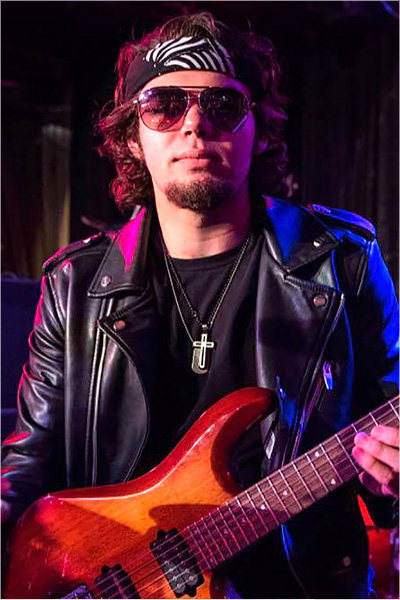 Zach Waters is just 18 years old, but do not let the age fool you. Playing since the age of 10 years old, he is a well versed player in various genres. Gut wrenching divebombs, screaming bends, and whistling runs are only a few of the tricks this Fretboard Acrobat incorporates into his playing. As well as being a guitarist, Zach Waters is also a multiinstrumentalist, with experience playing keyboards, bass, drums, Ukulele, harmonica, and slide. A handful of inspirations include players such as Jimi Hendrix, Eric JohnsonJoe Satriani, Eric Clapton, Robin Trower, Billy Gibbons, Peter Frampton as well as many others, all come together as one force, to help create the undeniable sound of Zach Waters. So far in his career, he has played with artists such as Dokken, Y&T, Pat Travers, Gretchen Menn, and Chris Cain.
---
Gabriel Franzese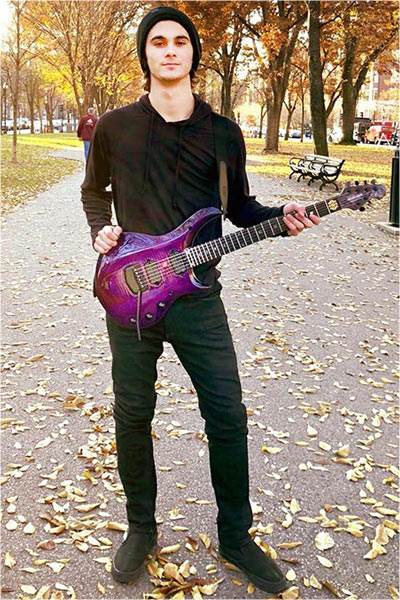 Gabriel is an 18-year-old guitarist born in São Paulo, Brazil. He first picked up a guitar at the age of 5, after watching countless Bon Jovi DVDs in the living room. Gabriel's first concert was in his birthday party, at age 8. Bon Jovi being his favorite band at the time, he played alongside an acoustic set with a well-renowned Bon Jovi cover from Brazil.
In the next couple of years, Gabriel developed a taste for metal music, after getting exposed to Metallica. It was at age 13 that Gabriel knew that he wanted to become a live performer, after first seeing Metallica live. Immersed in the band, Gabriel learned every single Metallica song, and started performing in his school assemblies, thus being recognized by his community.
In his senior year of high school, Gabriel organized, participated and won first place in a fund-raising talent show, in order to participate in the refurbishing of houses inn the community of Heliópolis (a slum inside the city of São Paulo), promoted by Habitat For Humanity. Tackling aspects such as marketing, production and music engineering, Gabriel quickly became interested in the business side of the music industry, and thus applied to Berklee College of Music, not only to major in Music Business, but to become a better musician and form a band, to work towards his ultimate goal: become the next generation's metal guitarist.
Gabriel was accepted into Berklee in 2017, and is now tasting the extreme cold weather from Boston, something he did not experience in Brazil. As a gift for entering the best music school in the world, Gabriel's parents gave him a John Petrucci Majesty guitar, since Petrucci is one of his favorite guitarists, and served as inspiration towards his desire to study at Berklee.
---
Leon Sharplin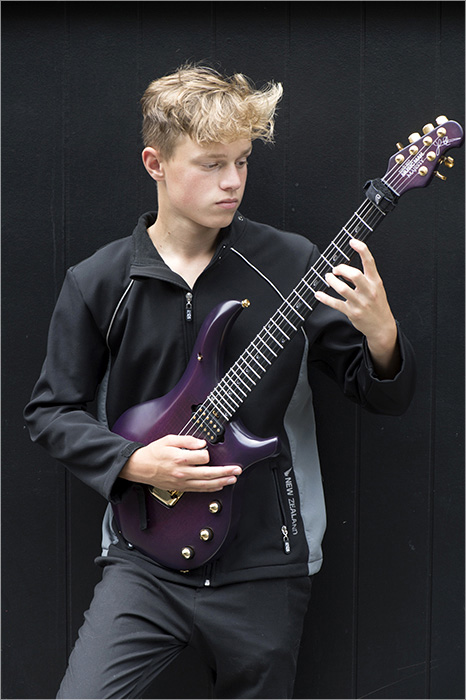 Leon Sharplin is a 15 year old guitarist originally from England and now lives in Rotorua New Zealand. Leon began playing guitar at the age of 10 and mostly plays progressive metal with a mixture of jazz and a few other genres.
At the age of 12, Leon discovered Metallica and then began to take the guitar seriously. He later moved on to more technical and virtuoso style guitarists such as Joe Satriani, Steve Vai and Eric Johnson. Currently his favourite guitarists include Tosin Abasi, Plini, Steve Vai, Mark Holcomb and John Petrucci.
Leon's goal is to be able to make a living playing guitar whether that be in a band or solo.
---
Matt Ireland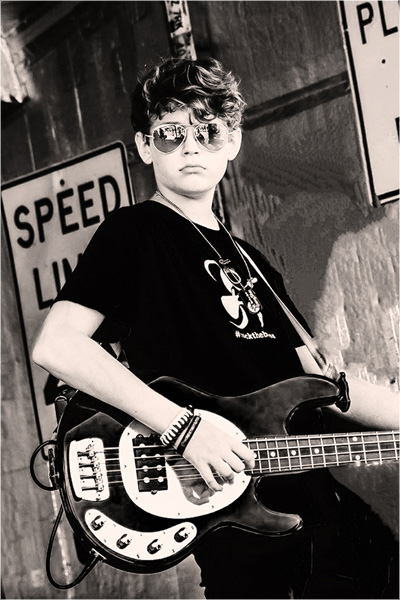 Matt is a 14-year-old bass player from Memphis, Tennessee. He first started playing bass when he was 10. Watching Wolfie Van Halen in the Van Halen Guitar Hero game is what sparked his interest in playing bass. He quickly took to the instrument and within a few weeks was learning and playing songs from all sorts of genres. He played bass with a young band in the school talent show and nailed the bass solo from Godzilla by Blue Oyster Cult. Later that summer he joined forces with a young guitar player (Zeke Yarbro) and, at age 11, they formed the band, Under The Radar, in August of 2014. By April of 2015 and still only 11 years old, they found themselves opening for the legendary Kansas. Under The Radar has two releases on iTunes and has since gone on to open for .38 Special, Loverboy, Saliva, Better Than Ezra, Bret Michaels, Every Mother's Nightmare, Roxy Blue, Tora Tora and countless others. Matt has even had the chance to sit and jam with his idol, Victor Wooten.
Matt is now a freshman in high school and plays both the electric bass and the standup bass in the oldest high school band in America, the Christian Brothers High School Band in Memphis, TN.
Matt and his band play many charity events every year for St. Jude Children's Hospital, Dogs 2nd Chance, and Bands Against Bullying in coordination with Rock Rage Radio.
Matt is a self taught player and has impressed many a veteran player with his sense of groove and tasteful licks. Playing bass in a 3-piece band is a huge task and Matt handles that task with the consistency of a seasoned professional. He relies on his main axe, his Black EB MusicMan StringRay, show after show and it never lets him down. He still can't wrap his head around the fact that Ernie Ball gave him a string endorsement along with his guitar player and that their picture on the Ernie Ball site is right there in the middle of artists that they've been huge fans of for years. Matt is constantly pushing himself to be better on the bass and that probably comes from his success in the classroom. Matt is a straight "A" student and take his academics very seriously. He understands the rewards of hard work and never shies away from a challenge whether with his music or his academics.
Matt comes from a musical family. His dad is a drummer with extensive experience and his older brother is an amazing guitar player in his own right. Matt's grandad was an amazing guitarist that opened for Bo Diddley when he was in high school and he was also instrumental in the Memphis Music scene during the 60's and 70's with Stax, Ardent, Sunn and Phillips Recording studios.
---
Gabriel Severn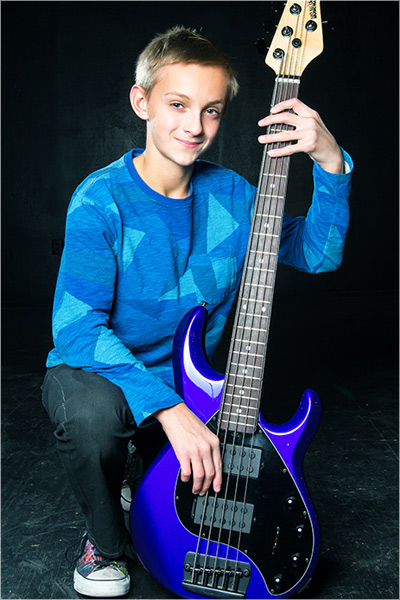 13-year-old electric bassist Gabriel Severn began playing at 7, but was already drawn to the bass by age 2. As a toddler, he'd point the bass out at performances and festivals while watching his dad play. It was then that he developed an ear for Jaco Pastorious' music, and loved listening to bands such as the Yellowjackets and Weather Report during car rides. In 2012 Gabriel began private lessons, and 4 months later joined the Uptown Music Collective's Urban Souls, a Motown tribute band of young musicians ages 7-13. During their 3 years together, the Urban Souls gained significant recognition in central Pennsylvania, performing at community events and benefits, music festivals, and making radio and TV appearances. Gabriel received international recognition when his video performing Jaco's solo on Havona at age 11 went viral on social media, setting the wheels in motion for a professional career. Markbass founder Marco de Virgiliis invited Gabriel to be the first Markbass/Markworld Rising Star. Also impressed with his playing, Sterling Ball invited him to join the Ernie Ball Music Man family of artists. Gabriel has a line of custom bass strings made by Carlos Pavicich in France. He recently performed at both the Ernie Ball and Markbass stages at the 2018 NAMM Show in Anaheim. Gabriel regularly performs with Bolivian piano phenom Jose Andre in the Jose Andre Trio, and with the UMC's Just Jazz trio.
At age 12, Gabriel gathered some of central PA's best and most promising young musicians to form the fusion/jazz/funk trio, Teen Town, with Logan Bedard (15) on drums and Connor Rohrer (18) on keys. Their music spans multiple decades and genres, ranging from originals to Weather Report to Azymuth to Miles Davis. They bring a fresh approach to fusion, and prove that great music is ageless and timeless. Teen Town has toured throughout Pennsylvania, performing at the Dauphin County Wine & Jazz Festival, TEDx Harrisburg, the 2018 Millennium Music Conference, the River City Blues Club, the People's Choice Festival, the Moravian College Summer Jazz Camp, and the Lock Haven Jazz and Arts festival. They've opened for the Ben Wolfe Trio, the Dwayne Dolphin 4tet, the Original Drifters and the Tierney Sutton Band. Teen Town will perform again at the People's Choice Festival and the Dauphin County Jazz & Wine Festival this year, in addition to appearing at the Christmas City Summer Jazz Festival, the Berkshires Jazz Festival, and opening for the Victor Wooten Trio at the 2018 Boscov's Berks Jazz Festival. The band will also hold a clinic at the Berks Jazz Fest's Get JazzED Day, and headline the High School Jazz Festival the evening. Having caught the eye of promoters worldwide, appearances stateside and abroad are in the works for Teen Town in 2018. Gabriel has been a guest with the Williamsport City Jazz Orchestra, the Lock Haven University Jazz Ensemble, the Bucknell University Jazz Ensemble, and at the Ann Arbor Art Fair. He's performed with a variety of bands at the Scranton Jazz Festival, the Lock Haven Jazz and Music Festival, the Dauphin County Wine & Jazz Festival, the Williamsport Welcomes the World Festival, the Lycoming County Fair, the Dauphin County Music and Wine Fest, the Downtown Billtown Music Festival, and the Central PA Jazz Festival. He's played double bass with the Williamsport Symphony's Junior Strings and plays in his school concert and jazz bands. He has also been in several mainstage UMC productions. In addition to studying privately with Tim Breon, his teacher since he began playing, Gabriel takes lessons from Anthony Wellington and Adam Nitti. As the recipient of Wellington's Bassology scholarship, Gabriel was honored to spend a week with Victor Wooten, Wellington, and a handful of some of the finest bassists and teachers in the world at Victor's Bass/Nature Camp near Nashville. An enthusiastic learner, he's also attended the Central PA Jazz Camp for 3 years, Gerald Veasley's Bass Bootcamp, and the Keystone Jazz Institute. He was a student at the UMC for several years, learning music theory and tech, and participating in the jazz workshop. He'll return to Veasley's Bass Bootcamp this year, and will attend the Berklee College of Music's Groove School in the summer.
---
Rodrigo Galavis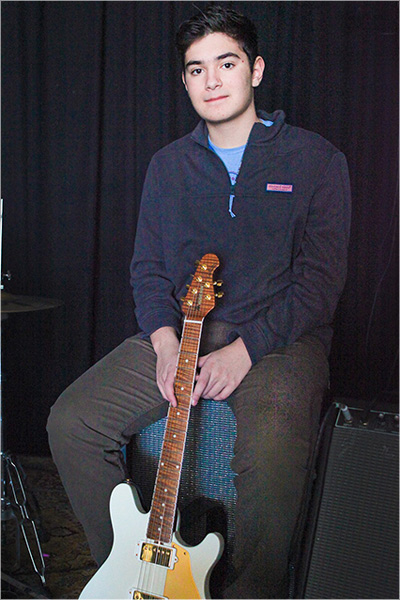 Rodrigo Galavis is a 14 yea old guitarist from New Canaan, Connecticut. Rodrigo began playing guitar at the age of 9.
Rodrigo started playing the drums at the age of 7 years old. When he was 9 years old he started to play the guitar. However, he still considered himself a drummer first until he was around 13 years old. That's when he decided he loved the guitar above any of the other instruments. He loves playing all kinds of classic rock music such as Van Halen, Pink Floyd, Stevie Ray Vaughan and Frank Zappa.
Last Spring, Rodrigo was selected to be a School of Rock AllStar. The program represents 1% of the students out of more than 25,000 from nine countries. As an AllStar and School of Rock student, he has been honored to perform on some iconic stages, such as Lollapalooza, Gathering of The Vibes, the HighLine Ballroom, the Knitting Factory, Bitter End and many more.
---
Jack Martino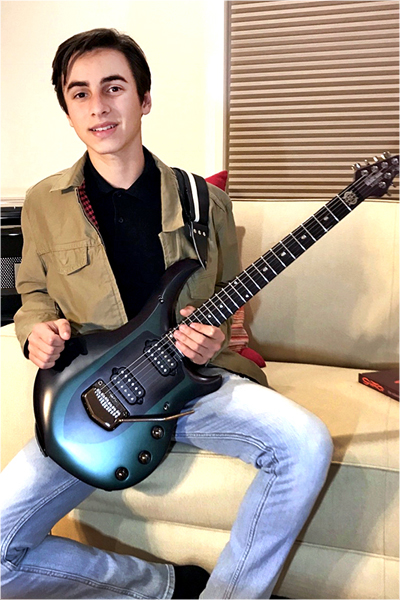 Jack Martino is an aspiring 14 year old guitarist from Southern California. He discovered his love for the instrument at age 9 when he started picking notes on his dad's old Telecaster. His parents quickly recognized his enthusiasm and signed him up for guitar lessons and has never turned back. His early musical spirit came from Eric Clapton, Brian May, Tony Iommi and Randy Rhoads. Current inspirations stem from broader styles of rock music including progressive, alternative, and metal. John Petrucci, Eric Johnson, and Synyster Gates are among some of his favorite modern artists.
He still works with his original guitar instructor, Jym Schwartz, to enhance his technique. Jack focuses on melody and advanced time signatures and likes to push himself beyond what he thinks he can do. He also studies the piano, woodwind instruments, and is an amazing bassist. He loves to play with other musicians that share his joy and passion for creativity.
When Jack played his first Music Man Majesty, he fell in love instantly. The Majesty accommodates his playing style perfectly.
Jack is an articulate composer that creates complex melodies for his band, Stereo Fidelity. They have performed numerous shows at the legendary Whisky-A-Go-Go and other Los Angeles venues. Jack's signature guitar style is well captured on his band's debut EP titled Fever Dream.
---
Mateus Oliveira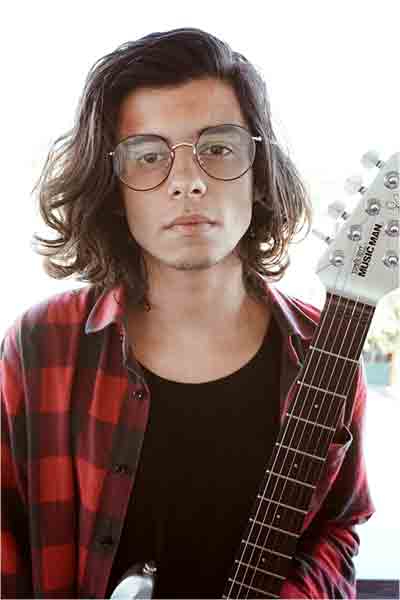 Mateus Oliveira is a guitarist and producer from São Paulo in Brazil
Mateus stated on guitar when he was 9, took some online class with the amazing Paul
Gilbert. His brother works as a musical producer and Mateus had the opportunity to
grow up surround by music and among a lot of greats musician of Brazil. Now at 20
years old he is releasing ever moth new songs with his prog/djent band called Alvin
Wants Hot Juice. He has been looking forward to recording more often songs with his
band and some solo stuff as well
Mateus uses music man jp6 model and line6 pod x3
Alvin Wants Hot Juice – Left Behind (Official Video)
---
Jessica Elalouf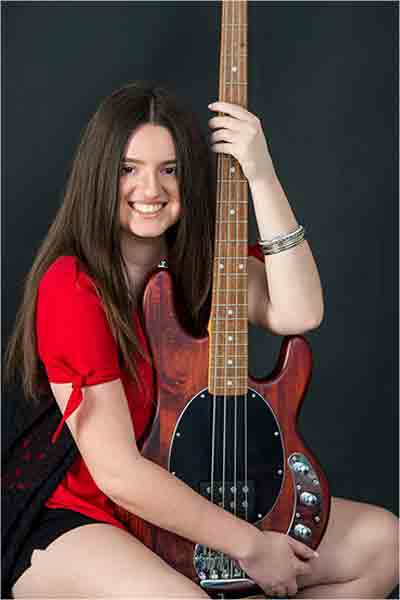 Jessica has always loved dancing and musical theatre since she was a child, but she never knew that she'd find herself as a bassist. Her love for guitars and rock music sprouted in high school, where she took beginning guitar, rock band, and AP Music Theory. One day, she picked up a bass guitar and fell in love with the feel and sound of the instrument. She decided to teach herself how to play and sing background vocals at the same time, a skill that came quickly to her. Eventually, she learned how to read music and devoted herself to studying music. In fact, she took music theory again in college and continued her studies as a business major and music minor. She has performed on many stages, many times alongside her brother, Jacob Elalouf, another Brotherhood member. Jessica, now 20, is currently the bassist for Exigent and working on original music with her band members. "It's as though the bass chose me," she says. "I never expected it. It sort of just fell into my lap and I just accepted it. Before I knew it, I found myself loving the bass." Outside of the band, she sings, plays acoustic guitar and keys. She is extremely honored to be a part of the Brotherhood.